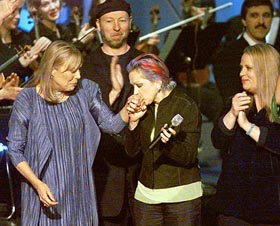 Tanya: I couldn't wait to say this - I love her I love her I love her.
Here's what happened for those of you who want to know . ..
Wynonna & Bryan Adams - Raised on Robbery
Cyndi Lauper - Carey
Richard Thompson - Woodstock
Shawn Colvin & Mary Chapin Carpenter - Chelsea Morning/Big Yellow Taxi
James Taylor - River
Wynonna - You Turn me on I'm a Radio
k.d. Lang - Help Me
Cassandra Wilson - The Dry Cleaner from Des Moines
Sweet Honey in the Rock - Circle Game
Shawn Colvin & Mary Chapin Carpenter - Amelia
Richard Thompson - Black Crow
Elton John - Free Man in Paris
Diana Krall - Case of You
Joni - Both Sides Now Set your VCR's for the 19th. It was wonderful to hear everyone worship Joni like I do. My particular favorites were Wynonna doing You Turn Me on I'm a Radio, Shawn Colvin & Mary Chapin Carpenter doing Amelia and OH MY GOD Diana Krall Case of You. Where have I been all this time? I'd never heard her.
The whole night was like a dream come true. I've never seen Joni live before. Waited after the show for an hour and heard Joni interview. Wanted to meet her but her "peeps" wouldn't let us past. I was about three feet away from her and waved to her, she waved back and said "Sorry". That was enough to last me the rest of my life!
---
Phil:
absolutely stunning! they certainly did right by joni tonight at the tnt tribute. and while the show might have been a bit light in recent joni material, i think the show certainly captured the essence of our joni through some very creative interpretations of her music.
joni, looking positively radiant in a green gown, was introduced at the top of the show and took her seat in a box overlooking the stage. the show began with a rocking but rather perfunctory "raised on robbery" performed by wynonna and bryan adams, a good way to kick things off nevertheless. one of the surprises and high points for me followed with cyndi lauper giving a very impassioned reading of "carey" in a much slower, but very creative
arrangement of the tune. and she absolutely nailed it, making the song her own, showing great range and emotion. richard thompson followed with a powerful, moving version of "woodstock". his accompaniment on acoustic guitar lent a real earthiness to the tune yet capturing the essence of joni's original, a brilliant stroke in my opinion. his version of "black crow" with the band later in the show wasn't quite as successful. after a pre-taped intro from hillary clinton explaining why the clintons named their daughter chelsea and how much that song meant to them, shawn colvin and mary chapin carpenter followed with a medley of "chelsea morning" and "big yellow taxi". the energy picked up considerably when james taylor joined them for a verse and chorus of "big yellow taxi". sweet baby james followed that with a gorgeous reading of "river" that featured a beautiful, muted trumpet solo by mark isham. definitely another highlight. lawrence fishburne then introduced a video clip that chronicled joni's move to a jazzier style and her involvement with charles mingus. cassandra wilson followed that with a swingin' and smokey "dry cleaner from des moines". sweet honey in the rock then did a powerful, spiritual take on "circle game". another highlight. wynonna then did a by-the-book read of "you turn me on, i'm a radio". shawn and mary chapin then returned with a nice spin on "amelia" featuring some exquisite harmony. sir elton made a rocking "free man in paris", a perfect choice, sound like his own. i thought musical director/bassist larry klein, who actually did a tremendous job throughout the night could have been a little more in-the-pocket on the "free man". elton had the best line of the night, when he said he was more nervous playing one of joni's songs in front of joni than he was playing for the queen of england. diana krall followed with an incredible "case of you", accompanied only by herself on piano. the stage was reset and after a short video focusing on joni's love of painting, tony bennett introduced joni, who performed a lush "both sides now" luxuriously wrapping herself around each word. simply gorgeous. the group came out and joni had many out-of-tune voices reprising "circle game" to a pre-recorded track for the credit roll. a fabulous show. ashley judd did a great job as host. the video clips chronicling different stages of joni's career were great. most of the performances were spot on and while the show was all joni, my only disapointment was that joni only performed one tune herself. interestingly at the soundcheck, joni went into "dreamland" after "both sides now" as i suspect she wanted to do that instead of the canned "circle game" for the show's outro. spoke to drummer peter erskine before the show and though he didn't get specific, he said they were going to add a song or two of joni's that are going to be on the next joni album for the upcoming tour.
what a show! speaking of dreamland.
---
Patrick Leader:
well i don't think there was an official reporter for jm.com on hand, so i guess i'll file a report on the joni tribute taping. just returned from it.
first of all, i have to say that for pure spirit and magic, not to mention pure musicianship, this tribute really didn't hold a candle to the joni's jazz in the central park last summer. that event was really more true devotees making a labor of love than showbiz, and it was much more inventive musically. i saw danny kapilian at tonight's concert though i didn't get to say hi. kapilian, you still hold the crown...
tonight's show and artists were much more polished, and somehow less exciting. still it was incredibly fun and joni clearly had a good time and was moved. i really hope they keep some footage of her during the final bow, she was lit up with joy and clowning around. especially hugging larry klein on one side and james taylor on the other. god she knows how to pick her exes.
we really lucked out with our $60 'festival seating - limited view' seats. back half of the very small orchestra section, just under the balcony, in the first row of a platform elevated above the rest of the orch. maybe 60 ft from stage. plus just by pure luck we sat house left, so we were just 25 feet or so away from the box where joni and entourage ended up sitting. just to our right, in a technical area a monitor was showing the shots being assembled on the fly, so we had great on-camera reaction shots from her as well as celebs in the audience.
here are a couple of my musical highlights. shawn colvin and mary chapin carpenter performed together several times during the evening, but their version of 'amelia' was the best of their contributions. klein was the musical director of the evening, greg liesz and mark isham were in the house band so this sounded not so different from versions we've heard joni do live recently, but it was so satisfying to hear carpenter and colvin with their distinct voices trade verses and harmonize with each other on voice and guitar (both on acoustic). i'm not sure how this will play on tnt, but i think it will be a favorite of listers.
i've loved kd lang for a long time and never heard her live, so 'help me' was a personal favorite. what an amazingly beautiful voice. richard thomas did a blistering version of 'black crow' on electric, but early in the show he did 'woodstock' with a beautiful solo acoustic guitar. i saw joni on the monitor, eyes closed, listening to that amazing guitar invention. cassandra wilson's 'dry cleaner' with like 7 french horns and 7 trombones was amazing. even owning 3 albums i don't think i realized how low her low range is...
wynona judd opened with the concert with 'raised on robbery', just okay, but she was so good on 'you turn me on, i'm a radio'. it's such a great song for a country singer and she truly did it justice. ashley judd, who was the host, talked about her and wynona arguing about the lyrics of that song, at ages 8 and 11.
there was much more; elton john singing 'free man in paris', jt on 'river', diana krall, sweet honey in the rock on 'circle game' cyndi lauper, etc. some of the coolest things were the little montages, introduced by celebs (susan sarandon, laurence fishburne, tony bennett...) with film clips. many gorgeous shots of joni i'd never seen before, and the last montage was about her artwork and it was full of work i hadn't seen. at one point, 'heart on her sleeve' was projected. i admit here, with no shame, i love that painting.
the show was done in sets of 2 or three songs at a time and then there would be a short break. people were moving around, and of course people were coming to joni's box to pay homage. so i took a chance, waited my turn, and said, 'joni, i'm a member of your internet community and i've wanted to tell you, what you did for wally breese in november, taking him into your home; it was a beautiful thing. it was a mitzvah'. she immediately wanted to talk more about wally; she said 'oh, he was such a sweet man', but they were ready for the next set-up so i scurried back to my chair. but i'm so glad i got to tell her that; it's been a bubble of exploding beauty in my heart for so long.
finally, after all the acts had performed they took a very short intermission, set up the orchestra and brought on joni. the ovation just when she came on stage was so loud and long; i didn't know how she was going to be able to sing. but sing she did. 'edge of your seat' is such a cliché, but that's exactly where i was during joni's performance. i can't really write about this, but i did think at one point 'i'm soon going to hear a whole evening of this; joni with an orchestra singing in this voice'. joni2k, if you will. i can't fricking wait.
np - joni - you've changed
ni - now imagining - 2nd row, center orchestra- oakdale theater nr. hartford connecticutt, bless heather - may 27
ps. odd experience of walking out right next to rosie o'donnell, with no apparent handlers or entourage. i said 'i hear the taping went really well; i'm looking forward to the broadcast.' she said 'yeah, we had all the joni groupies in the audience'. 'not all of them', i answered.
---
Debra Shea:
The tribute was great, truly great, I am still feeling blown away by it. My thoughts are still somewhat jumbled, but I'll try to get some of them out:
You're all going to be impressed I'm sure and sometimes surprised when you see it on TNT. Except for the one from Mingus, the set consisted of Joni's hits, but done by every performer with incredible heart, respect and care. There was nothing sloppy about anyone's performance.
It made me very happy and surprisingly emotional to be standing among several thousand Joni fans clapping, screaming, making as much noise as possible to let Joni know what we feel about her. She got an instant standing ovation when it was announced that she was taking her seat in the lower left box, which was very near the stage. And then again when she took the stage at the end to sing BSN, with a full orchestra, and then of course when she finished it.
I was very impressed with the obvious care taken with this production, from the beautiful picture of Joni on the posters (I managed to get one :-D), to the press kit type program that even includes 2 slides of Joni, to the smoothness of the changes between sets and the accurate and heartfelt introductions given by various people, to the redoing of the lobby with panels of black-diamond patterned cloth to better show off the posters (I wouldn't have known about this redoing, but workmen were taking everything down and setting up for the next event by the time I left about 45 minutes after the concert ended -- things move fast in this town), to the documentary-type segments interspersed between the singing (although Hillary Rodham Clinton on the screen talking about Chelsea Morning was a little odd -- Miss Hillary, we all know you want to be our Senator from NY, but give it a rest; we know you didn't know Joni had written that song, so watcha doin'?). But, other than that oddity, I have no other complaints. The whole event very well done. I hope that sense of care comes across on the TV.
The house band had a jazzy sound to it, and included Mark Isham, Greg Liesz and Larry Klein, who produced the event. Hearing so many older tunes in a jazzy style was wonderful. The sound was a lot smoother than MOA's sound.
And to accompany Cassandra Wilson singing Dry Cleaner from Des Moines there were lots of extra horns of all types. She sounded powerful, not at all like the too-mellow-for-me voice on Traveling Miles. I guess I'll be listening to that again.
Cyndi Lauper blew me away with her version of Carey. I could not believe it! She sang it so sensuously, and slowly, with that jazzy sound behind her and her sometimes writhing around (standing up, no on-the-floor Madonna stuff at this show). I think she's taken possession of that song. Joni might have written it but now it belongs to Cyndi. She was second up and I've always liked her voice, but this just had me amazed. Definitely my favorite of the show. At the end of the show there was a sing-along and when it was almost finished, Joni moved from her place to stand next to Cyndi and put her arm around her shoulders, and with their heads together they both gave such beautiful little giggles everyone laughed. Joni hugged Cyndi a lot. I think she too knows Carey now has a new mother. Or they were just continuing a joke they started backstage. Whatever it was, it was cute, and it was very clear that Joni was having a good time.
And now I know why so many people on the list like Richard Thompson. He had me at Hello, well at least the singer's version of it anyway, for me that's acoustic guitar and a strong unusual passionate voice; it just takes a few notes. He sang Woodstock (STP never showed; don't know what happened to them), and later in the show sang Black Crow. Any recommendations on which CD of his to start with?
And Amelia, well that usually gets to me, but this time it put me into wanting-to-have-a-sobfest mode. It was so moving the way Shawn Colvin and Mary Chapin Carpenter performed it.
And listening to James Taylor sing River accompanied only by his guitar was also very moving. Didn't Joni write River about her breakup with him? It's interesting to see things go full circle like that.
The set list posted earlier is almost accurate, but a little out of order (going by the program and my memory):
Richard Thompson was 3rd on the list, playing Woodstock (Stone Temple Pilots are on the program in that slot to play Woodstock, but didn't), then Shawn & Mary "Chelsea Morning" and "Big Yellow Taxi" James Taylor "River"
Wynonna "You Turn me on..."
k.d. lang "Help Me"
Cassandra Wilson "Dry Cleaner..."
Sweet Honey in the Rock, "Circle Game"
Shawn and Mary again "Amelia"
Richard Thompson again "Black Crow"
Elton John "Free Man in Paris"
Diana Krall "A Case of You"
and then there was a brief intermission while an orchestra was set up, and then Joni came on and after the noisemaking finally quieted down, she sang BSN, beautifully, movingly, so real. One person started clapping when it was almost to the end, but everyone else waited, wanting to hear even the final note. Her performances really do just make us hand our heart to her, and vice-versa, amazing.
I hope most of this makes sense. Anticipation kept me restless all last night, so now I'm feeling weary. Now I'm looking forward to seeing all of this on TV, and if they sell a video of the show, I'm ordering without hestitation. This really was an honest tribute to Joni from her fans, which included all the musicians, and she seemed to be glowing from it. Warms my heart, for sure.
---
Tanya:
Someone asked: "I wonder why Richard Thompson got 2 songs"
Actually... In the press packet I received, Richard Thompson was only scheduled to do Black Crow, and Stone Temple Pilots were scheduled to do Woodstock. I don't know what happened but if he filled in at the last minute, Thompson did a terrific job. His guitar version of the tune really made it his own.
For Joni's BSN, they brought in the 70 piece orchestra and did the thing. It was terrific! I hope they show the whole thing too! There were some truly great performances.
---
Janene Otten:
Hello all you beautiful people,
I apologize about not meeting for a the pre-show celebration but may I say that I was spoiled by a friend who let me backstage I wanted to take pictures but wasn't allowed. =( Joni sounded sublime and all of the memories from Day in the Garden came rushing back. (that was my first Joni live experience) Well, I just can't say enough about Cyndi Lauper. That woman is a saint, really. And k.d. lang's voice was a wonderful pre-cursor to the ever-fabulous Diana Krall. Whoa! I don't know how much more I can comment without tainting my experience. I did talk to Joni for about 3 minutes and she smiled when I mentioned JMDLers =) You see, I'm always thinking of you all! Anyway, we basically talked about tributes to her and that, while it's all very wonderful to hear all of the music, it's quite embarrassing at times. I assured her that regardless of all the tributes, the music is what has brought us all together and we have her to thank. She thanked me and gave me a hug! Yikes. I was a pile of mush on the floor!
Okay, well, I wish you were all there with me. I didn't see any of you, not even David. I was a little bit caught up because I was actually supposed to be working through all of this. That was my assignment in order to get back there.
Thanks to Joni and all of the fantastic performers. Oh, and Richard Thompson is a gem. I love his latest CD and always catch him when he plays here in NYC.
---
Walter Rodgers:
Debra, I couldn't agree more with your take on Cyndi's "Carrie". I was blown away...
I had what I think might have been the first, kind "Larry K." thought I've ever had. His bass line, although very simple, was pounding Cyndi's voice and movements right into my heart. I cannot wait to see it again on tape.
Joni's expressions during the different performances were priceless... what a treat to watch her along with the show itself.
I would also say that k.d. lang's version of "Help Me" was beautiful... never been a huge fan of hers, or of that song really, but after last night I'd never knock her.
Joni really is beautiful... she seemed to go back and forth between being slightly uncomfortable to really being moved. I'm sure I saw a tear start to well-up in her eye during jt's "River".
---
cenunn:
What a treat it was! I had a prime view of Joni and enjoyed every moment of her foot-tapping, banana eating, cigarette smoking, beer drinking and laughing self. Guess she had a potassium low somewhere into the second set, and went into her bag and chomped on a banana. (It really was quite funny). The highlights were numerous, but I think Cyndi stole the show. The biggest disappointment? Shawn Colvin and Mary Chapin butchering Chelsea Morning. They were out of key, and just a mess. James made up for them during the Big Yellow Taxi lead in...but, they did redeem themselves with Amelia. I was dead wrong with Elton, I had expected For Free...and got Free Man in Paris...off by a couple of words.
You'll all be in for a great television broadcast next week.
---
Gellerray:
I just got home and I have to get up early for an appointment so I can't say much right now. But I need to say something after having been to the Tribute--just to send up a flag or message...
One: lucked out and got "upgraded" from the "Prom" section (on main floor but back behind the mixing board--also behind pillars) to, well, the 8th row! So that rocked. Could see Joni up in her "box" rather clearly. Beautiful and regal in her indigo Miyake.
Number of cigarettes Joni smoked during performance(s): only one! (that i saw). She also ate a banana.
It was a very moving evening. Like Joni--ha!--I can't really describe yet all that it meant--it was very meaningful though for everyone involved, that seems sure. Every musician was stellar and a real pro in his or her way and there were several highlights. But in terms of hitting the mark, a certain perfect fit, I thought Cyndi Lauper did very well. But then even as I say that I think of how brilliant Cassandra Wilson was and Diana Krall too. Also Elton--and James! There was all kinds of greatness and major affection--also, the best kind of nostalgia.
And yet, there were no truly breakout performances--I mean no one totally cut loose. I think in part it was because everyone was so nervous.
Also the absolute highlight of plastic pandering: Hillary's prerecorded "address." I actually kind of love Hillary's politics, but my god was she a big piece of scripted wood up there!
Celebrities: Goldie, Laurence Fishburne, Susan Sarandon (who, at the end, Joni screamed "Come up here and express how I feel Susan" to), Rosie, Sandra Bernhardt, Michael Bolton, Cynthis Nixon ( I think that's who that was) and this very pretty woman who I recognized from Melrose Place (Kristen something?), Phoebe Snow...I know there were more but those are the ones I am conjuring now...
O, and this: BEST LINE OF THE EVENING: Elton John saying, "I've played for the Queen of England and it wasn't as intimidating as this!"
---
Phil Fallo:
in my report i did forget to mention k.d. lang and her wonderful version of "help me".
i'm not a fan of hers, but she won me over with her performance last night. beautiful voice, great range. another one of the funnier moments of the show was when shawn colvin and mary chapin carpenter said that when they first saw the "for the roses" cover they both ran out and bought those boots and the green velvet outfit that joni was wearing. i definitely agree with debra about cyndi lauper-what a surprise-totally making "carey" her own. interestingly enough, someone screwed up, maybe cyndi, as she repeated a verse. didn't matter because it was sooo good. fix it in post as we say. there was also a minor hiccup in elton's "free man". it looked like one of the stage managers asked him if he wanted to redo it but he declined.
once again, despite all the glitz and slickness, i felt everyone was extremely heartfelt and genuine in their love and respect for joni. as to comparing it to the joni jazz tribute from central park last year- i don't think you can compare the two- apples and oranges. last night's show had a totally different focus, pretty much dealing with joni's more popular songs, yet definitely following the progression of her career culmininating with where she's at now with "both sides now".
don't miss it. get your vcr's ready.
---
Kenny Grant:
I've been "absent" from the list for so long now that many of you probably never saw my name before - I'm Kenny, another true Joni Mitchell fan who used to post from time to time. Hi to all the new listers out there, and huggs to my old JMDL buddies.
Phil, Patrick & Deb Shea summed up the evening quite comprehensively, so I can only add some musings.
I had basic $60 tix, but as seating was unreserved, and the friend (non-lister ) who I went with has alot of balls, I wound up in the 6th row, center stage, AND perfectly perpendicular to Joni, so I was able to see her reaction to everyone's performance. I can only say that she seemed very impressed overall with everyone's renditions of her songs, and appeared to be truly honored by the tribute.
My favorite line, which Phil mentioned, was Elton John's. Before he did Free Man In Paris, he said (paraphrasing somewhat) "It's amazing what's going on back stage. All these gifted musicians, scurrying about nervously, saying 'oh my god, I can't believe I'm going on stage to perform a Joni song - right in front of Joni! And you know, I feel the same way, and I've performed before the Queen of England!'" That was so cool. The crowd laughed hysterically, as did Joni!
Look for a review of the Tribute Concert in TV Guide. Cause the TV Guide reporter was sitting to the left of my friend, and his pen ran out of ink. I loaned him mine.
I'm not a big star watcher/noticer/recognizer, but one attendee who wasn't mentioned who was there was Goldie Hawn - looking ravishing as ever. On my way out, I was about a foot away from her, and she wasn't terribly occupied, so I said what the heck. I walked up to her and said "I've been a fan of yours for many years, and just want to say that I think you're tremendously talented. Thanks for all your great work" And I shook her hand. And she smiled warmly and said "thank you."
My brush with greatness :-)
Was surprised that a guitar song, "Free Man in Paris," was performed on piano, and a dulcimer song "A Case Of You" was also performed on piano, but Elton John and Diana Krall did perfect justice to both of them, despite the change of musical instruments. Was super disappointed that Chaka Kahn was a no show, she stole the show at the Joni Mitchell Tribute in Central Park on 7/1/99, she's an incredible talent. Never saw Cassandra Wilson live until yesterday, and while most gave her kudos for her rendition of "Dry Cleaner from Des Moines" I personally feel that you can only do so much with that song - no matter how many horns - and wish she'd done a different number. Having heard her rendition of Black Crow on her _____ album, I know she can take a Joni song and all but re-invent it.
Bumped into Patrick and Kay Ashley, and after telling them about the 6th row center stage seats I scored, I hope they remain friends:-) I don't mean to harp on my wonderful seats, but after a life of lousy concert seats, I still can't get over it. And now I hear that Heather scored 2nd row - for Joni's BSN show in CT !!! CAN'T WAIT, thanks Heather!!!
CSNY this past Tues. Joni Tribute Thurs. And Tina Turner tonight at Madison Square Garden...when it rains, it pours!
BTW, the TNT broadcast of the Joni Mitchell tribute is Sun 4/16 9PM Eastern
---
Pearl:
Wow! What can I say.
I went back and forth last Friday deciding whether to get tickets for this show and fly up to NY from Florida. In the afternoon I had decided, no, with airfare it will be too expensive, my husband Steve said he wouldn't be able to come with me, would have to impose on Steve's uncle in the city for a place to stay etc...but I was moody for the rest of the day after making the decision not to go. Some of you may remember how I hate to miss out on Joni events. Finally, Friday night I just had to throw caution to the wind and I ordered two tickets from ticketmaster on the internet. After listening to more info about the show Steve said he wanted to come and I was very happy. But on Monday with the stock market reeling (he's a broker) he again said he couldn't take off work and I was on my own. Unfortunatley I ended up making airline reservations only a couple of days before leaving and ended arriving in NY at almost midnight on Wed and having a 6:45 AM flight home on Friday. But it definitely was worth it.
IT WAS WONDERFUL and I'm so happy I went. I ran into some old JMDL friends and met some new ones. I was happy to share my extra ticket with the very sweet and patient Debra Shea. Unfortunately the $85 tickets were in the second balcony. I was hoping they would be better. In this case the cheaper seats turned out to be the way to go. Who knew? I managed to sneak in my digital camera and a 200mm zoom camera. I ended up taking about 90 digital shots and more than half of them are pretty good considering how far away I was. The lighting on stage wasn't that bright so I'm not sure how the other pictures will come out. I'm so anxious for you guys to see them. Unfortunately, from where I was sitting I wasn't able to see where Joni was sitting.
The performances were for the most part outstanding. My hands hurt from clapping so much even though I did spend a lot of time fumbling between the two cameras and my binoculars. I too was blown away by Cyndi Lauper's rendition of Carey. She did it slow and sexy with a real funky rhythm. A great surprise. I loved the harmonizing by Shawn Colvin and Mary Chapin Carpenter on Amelia. k d lang really belted. out Help Me. What a powerful voice.
She picked out a strange outfit to wear...an oversized mens shirt with unbuttoned sleeves, long baggy pants and bare feet. I don't want to go into describing too much. I can't wait for you all to see it.
Some wonderful reviews have been shared by listmembers already and I'm sure there'll be a lot in the media over the next couple of days.
I think they did a great job with the photo montages and commentary. There were many shots I've never seen. They of course did focus more on the earlier work. Even in the montages there was very little of the more recent Joni.
I think Joni's outfit for this was much better than what she wore on Letterman. She wore an above the ankle dress of vertical crinkly fabric, probably silk, with a matching longer coat. The sleeves were pushed up to her elbows. Through the binoculars I thought the dress was green but in the photos it's more of a purple. It perhaps had a bit of an irridescent quality where it looks one color in one direction and another color in the other. She wore round toed black suede shoes with a sling back and thick soles. She wore tights with them so it looks somewhat like boots from a distance. At her neck she wore a silver choker. She looked radiant.
She did a beautiful, emotive version of BSN. I love that sway. She was all smiles at the end and seemed very happy. I went snap-happy during the song and just took a lot pictures as well as at the end where she's singing Circle Game with everyone and sharing hugs all around. I did get the hand holding between her, Larry and James.
I'm a bit out of synch time wise with the crazy flying schedule and almost no sleep at all yesterday or today. I think I'm starting to ramble so I'd better get to bed. I didn't get to talk to Joni this time but I did get back stage briefly while she was being interviewed and snapped a couple of profile photos before they made me leave. Patrick, what you said to her about Wally was perfect.
I'm so glad I decided to go on this Excellent Adventure. I'm also very grateful that I am able to afford to do whacky thinks like this. Appreciative too of my generous husband, and work that has very flexible hours.
Once again, many of the listmembers I'd never met said I look a lot like Joni. I love to hear that.
---
Phil:
yeah, the joni jazz tribute certainly had much more of an edge to it and it was magical. there was a real sense of risk taking. i did think that at the tnt thing, while yeah obviously much slicker and show biz, some artists really took it out and those were my favorites. thompson's "woodstock", lauper's "carey", cassandra's "dry cleaner", taylor's "river", krall's "case of you" sweet honey's "cicle game", and of course, joni 's "both sides now" which kind of summed the whole thing up, bringing it full circle. i gotta admit, i went into the show with great trepidation, worrying that in some way that the show might trivialize joni in some sugar, coated, hollywood way-but it didn't-and that was due to joni. she has really touched all these people's souls just as she's touched ours. the love came shining through.
btw, there is a review of the show in the saturday's ny times. it was reviewed by ann powers and the title was "poetic doyenne holds court with enduring spark". generally a very favorable review. you can probably check it out at nytimes.com.
---
Bryan Thomas:
I'm so bummed that I missed everyone Thursday nite. It was great to catch the show, to be in the house watching Joni smiling and tapping her toes to so many great performances, but odd for me to do it for the most part solo, with no one to share it, talk about it. Ugh. As fate would have it, I was stuck at work until 7:30, so I missed all of the Blarney Stone fun. Damn. The reports have been a great way to relive it all, though. (I'm especially glad that Patrick was able to make it down!) I don't think I'd have much to add, except:
- I've had a shit-eating grin on my face since, oh, about 8:00 last nite. No signs of going away soon (or ever).
- that Diana Krall NAILED "Case of You." I've had a lot of people trying to sell her to me over the past several months, but it wasn't until last nite that I put the money down. Understated, heart-wrenching, beautiful.
- that it was so wonderful to watch Joni in her box seat, shaking her head, tapping her feet, appreciating those appreciating her (and just as with Day in the Garden, at many times I felt that she and I were the only ones in the room).
- that my big disappointment was the Stone Temple Pilots no-show (some of you know that the first song on my CD is about an infamous Scott Weiland NYC no-show two years ago, when he was busted trying to buy heroin just a few hours before he was supposed to hit the stage. So again he eludes me!) Mr. Thompson was a happy substitute. Also: where was darling Chaka?
That's about it. Again, sorry I missed everyone. (Though I thought I had a brief Pearl sighting from afar!)
PS: This was in the NY Post today:
"THE guest of honor at China Club on Thursday night was Joni Mitchell. TNT had just taped a tribute to her at the Hammerstein Ballroom with performances by Elton John, k.d. lang, and Cyndi Lauper. But Michael Bolton was ready to rock. He jammed with the house band singing "Knock on Wood" and "(Help Me Find) Somebody Else" to the likes of Rebecca Romijn-Stamos, Laurence Fishburne and Goldie Hawn. Then Mitchell-impersonator John Kelly started singing her classics, and Joni came toward the stage transfixed. Later, Bolton jumped onstage again to wail Chuck Berry's "Lucille." It's obvious. The Hammerstein Theatre, not yet open and still quiet, is ready for a major affair with the entire lobby dressed up in silk red rose garlands, grey/plum taffeta on the walls. Inside the theatre, a stylized twig/tree proscenium is surrounded by gauzy white silks and lit in red, with purple curtains.
Celebrity chairs observed: Rosie O'Donnell, Aida Turturro,Susan Sarandon. Anne Archer, Cyndi Lauper (who is also performing tonight), Robin Tinney, Michael Bolton. There's Goldie Hawn, Sandra Bernhardt, Rob Morrow, John Stamos and Chaz Palmentieri. And many others, no doubt.
People are arriving now. A flashy "Hollywood premiere" feel is palpable in front as the red carpet is rolled out (literally) and interviews are given by stars entering the theatre. Joe Jackson's Jumpin' Jive is playing as people take their seats.
After some ground rules are given about the television production aspects of the evening's events, Joni is introduced; she and her party take their seats. Joni looks beautiful, and very happy. Host Ashley Judd is introduced, and here we go…
8:12 P.M. Wynonna and Bryan Adams take the stage, and get the show's momentum going right out of the gate. They rock the house with their performance of "Raised on Robbery." Ashley follows, standing behind the podium to open with a tribute and introduction. As she notes Joni's accomplishments and awards, she tells the audience that "we will see her from all sides now." Joni's entire career is acknowledged over the course of the program; still, none of the songs performed are less than 20 years old.
Cyndi Lauper is up next. All the reports I've received agree that her sultry Carribean take on "Carey" was one of biggest crowd-pleasers of the evening. It was mentioned that Cyndi, at the start of her career, used to sing Joni tunes on street corners for money from passers-by, so she's probably had this song in her for a long time. Muted trumpets, sexy, slow and measured. The song provides a perfect vehicle for Cyndi to play with her wide vocal range, popping from octave to octave, directing the band as she sings. As she walks back toward Mark Isham, her face-to-face interaction with him while he improvises on trumpet is another high point, adding a visual cue that shows the exchange taking place between the musicians on stage. Joni is tapping her foot, enjoying the performance.
Ashley is back with us now, standing behind the podium as she introduces the first of three retrospective film segments. This one takes us through the Laurel Canyon period. I'm told that the pictures are beautiful, and that many have been seen before on the Web. ;-)
Richard Thompson's intense and forceful reading of "Woodstock" follows, underlining the timelessness of the song. Brilliant guitar work as always, performed with imperative. This song was originally slated to be performed by Stone Temple Pilots, who cancelled due to illness; the result is a chance for the audience to get a taste of Richard's versatility with this acoustic performance early on, with a high-voltage electric performance later in the show.
Act two opens with a videotape of Hilary Clinton, telling the story of naming their daughter Chelsea and singing "Chelsea Morning" today. She introduces Shawn Colvin and Mary Chapin Carpenter singing what else? They sing Joni's original harmonies as the backbeat segues into "Big Yellow Taxi." The harmonies stretch out into three parts as James Taylor joins in halfway through; Joni stands and blows them a kiss when the song ends to tumult.
Now the stage belongs to James; he picks up the guitar and thanks the "bone on the throne" for writing the song he plays. His performance of "River" is done entirely in his idiom; Joni listens intently to another fine solo by Mark Isham. At the end, James bows and blows a kiss back to Joni as a grand ovation rolls through the house.
Note on James Taylor: Many of Joni's fans hold a special place in their heart for James, and feel his contribution to Blue was significant not only in terms of musical performance/arrangement, but also in terms of having shared cathartic and crucial life and career experiences with Joni. His presence at this tribute was an affirmation of lifelong friendship and love, far beyond any connection to the music business or media spin and relevant to all of us who regard our own long term relationships as paramount. (Aside: Critics who view Joni's romantic relationships as dysfunctional should take note of this and her affection for Klein, and shut up.)
Wynona is introduced poignantly for "You Turn Me On, I'm a Radio." Joni is loving this, Sandra Bernhardt is groovin'. Wynonna inroduces a "beautiful and sassy" Susan Sarandon; the screen lowers to begin the second film installment.
Susan introduces a barefoot k.d. lang, wearing colors that remind me of the cover of Don Juan's Reckless Daughter. She sings "Help Me," hitting all the slides and holding "didn't it feel good" for what seems like forever.
Commercial break, Joni lights up. Phoebe Snow talks with Rosie. Is that Sharon Stone?
"Let's hear it for the lady with a hole in her stocking," pipes the announcer, "Joni Mitchell!" Another huge ovation for Joni rattles the Hammerstein Ballroom. Lawrence Fishburn introduces a defiant third film segment, highlighting Joni's jazz period. As with the previous segments, there's plenty of applause throughout as Joni's many accomplishments are mentioned.
A perfect followup to the jazz film segment is veteran jazz interpreter and improvisor Cassandra Wilson, who now appears complete with a huge horn section, tackling the newest and probably one of the most technically demanding songs on the program, "The Dry Cleaner From Des Moines." Singing a full octave down from Joni's original version, she paces the audience into a frenzy.
After a commercial break and some technical maneuvering, more applause as Ashley returns to introduce Sweet Honey in the Rock. Their magnificent Gospel rhythm and blues harmonies and African percussion treat the audience to a truly original recreation of "The Circle Game."
Now Mary Chapin Carpenter and Shawn Colvin, who've apparently formed an alliance for the evening, are back with the always engaging Shawn thanking Joni for giving them fashion cues through the years.
This time Mary and Shawn shift gears; they change the pace from the mostly more upbeat songs that were chosen for the program, performing a thoughtful, country tinged "Amelia." There's a more obvious musical nod to Joni's original guitar work on this song than perhaps anywhere else in the program. Trading off on verses, their beautiful, memorable vocal harmonies float over the horizon of Greg Liesz's tasty pedal steel guitar. Joni listens with eyes closed, nodding softly.
Richard Thompson returns now, this time with an electric guitar (which in the case of Richard often means he's heavily armed). His aggressive take on "Black Crow" recalls Joni's version from Shadows and Light, and is laced with blistering guitar solos that make everyone's hair stand on end. Joni's munching on a banana.
Richard introduces the band after the song ends: Greg Leisz, guitar and pedal steel; Dean Parks, guitar; Jaime Muhuberac, keyboard; Curt Bisquera, drums; Mark Isham, trumpet and Bob Sheppard, saxophone. Everybody gets a warm reception; bass guitarist and musical director Larry Klein is announced last and gets an especially big hand from the crowd.
The grand piano is rolled out; it's time for Elton John. He's in form tonight, his trademark rock-solid piano rhythm providing a strong foundation for him to breeze through a straight ahead performance of "Free Man In Paris."
Upon finishing the song, Elton moves to the podium and gamely waits out technical problems to say a few words. He makes one of the more memorable comments of the evening, while talking about the awed buzz backstage by musicians who are playing Joni's music for her: "I've played for the Queen of England and it's not so imtimidating," he quips.
Diana Krall gives the last tribute performance of the program, "A Case of You." Many people in the audience say Diana's soulful interpretation of the song is one of the high points of the evening. You can hear a pin drop as Diana's bluesy bend on the words "Oh Canada" sets the stage for a moving, personal rendition of the song. Joni watches intently; one viewer says she looks startled, another says it's "as if the mirror looked back."
Time for another commercial break. The orchestra is setting up—excitement crackles through the air as the audience anticipates what's coming up. Joni's not even on stage yet and people are already getting chills. Next: The Finale.
This audience has been treated to one special tribute performance after another tonight, by a long procession of world-class performers. But the real pinnacle of the show is yet to come. Even with the talent assembled onstage, it's obvious that nobody does Joni's music like Joni herself. Like last summer's Central Park tribute, seeing these greats try to do her material reinforces the notion of just how complex and subtly nuanced it is.
Although she's been out in the audience, Joni's presence has loomed large throughout the program. Watching a happy, radiant Joni smiling and laughing, or intent and thoughtful as she enjoys the music, film segments and accolades offered by those on stage brings a special joy to many of us who have patiently waited for the day Joni would get some of the recognition she deserves, for enriching the lives of so many people from the palette of her own.
The stage is set; the orchestra is arranged more comfortably than they were for the Letterman and Rosie tapings earlier this week, in a horseshoe for this event. Anticipation and excitement continue to build.
Tony Bennett, one of popular music's longest-enduring interpreters and a painter himself, is introduced, adding another touch of class to the program. He narrates the final film segment highlighting Joni's first love, painting, and talks about how Joni describes her music visually: Joni has described a musical passage as "opening up like a Georgia O'Keefe flower."
Finishing the film segment, he gets the grand prize introduction of the evening: "Ladies and gentlemen, Joni Mitchell!" 3800 people on springboard. Joni comes out from house right to a deafening standing ovation, and gives the crowd a great smile. She says a couple of things to the audience which are completely muffled by continued cheering and applause; maybe we'll find out what she said when the show is broadcast. Finally, the place calms down and the orchestra begins Both Sides Now. Beyond everything we've seen so far, this is why we're here tonight.
Although there are some problems with the sound balance for the orchestra (that will probably be corrected when the show airs), her performance of the song is sublime, profoundly moving. No "junk food for juveniles" this: An awestruck crowd is completely involved in the moment as they witness a peak in the journey of an artistic visionary. A woman in the balcony is sobbing uncontrollably. Joni's got them. Again.
As the song ends, another wild ovation continues for nearly two minutes. Joni invites everyone out to "do SOMETHING!" and the performers all return to the stage; the orchestra backs the whole group for repeated anthemic choruses of The Circle Game. There's a spontaneous and impromptu feeling to the whole scene. A big party. And oh, so much love—hugs all around.
During the curtain call, Joni drags Larry to the foreground from his place within the band to give him a special hug and kiss. Some members of the audience gave a special recognition to this moment. Joni leans back to the mic: "That's my ex!" she beams.
As the crowd files out of the theater, the performers and other luminaries head for a celebration at the China Club, followed by a gaggle of photographers and press. Michael Bolton joined up with the house band to rock out, and famed Joni impersonator John Kelly's performance drew Joni up onstage, to the delight of the revelers.
Congratulations to TNT for recognizing the key elements in what makes Joni's work timeless and universal, and putting this event together in a way that will broaden her appeal, yet maintain all the integrity she has sought to protect throughout her lifelong career as one of North America's artistic treasures.
I'd like to express my appreciation to the people who helped me put this story together: Sincere thanks to the many audience members who sent in their reactions and observations; to Pearl Weisberg and Rose Joy for their photographs; thanks also to Automatic Productions and to Reprise for their help providing me with ongoing assistance and information over the past few months, as preparations for the Tribute show progressed.