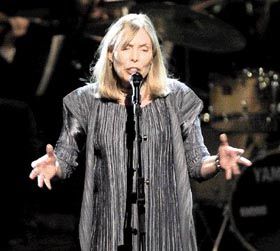 She's a hero to almost every one of the artists that have paid her tribute by performing her songs, but when you get right down to it, the best rendition of a Joni Mitchell song comes from Joni Mitchell herself

Joni Mitchell, the grand matriarch of singer-songwriterdom, is getting her props. She recently released Both Sides Now, an orchestral album of covers that includes two reinterpretations of her own songs, to very positive reviews.

She is generally held in awe by her peers and successors, many of whom cite her as a primary influence. A tribute album of Mitchell material that will include performances by Stevie Wonder, k.d. lang, Sarah McLachlan and Bjork is slated for release. Finally, she has been the subject of two all-star concert tributes in the last 10 months. The first of these was held in New York's Central Park last Canada Day, and the most recent took place Thursday night at New York's Hammerstein Ballroom.

If there's one thing that was proved by last week's TNT-produced tribute it's this: The best interpreter of Joni Mitchell is Joni Mitchell. After a mixed bag of an evening that produced occasionally stunning performances of Mitchell's music, but more often surprisingly tentative ones, Mitchell took the stage and gave a celebrity-spiked audience the climax it deserved.

Having watched the proceedings from a lit-for-TV box on the left side of the house, Mitchell was welcomed onstage by Tony Bennett. The green-gowned guest of honour took her place downstage centre and stood for several moments, waiting out the extended standing ovation and the hockey-game chant of "Joni! Joni! Joni!" that was building lustily in the balcony. When a pin-drop silence finally descended, Mitchell, and the orchestra that had preceded her onto the stage, launched into a deeply moving performance of one of her best-known songs, the campfire classic Both Sides Now.

When Saskatoon-raised Joni Mitchell, nee Roberta Joan Anderson, first recorded the song, it was 1968, and her look at life from both sides then was limited to 24 years. Hearing it 32 years later is a revelation. The song, like Mitchell's nicotine-stained voice, has deepened with her years, and what seemed slightly sophomoric and a tad twee in its original, girlish incarnation suddenly seems to have earned its look-back-in-longing lyrics. "I've looked at life from both sides now, from win and lose and still somehow it's life's illusions I recall; I really don't know life at all" plays better coming from a 56-year-old woman.

Thursday's tribute, which will be broadcast stateside on Sunday and in Canada later on, included a videotaped message from the U.S. first lady, a documentary film on Mitchell's career, and performances by Sir Elton John, James Taylor, Cassandra Wilson, Shawn Colvin, Bryan Adams, k.d. lang and Diana Krall, among others. The band, a collection of accomplished studio players, was led by bass player Larry Klein, who also happens to be Mitchell's former husband and frequent producer.

JONI THE SINGER

"Joni's been a jazz singer for me from the beginning," Cassandra Wilson said backstage after her shaky performance of The Dry Cleaner From Des Moines, one of Mitchell's collaborations with the late jazz composer and bassist Charles Mingus. "She works with intervals that aren't ordinary."

Dry Cleaner, which features Mitchell lyrics seamlessly grafted onto a Mingus melody, is extremely difficult to sing. It's like scat poetry, and although Wilson's performance was game, she never quite took command of the song. "I spent a lot of time with this tune," Wilson says, "and I realized it's a hell of a hard tune." Mitchell's two recordings of the song, on 1979's Mingus and 1980's live Shadows and Light, seem masterful in comparison.

After years of hearing Mitchell's voice ricochet off the walls of her complex song structures, it's easy to take her singing voice for granted, but hers is a dead-true instrument of huge interpretive depth. Wynonna Judd's and Bryan Adams' spirited but unspectacular take on Raised On Robbery, Cyndi Lauper's well intentioned but unsteady Carey and Richard Thompson's respectful but strangely remote Woodstock had the unintended effect of paying tribute to that voice by revealing the songs' difficulties.

JONI THE SONGWRITER

Mitchell emerged from the '60s coffee-house circuit to become, arguably, the foremost singer-songwriter of an early-'70s scene that included James Taylor, Carole King, Jackson Browne and Cat Stevens. "She was a singer-songwriter coming up the same time I did," Taylor said backstage, following his masterful performance of Mitchell's River, "so she's a real inspiration. She just sort of challenges you in a way that lets you know what's possible. She's a deep well."

Her songwriting output has included the wistful folk of her early years, the radio-friendly (at the time) pop of 1974's Court and Spark, the much misunderstood late-'70s "jazz period" that inspired her best album, 1976's Hejira, and finally the pop-jazz fusion of later albums like the underrated Night Ride Home and the Grammy-winning Turbulent Indigo.

Other highlights on Thursday evening included Shawn Colvin and Mary Chapin Carpenter's spot-on Amelia, k.d. lang's lilting Help Me and a soulful, show-stealing performance of A Case of You from Diana Krall, whose ongoing maturation as a performer is thrilling to behold.

JONI THE MATRIARCH

Last summer's Canada Day tribute to Mitchell featured, among others, Jane Siberry, Joe Jackson, Chaka Khan and Duncan Sheik. Its surprising number of unsteady performances give the sense that Mitchell is held in sometimes crippling awe by other singers. Last Thursday's backstage banter reflected that sense of awe.

Cyndi Lauper: "She was my hero. I feel like a little kid."

Cassandra Wilson: "I've always been in awe of her."

k.d. lang: "I don't think there's any [singer-songwriter] in Canada that doesn't cite Joni as an influence."

Even Sir Elton John followed up his competent but restrained performance of Mitchell's Free Man In Paris by saying, "I've played before the Queen of England, and it's not so intimidating."

The fact that two of Thursday's best performances were by Canadians (lang and Krall) seems a fitting tribute to Mitchell's home. "I grew up about 90 miles from Joni," says lang backstage, "and I think if you look per capita at the number of singer-songwriter Canadians, it's pretty overwhelming. There's been a very sturdy standard set, and I think it's been set by Joni."

Mitchell is also an accomplished oil painter, and her self-portraits grace the front covers of many of her albums. As a result, it's tempting to incorporate painterly metaphors when describing her music.

It's a useful metaphor. Mitchell conjures images with her words -- there's a painting in every line -- and colours with her sinuous melody lines. Then there's that voice, lilting and sky-blue when she was a young woman, grainy and turquoise in middle age and now, post-middle-age, a deep, dark, smoky blue.

During the climactic moment of Thursday's tribute, Mitchell applied that voice in long smooth brushstrokes, and Both Sides Now, sung at last by the woman for whom its young writer must have intended it, became her most accomplished self-portrait.