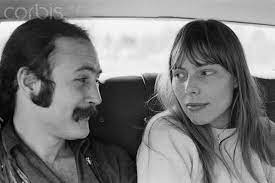 "It is with great sadness after a long illness, that our beloved David (Croz) Crosby has passed away," his wife wrote in a statement to Variety. "He was lovingly surrounded by his wife and soulmate Jan and son Django. Although he is no longer here with us, his humanity and kind soul will continue to guide and inspire us. His legacy will continue to live on through his legendary music. Peace, love, and harmony to all who knew David and those he touched. We will miss him dearly. At this time, we respectfully and kindly ask for privacy as we grieve and try to deal with our profound loss. Thank you for the love and prayers."
David Crosby produced Joni's first album and aimed to protect the integrity, originality, and purity of Joni's music. "We did get the actual songs down without a bunch of other crud on it, and that made me happy," Crosby remembered. "That's the thing I'm proudest of."
David Crosby was 81 years old.