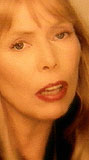 Folk-jazz singer-songwriter Joni Mitchell is the latest artist to get the musical tribute treatment from TNT, as Shawn Colvin, Elton John, and Richard Thompson have all signed on to perform for "An All-Star Tribute To Joni Mitchell."

The concert will be taped at the Hammerstein Ballroom in New York City on April 6 with actress Ashley Judd hosting. Judd's sister, Wynonna, will also play the gig, along with Chaka Khan, Cassandra Wilson, k.d. lang, and Diana Krall.

Mitchell, who was inducted into the Rock And Roll Hall Of Fame in 1997, has been a primary influence on such contemporary female artists as Sheryl Crow, Sarah McLachlan, and Fiona Apple.

She scored a series of hit singles in the '60s and '70s, including "Chelsea Morning" (which inspired the name of President Clinton's daughter), "Big Yellow Taxi," "Woodstock," and "You Turn Me On, I'm A Radio," among others.

Organizers for the Joni Mitchell tribute say that more artists and guests will be added to the lineup in the next few weeks, with an edited version of the concert special currently slated to premiere on TNT on April 16 at 9 p.m. (ET/PT)

The event marks the fourth in the "TNT Master Series," which began back in April 1998 with "Burt Bacharach: One Amazing Night," and continued the following year with a show feting Johnny Cash.

TNT's most recent tribute special was held this past December in Jamaica and celebrated the life and work of reggae legend Bob Marley.