1974 Summer Tour of the United States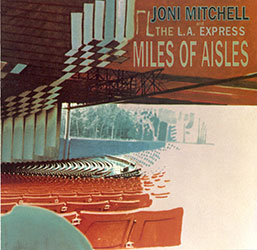 Tour details
Joni was accompanied by Tom Scott and the L.A. Express,
who were also the opening act.
Musicians:
Joni Mitchell- Guitar, Piano & Dulcimer
Tom Scott - Woodwinds & Reeds
Roger Kellaway- Piano
Larry Nash- Piano (replaces Roger Kellaway)
Robben Ford- Electric Guitar
Max Bennett- Bass
John Guerin- Drums & Percussion

Tour dates
Joni's Concert Tours
Please send comments, corrections or additions to: simon@icu.com
Have you seen Joni in concert? Add your memories!
Locate the concert you attended and click on the title to add your comments. Registered viewers can also upload photos, ticket stubs, concert advertisements, and other memorabilia.