2000 Both Sides Now Tour Of America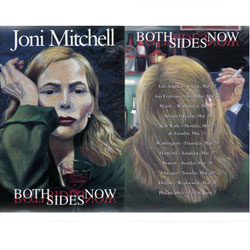 Tour details
Joni was accompanied by a different orchestra in each city.
Musicians:
Larry Klein - Musical Director
Vince Mendoza - Arranger/Conductor
Ralph Morrison - Concert Master

Chuck Berghofer - Bass
Peter Erskine - Drums
Herbie Hancock - Piano
Mark Isham - Trumpet
Larry Klein - Bass
Wallace Roney - Trumpet
Bob Sheppard - Saxophone
Tour dates
Joni's Concert Tours
Please send comments, corrections or additions to: simon@icu.com
Have you seen Joni in concert? Add your memories!
Locate the concert you attended and click on the title to add your comments. Registered viewers can also upload photos, ticket stubs, concert advertisements, and other memorabilia.