Court And Spark
Guitar tablature transcribed by Sam Stone
Tuning: EAEABE (other transcriptions in this same tuning)
"Joni" Tuning: E57525
Tuning pattern: x57525 (others in this same pattern)

Download/View Transcription (PDF)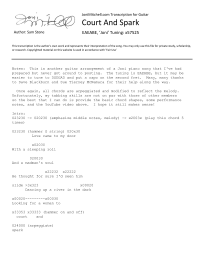 Author Notes:
Notes: This is another guitar arrangement of a Joni piano song that I've had prepared but never got around to posting. The tuning is EAEABE, but it may be easier to tune to DGDGAD and put a capo on the second fret. Many, many thanks to Dave Blackburn and Sue Tierney McNamara for their help along the way.

Once again, all chords are arpeggiated and modified to reflect the melody.
Unfortunately, my tabbing skills are not on par with those of other members
so the best that I can do is provide the basic chord shapes, some performance notes, and the YouTube video above. I hope it still makes sense!