Blue Motel Room
Guitar tablature transcribed by Mark Domyancich and Howard Wright
Tuning: CGDFAD (other transcriptions in this same tuning)
"Joni" Tuning: C77345
Tuning pattern: x77345 (others in this same pattern)

Download/View Transcription (PDF)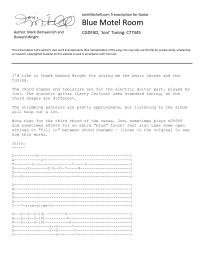 Author Notes:
I'd like to thank Howard Wright for giving me the basic chords and the tuning.

The chord shapes and tablature are for the electric guitar part, played by
Joni. The acoustic guitar (Larry Carlton) uses standard tuning, so the chord
shapes are different.

The strumming patterns are pretty approximate, but listening to the album
will help out a lot.

Note that for the third chord of the verse, Joni sometimes plays x05655 and
sometimes x05555 for an extra "blue" touch! Joni also uses some open strings
to "fill in" between chord changes - listen to the original to see how this
works.