Download/View Transcription (PDF)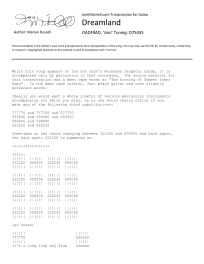 Author Notes:
While this song appears on the Don Juan's Reckless Daughter album, it is
accompanied only by percussion in that recording. The source material for
this transcription was a demo tape known as "The Hissing Of Summer Lawns
Demo". In the demo tape version, Joni plays guitar and uses slightly
different words.

Ideally you would want a whole roomful of various percussion instruments
accompanying you while you play.