Good Friends
Guitar chords transcribed by Brian Canfield
Tuning: EADGBE (other transcriptions in this same tuning)
"Joni" Tuning: E55545
Tuning pattern: x55545 (others in this same pattern)

Download/View Transcription (PDF)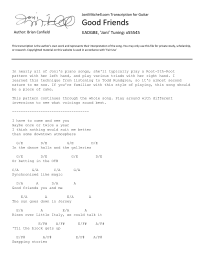 Author Notes:
In nearly all of Joni's piano songs, she'll typically play a Root-5th-Root
pattern with her left hand, and play various triads with her right hand.
I learned this technique from listening to Todd Rundgren, so it's almost
second nature to me now. If you're familiar with this style of playing,
this song should be a piece of cake.

This pattern continues through the whole song. Play around with
different inversions to see what voicings sound best.