Rainy Night House
Guitar tablature transcribed by Brian Emond
Tuning: EADGBE (other transcriptions in this same tuning)
"Joni" Tuning: E55545
Tuning pattern: x55545 (others in this same pattern)

Download/View Transcription (PDF)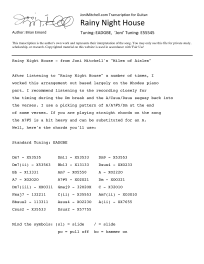 Author Notes:
Rainy Night House - from Joni Mitchell's "Miles of Aisles"

After listening to "Rainy Night House" a number of times, I
worked this arrangement out based largely on the Rhodes piano
part. I recommend listening to the recording closely for
the timing during the Dm break and the A/Csus/Dsus segway back into
the verses. I use a picking pattern of A/A7#5/Dm at the end
of some verses. If you are playing straight chords on the song
the A7#5 is a bit heavy and can be substituted for an A.