People's Parties
Guitar tablature transcribed by Howard Wright
Tuning: DADF#AD (other transcriptions in this same tuning)
"Joni" Tuning: D75435
Tuning pattern: x75435 (others in this same pattern)

Download/View Transcription (PDF)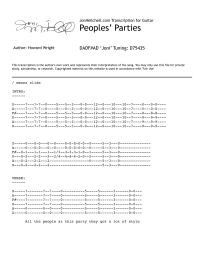 Author Notes:
Please note that the strumming pattern is only approximate. The shapes
are the main thing - I've indicated roughly how many times each is
strummed but this isn't 100% accurate.

The same with the words - the changes should match up fairly well with
the words but listen to the record to get the detail.