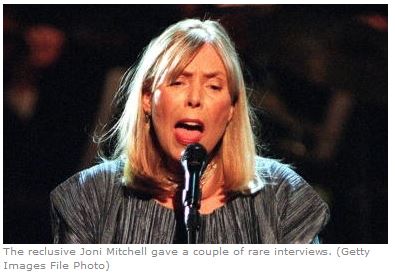 JONI MITCHELL GIVES RARE INTERVIEWS

The reclusive Joni Mitchell gave a couple of rare interviews — one lasting an hour and 45 minutes, at that — to Canada's CBC Music, and before an audience of 500 at the Luminato Arts Fest in Toronto.

Among the subjects the 69-year-old Canadian native, who lives on average about six months of the year at her home on British Columbia's Sunshine Coast, touched on were Bob Dylan, a planned film bio of her and her memoirs.

At the public event she told New York Times music writer Jon Pareles, "They were going to make this movie about me, which I squelched. Thank God I squelched it. I called the producer and I said, 'If you're going to make this movie, it's going to be a piece of (rubbish) because you don't have any of the great scenes."

Of her education, or lack of one, and her legendary my-way-or-the-highway approach to life, she figured, "My education really was that I got to play with musicians of such stellar ability, with such great musicians. You couldn't get that in school. So you can't really say I'm uneducated, but I'm strong-willed. I'm like a Jack Russell (terrier), I'm going to do it the way I'm going to do it."

She opined that her fourth album, BLUE "horrified" many of the males in the singer-songwriter community. "Because it was unprecedentedly intimate, it made the men very uncomfortable. Kris (Kristofferson) was kind of horrified by it. Johnny Cash was kind of horrified by it. And it didn't sell well at first. It was over time that people came to it."

She also told the Toronto audience that she's writing her memoirs, and even though she's just begun, she has a title, "Vignettes."

During the SBS Music chat, she said of Dylan, "I like a lot of Bob songs. Musically he's not very gifted. He has borrowed his voice from old hillbillies. He's got a lot of borrowed things. He is not a great guitar player. He has invented a character to deliver his songs. You can do things with that character."

As this was being written, Mitchell was set to perform twice this week at the Luminato event, but not to sing or play music. Instead, she'll recite a poem inspired by Canadian artist Emily Carr as a drummer and trumpeter accompany her.

Mitchell, an eight-time Grammy winner who composed the hits Both Sides Now, Woodstock, Chelsea Morning, Free Man In Paris, Big Yellow Taxi and the Top 10 single, Help Me, has been retired since releasing her last album six years ago, SHINE, that was her only album of new material since 1998.

LINDA RONSTADT'S AUTOBIOGRAPHY OUT SEPT. 17

Linda Ronstadt's autobiography, "Simple Dreams," will be released on Sept. 17, according to her publisher, Simon & Schuster. Of the memoir, the release says, in part, "Ronstadt reveals the eclectic and fascinating journey that led to her long-lasting success. And she describes it all in a voice as beautiful as the one that sang Heart Like A Wheel — longing, graceful and authentic."

The 66-year-old 11-time Grammy winner is semi-retired these days, limiting her appearances to performances with theatre companies, orchestras and Latin musical groups. Her last album, 2006's ADIEU FALSE HEART, featured Cajun singer Ann Savoy and did not sell well, peaking at No. 146 on the Billboard Top 200 album chart. Her two albums before ADIEU also fared poorly.

GRAHAM NASH SETS SOLO TOUR

In connection with the publication of his memoir "Wild Tales: A Rock & Roll Life" on Sept. 24, Graham Nash will embark on a brief 12-show tour of New England during the last two weeks of September, according to his website. The tour comes when his main gig, Crosby, Stills and Nash, are taking a breather in between legs of their British and European tours that take up the months of June and October.

For the solo "An Evening with Graham Nash" tour, the 71-year-old English transplant who was a founding member of The Hollies in 1962, will be backed by two members of CSN's band, keyboardist James Raymond and guitarist Shane Fontayne.

RICKY SKAGGS MEMOIR TO BE RELEASED AUG. 13

While we're on recording artists' memoirs, bluegrass and country vet Ricky Skaggs will release his, KENTUCKY TRAVELER, on Aug. 13, according to a post on his website. The release says the book by the man who gets credit for bringing bluegrass back to the forefront in country music and back to the charts is a warm, honest, one-of-a-kind memoir of forty years in music, from before the days when he was mentored by the legendary Bill Monroe up to today.

The 58-year-old singer and multi-instrument master has a couple dozen shows lined up into next year, mostly in the South, the Midwest and in Canada, including on July 15 at the Outside the Box Arts Festival on the Boston Common. However, he will venture west for a gig on Sept. 1 when he plays the Mammoth Bluegrass Festival in Mammoth Lakes.

IN ISRAEL, STREISAND DEFENDS ISRAELI WOMEN

On her first-ever concert tour of Israel, Barbra Streisand, who is Jewish, defended Israeli women from the laws adhered to by many of that nation's Orthodox Jewish men, reports CBS News.

Speaking at the Hebrew University of Jerusalem, where she received an honorary doctorate, the 71-year-old Oscar, Emmy, Tony and Grammy winner said, "I realize it's not easy to fully grasp the dynamics of what happens in a foreign land, but it's distressing to read about women in Israel being forced to sit in the back of the bus or when we hear about 'Women of the Wall' having metal chairs thrown at them when they attempt to peacefully and legally pray, or women being banned from singing in public ceremonies.

"I know that solutions don't come easy, and they don't in the United States, where women are still making 80 cents for every dollar that a man makes."

Orthodox Jewish men wield disproportionate power in government and religious affairs, and fear that allowing women to make such inroads will erode their authority, according to Huffington Post.

Israeli Justice Minister Tzipi Livni, a woman, has introduced legislation making forced separation of men and women in public places like buses illegal.

GARFUNKEL TESTING TROUBLED WATERS

Art Garfunkel played a private concert a couple of weeks ago at the Great Neck Arts Center in Long Island, New York, reports Newsday. In July 2010, a Simon and Garfunkel reunion tour was abruptly canceled on the advice of Garfunkel's doctors who said he required complete rest so his damaged vocal chords could heal. Since then he played three shows late last year and now this one. Attendees said he sounded good. Will he return to regular touring, with and/or without Paul Simon? Stay tuned.

BLACK SABBATH TOPS BRIT ALBUM CHART; MAKES HISTORY

13, Black Sabbath's first album with vocalist Ozzy Osbourne in 35 years is at No. 1 on the British album chart, according to Billboard. It's the second chart-topping album in the 45-year history of the heavy metal pioneers who formed in the English working class city of Birmingham in 1968. That gap in between No. 1s, 42 years and eight months since PARANOID did it, is the longest gap in chart history.

13 is also No. 1 on Billboard's Top 200 album chart here in America, their first No. 1 album here, besting their fourth album, MASTER OF REALITY, that peaked at No. 8 and went double-platinum in 1971.

In other action on the British album chart, Be the sophomore album from Beady Eye that includes three former Oasis guys, including its frontman Liam Gallagher, is at No. 2, while Rod Stewart's first album of new compositions in a couple of decades, TIME, is at No. 3. A, the second English-language album since 1987 from ABBA's Agnetha Faltskog, made a big jump from No. 43 up to No. 6. Beloved by Brits, the veteran rock band Status Quo, that formed in London in 1967, sees their 30th studio album, BULA QUO! enter the chart at No. 10.

Over here, on Billboard's Top 200, Queens of the Stone Age's —Like Clockwork sits atop the chart. The man formerly known as Hootie, Darius Rucker, has the No. 5 album with TRUE BELIEVERS and the comeback album from Barenaked Ladies, GRINNING STREAK, is at No. 10.

KEITH SAYS IT WAS TIME TO STOP USING DRUGS

At 69, Keith Richards says it was time to stop using drugs, such as heroin, according to an interview for a feature in Men's Journal. "I looked upon the body as a laboratory — I used to throw in this chemical and then that one to see what would happen; I was intrigued by that. What one would work against another; I've got a bit of alchemist in me that way. But all experiments must come to an end."

Regarding his infamous heroin use, Richards says that it was the law that made him quit, not the dangers of the drug itself. "With the smack, I knew: 'I've got to stop now, or I'm going to go in for hard time. The cocaine I quit because I fell on my head! (He underwent brain surgery after falling out of a palm tree and hitting his head in Fiji in 2006.) Due to that: no more coke. Actually, my body tells me when to stop ... the hard way."

The article noted that Richards and his wife Patti are now empty nesters at home in Connecticut, where they've lived for years. Their two kids are now out. Also, his two other adult kids with model-actress Anita Pallenberg also live away from the home. He admits that he was a pretty poor dad when it came to raising his and Pallenberg's children, saying they had "to grow up on the lam," because he was on the road or off elsewhere so much of the time. "It was a unique upbringing, unique circumstances," he said. "There's no guidebook on how to bring up a kid when you're a junkie rock & roll star."

ERIC CLAPTON CANCELS SHOWS

Eric Clapton was forced to cancel shows in Vienna, Austria and Stuttgart, Germany, because of severe back pain, according to a post on his website.

The post said did not say how he hurt his back, but said that he is receiving treatment from specialists. The two concerts would be rescheduled. His European tour ended June 19 in the Czech Republic's capital, Prague.

JIMMY WEBB PERFORMS MacARTHUR PARK — THERE

When Jimmy Webb, 66, was a struggling, starving young songwriter, he used to live in a dinky little hole of an apartment in Silver Lake, down the road from MacArthur Park. He'd head over to the park to eat lunch, walk around, meet his girlfriend and just get away from it all.

In late 1967, he wrote about the breakup between him and his girl, who was Linda Ronstadt's cousin, Susan, in an epic song he named after his beloved MacArthur Park. He originally offered the song to The Association, who turned it down. Of all people, actor Richard Harris ended up recording it—and in 1968 it became a smash, hitting No. 2 here, No. 4 in Harris' Britain and making it all the way to No. 1 in Australia.

Last week, Webb made a return trip back to MacArthur Park for a free concert. It was the inaugural show in the park's new Levitt Pavilion concert series. He sang the hits he wrote for Glen Campbell, including By The Time I Get To Phoenix.

And, 45 years after MacArthur Park became a classic, its composer, Jimmy, sang the song in MacArthur Park.

NEW RELEASES

Among the recently released albums, digital reissues, MP3 downloads and deluxe box sets are TWISTED TALES, a new collection from The Doors' late keyboardist Ray Manzarek and blues slide guitarist Roy Rogers; ANTHEM, the ninth studio album from the three Tulsa brothers who are the pop rock band Hanson; and BLIND, CRIPPLED & CRAZY, from 72-year-old country roots rocker Delbert McClinton, reunited with country guy Glen Clark for their first album together since they recorded a couple of LPs in the early '70s and BIG SUR from veteran jazz guitarist Bill Frisell.

Also WOODY AT 100 (CD/DVD) features Arlo Guthrie's dad's songs covered at a concert last year at the JFK Center in Washington, D.C., by, among others, Donovan, Lucinda Williams, Judy Collins, Jackson Browne, Rosanne Cash, former Rage Against the Machine guitarist/activist Tom Morello, Ramblin' Jack Elliott, John Mellencamp and Ry Cooder; an import, BE, from former Oasis frontman Liam Gallagher and that group's guitarists Gem Archer and Andy Bell and their band, Beady Eye; and TIME MACHINE, the 13th studio album since 1971 from British-German prog rockers Nektar.

A box set, VENTURA (6 xCD) from jam band Phish, recorded in 1997 and 1998 at the Ventura Country Fairgrounds, that included a smooth cover of Marvin Gaye's Sexual Healing; a 3-CD 3 RING CIRCUS — LIVE AT THE PALACE, is Long Beach ska punks SUBLIME live in 1995; WARRIOR ON THE EDGE OF TIME — Expanded Edition is a 3-CD set of space rocker's Hawkwind's 1974 LP with bonus tracks; LIVE AT THE LONGHORN APRIL 1, 1978 from Cleveland New Wave art rockers Pere Ubu, recorded on its "Modern Dance" tour; BOSTON 1950, from jazz saxman Lester Young, who died nine years later at 44 from the effects of alcoholism; and a ton of re-issues from The Supremes and Diana Ross as a solo artist.

Steve Smith writes a new Classic Pop, Rock and Country Music News column every week. Like, recommend or share the column on Facebook. Contact him at Classicpopmusicnews@gmail.com.