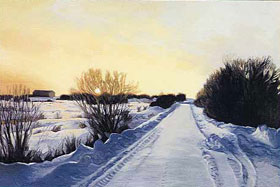 1995
28 x 32 x 1¾ in Landscapes Oil on linen
(KCSN Radio interview by Renee Ingle 1999):
This is a town on the bleakest strip of road. Anybody locally will tell you, (voice characterization) ' from Prince Albert to North Battleford, eh? 'You know, but -- and this was 40 below, and I'm telling you, it was the most -- I was enchanted with the colors of the blues, of the lilacs, and the shiny snow and the loose, drifty snow that I've never seen the local painters back home paint. Have you, Gilles? (Gilles' response inaudible) Winterscapes? Haveyou? Because you've seen more of the local work than I have, but anyway it wasn't an image that I'd seen, and I thought, you know, God, look at this,it's so beautiful. And so I took a lot of snapshots with a paper camera,and I tend to paint Canada a lot in Landscapes.

PI: -- and that this is a theme that you grew up with - that picture?

JM: Yeah, you've lived with it and you, you know, you feel it. You fee lit when that road was plowed in the morning and nobody drove down it all day and you get to get that tone it's just across the glassy ice that's underneath. You know, stuff like that is like sense memory. It's not that much in the -- the print was taken with a panoramic paper camera so also I didn't crop it. I let go of it like a rubber dollar bill so the vantage point, you're up with the birds. You'd have to be standing on top of the car to get that vantage point. Do you know what I mean, Gilles? You've elasticised the landscape. You've taken a cinemascopic image and compressed it in so the vantage point is up in the air like you're hovering above a car hood there.
(from NYT article by James Brooke 22/8/2000):

"I go home for renewal," she said.
She has drawn particular praise from some critics for "40 Below 0," a 1995 oil depicting an untracked winter road cutting across a snowy landscape while a warm sun sinks over a farm horizon.
She described the jeep ride with Mr. Freed that inspired the work.
"We were driving on what might be considered the bleakest stretch of road, on the bleakest time of year," Ms. Mitchell said. "When I got out, crystals formed all over the inside of the windshield.
"There were the prairies, the stretch of the wind, the movement of the clouds, the skies, all lilac-y and yellow. The windbreak was burgundy, the snow was pink with the sun going down. It was such a rush of color. To be so cold it could kill you in 15 minutes, and yet to look so warm. I felt like a salmon smelling its native stream."