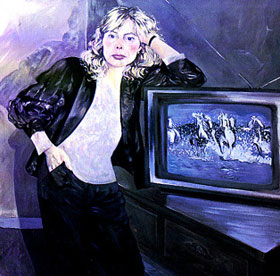 1981
53¼ x 101 x ¾ in Late Figurative Oil on canvas
(from Interview with WNEW-FM, January 12, 1986)
PF: I was thinking of what you said in terms of how your art has changed and your music has changed by looking at the self-portrait that you did for the "Clouds" album versus the self-portrait that you did for the "Wild Things Run Fast" album, and indeed what you said about the music and the art applies here, I think, don't you? The first one being simple --
JM: Uh-huh.
PF: -- whereas the "Wild Things Run Fast" having many more layers of communication in it and could similarly the same thing said about the music on these two albums.
JM: Looking at them now, because I haven't seen them side-by-side like that, they are stylistically more compatible than some of the others, don't you think? Like you can almost tell that they were done by the same artist. Some of them you would never know, you know.
PF: And, of course, the subject matter is exactly the same, yourself, but yourself in close-up and yourself from a distance. Oh, by the way, I always wanted to ask you, Eric Anderson told me that this cover was based upon a photograph that he took --
JM: Yeah, he took a Polaroid. It's true. He took the Polaroid of me leaning on the TV set like that.
PF: Oh, that's great.
JM: But I changed the costume, you know, and put the horses in --
PF: Uh-huh.
JM: -- and cheated the perspective on the table there so you get another plane.