Recording from 1968 recently found
Posted July 28, 2018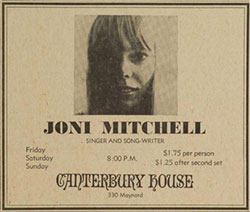 Rolling Stone reports that "live performances by Neil Young and Joni Mitchell, recorded at a student ministry on the University of Michigan campus in 1968, were among the professional-quality recordings unearthed by the Michigan History Project.
"Seven-inch reel-to-reel audio tapes featuring concerts by Tim Buckley, Odetta, David Ackles and Dave Van Ronk were also among the recordings made at the Canterbury House, an Ann Arbor, Michigan venue that hosted counterculture events in the mid to late-Sixties.
Joni performed at the Canterbury House on March 8, 9, and 10 in 1968. It's unclear as to which concert(s) have been found. Before the weekend of performances, someone scrawled across the advertisement "God is alive in Joni Mitchell".
"The Michigan History Project recently acquired the recordings, with the non-profit organization now seeking a record label interested in releasing the concerts."
More information here.