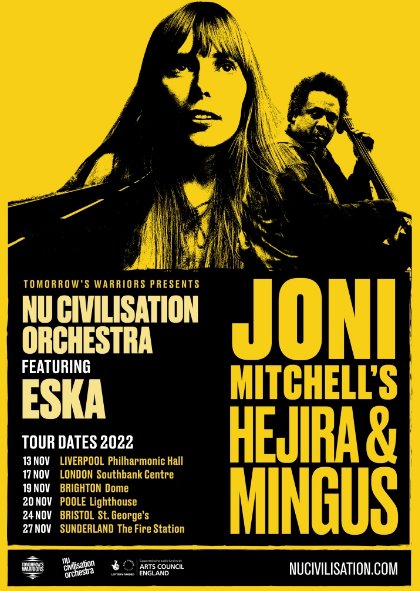 Tomorrow's Warriors presents Nu Civilisation Orchestra led by Peter Edwards and featuring ESKA on vocals for this exploration of the music of Joni Mitchell, through her jazz influenced classic album Hejira and her later encounter with the pioneering jazz legend, Charles Mingus. 
The Nu Civilisation Orchestra: Hejira and Mingus UK tour will feature the acclaimed vocalist and multi-instrumentalist and Tomorrow's Warriors alumna ESKA, and will explore the music of two legends: Joni Mitchell, through her classic, jazz-influenced album 'Hejira',and Mitchell's work with the great Charles Mingus, that was recorded shortly before his death.
Gifted pianist, composer and musical director Peter Edwards will once again lead new innovations and creative collaborations, via a 19-piece Nu Civilisation Orchestra (NCO) featuring players such as Jay Darwish (bass), Sarah Tandy (piano), Rosie Turton (trombone), Kianja (vocals), Loucin (vocals), Eddie Hick (drums), Tello Morado (percussion) and more. More information here.