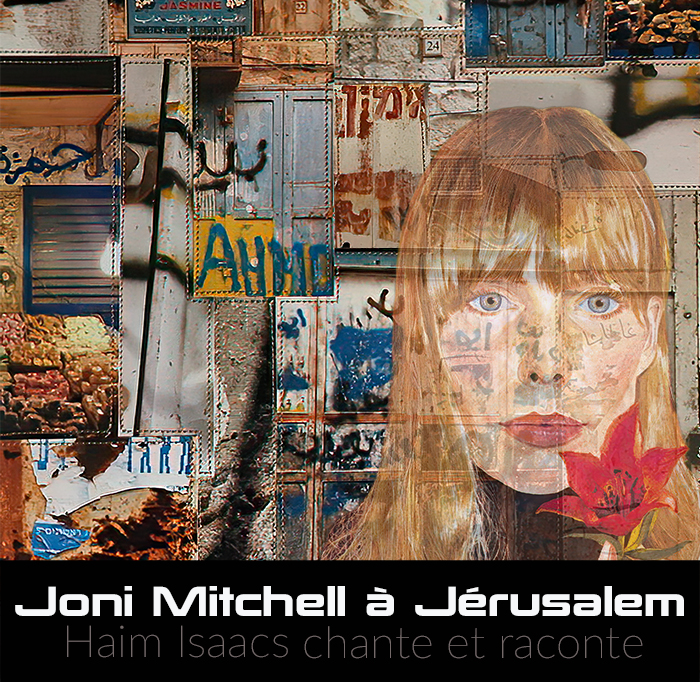 Joni Mitchell is a masterful musician: self-taught, she is at the same time an outstanding composer, poet, instrumentalist and singer. She has collaborated with jazz greats like Charles Mingus, Jaco Pastorius, and Herbie Hancock. Prince and Björk cited her as inspiration.
I had a strong wish to share stories on how, in the 70's, Joni's music penetrated my heart in the Middle East. Speaking in the third person, high schooler H wanders through the streets of Jerusalem, Jericho and Bethlehem, haunted by Joni. She follows him down to the Sinai desert where H, now a medic in the tank corps, sees her dancing in the dunes. Later, in Paris, Joni hovers behind H's left shoulder, scrutinizing his first attempts at composition.
Today, the teenager has become a composer, singer, writer and instrumentalist, but he is still dazzled by her music.
Joni Mitchell 's chiseled playing with her guitar and piano is inseparable from her melodies and lyrics. Each song, each record is engraved in me like sound photos. To shake up my bearings, I sought the collaboration of musicians rich in imagination, without preconceived ideas, young people who did not know the universe of Joni Mitchell.
Joni Mitchell in Jerusalem has been waiting for me for 20 years. That's it, I'm there.
With Haim Isaacs (voice, piano, shruti box), Matthieu Beaudin (electronic accordion, Michelsonne piano & sanza) & Jules Lefrançois (tuba, sanza & percussion). More information here.