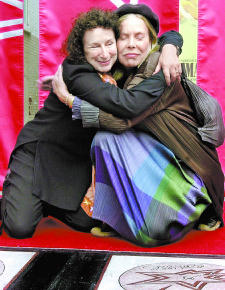 Now that Joni Mitchell has a spot on Canada's Walk Of Fame, she has one small request for Toronto pedestrians: "If you're crossing over my star, I prefer you don't spit there — and curb your dog elsewhere."

Mitchell's lighthearted plea was one of many cheerful moments in a feel-good ceremony yesterday that saw the legendary songwriter and celebrated novelist Margaret Atwood honoured with sidewalk plaques on King St. W.

A crowd of about 200 people, including filmmakers Norman Jewison and David Cronenberg, gathered in front of the Royal Alexandra Theatre to honour the talented duo.

Long-time Mitchell fan Joel Goodman arrived an hour-and-a-half early to get a good spot after coming from Chicago for the event. "When I found out about this a couple days ago, I decided right away to come up for the awards ceremony. I've been a huge fan since 1972. I hate to use the word, but I'm obsessed with her. There's no one like her."

Mitchell has a had a dedicated following since the mid 1960s, when she started performing her progressive music in coffeehouses and folk clubs in Toronto. After finding success in New York City, she released her debut album, Joni Mitchell (also known as A Song To A Seagull), produced by David Crosby. Today, she's celebrated as a singer, songwriter, poet and painter.

But the Mitchell fans had to share space with equally impassioned Atwood devotees at the induction ceremony. Aldem Campbell arrived early hoping to have her well-loved copy of Surfacing, Atwood's second novel, signed by the author. Campbell said she is delighted that Atwood is receiving the honour but wonders why it didn't happen sooner.

"I've loved Margaret Atwood's work for years. This is great — it's long overdue."

There's been no shortage of awards and honours for Atwood, who earned the prestigious Booker Prize and Hammet Prize for her novel The Blind Assassin. Her writing has also won her a Governor-General's Award.

Atwood sees her induction into the Walk of Fame as a step forward for Canadian writers, who often don't get the same recognition as other artists.

"Frequently it's the glamorous, the entertainers, movie stars, but Canada's novelists have made an international impression," she told reporters.

"This is the opening of the doors for other novelists. This is the first time they've given (a Walk of Fame star) to a fiction writer. It means there will be others. It's a lovely day, and I'm thrilled."