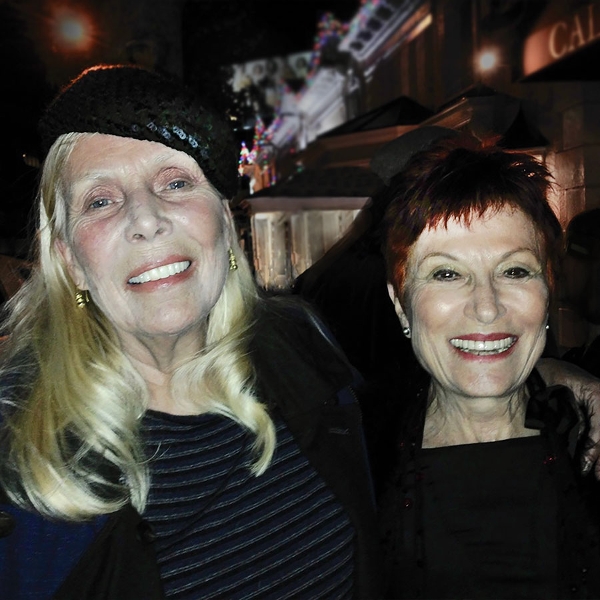 In the August/September 2023 issue of Zoomer, Malka Marom shares incites and intimacies from her 50-year friendship with cover subject Joni Mitchell. In the following Q&A, the author, folksinger, actor and journalist recounts highlights from her incredible life and career.
Zoomer: Is it true that your parents gave you up for adoption?
Malka Marom: I was an accident that happened just as my parents were about to realize their dream to leave Poland and move to Israel as pioneers. They gave me to my uncle for fear I wouldn't survive the hostile conditions in Israel, but just as their train started to pull out of Warsaw's station, my mother screamed out to her brother to return me through the train window. That's how I was spared the fate of the million Jewish babies slaughtered in the Holocaust. And maybe because my life started as an accident - serendipity or "it just so happened" informed so many major moments in my life - my grandson nicknamed me Forrest Gump.
Z: What was life like growing up in Israel?
MM: I just happened to be among the super privileged children who grew up in an emerging Israel, where the extraordinary was as ordinary as your parents. Perhaps that's why, later in life, it was nothing out of the ordinary for me to be in the company of extraordinary figures like Elie Wiesel, Salvador Dali and his wife Gala, Zubin Mehta, Daniel Barenboim, Joni Mitchell and, among others, Leonard Cohen - who, after meeting my mother, maintained she was among the 36 "just souls" picked by the almighty to restore our splintered world, according to the Kabbalah.
Z: Which came first? Acting, dancing or writing?
MM: It just so happened that I became a child star in one of the first films made in Israel. As a child, I was too ugly, skinny and scrawny to play girls' roles in school plays, but had enough talent to play leading roles as a boy, villain or animal. One day, my father saw an "open audition for a girl's role in a movie" in the newspaper, and he dared me to go for it. Well, it just so happened that they were looking for an ugly, skinny, scrawny girl. That movie, The Village Tale, is now housed in The Steven Spielberg Jewish Film Archive.
Z: Why did you move to Toronto?
MM: I was among the high school kids chosen to represent Israel in the opening ceremony of the Maccabiah Games, the Jewish Olympics. That's where I met the Canadian basketball player who carried me off to his native Toronto for marriage too soon.
Z: How did you meet Joso Spralja, your folk-singing partner?
MM: Legendary Toronto guitar teacher Eli Kassner invited me to hear Joso Spralja, a Croatian immigrant whose voice was as glorious as Italian tenor Andrea Bocelli. He was the house singer in a Toronto coffee house where immigrant musicians gathered after bar gigs to sing and play their native songs, and Eli and I would join in. It just so happened that a top entertainment agent dropped in when Joso was singing harmonies to my songs, and made us an offer we couldn't refuse.
Z: How did your success build?
MM: A week or so into our first gig as Malka & Joso, we were invited to appear at the Mariposa Folk Festival, which neither of us had heard of before. Imagine our surprise when we fronted an audience of 100,000 youngsters. Most of them were children of immigrants who, for the first time, witnessed their denigrated "ethnic music" performed by a couple of immigrants who did them proud by their sophistication, humour and versatility in 14 languages. They turned us into stars overnight, just like in showbiz fairy tales.
Z: How did you get into journalism?
MM: By begging every TV and radio producer at the CBC to give me a job, even as a gofer. They all rejected me, maintaining they loved my singing and didn't want to facilitate the end of my career in any way. So, being raised by a generation of pioneers who made the impossible possible, I borrowed a portable professional recording machine from Moses Znaimer (founder and CEO of ZoomerMedia), and flew to the Sinai, Judean and Negev deserts to prepare, on spec, a program about the Bedouin way of life. After, I drove to Tel Aviv and it just so happened that conductors Mehta and Barenboim were in the city, so I begged them to arrange an interview with the greatest of cello players in the world: Pablo Casals. After my Casals interview was aired, Glenn Gould called to offer congratulations and ask me how I managed to cut a minute and half of Bach's music so beautifully. Sheer beginner's luck, I replied, by counting one, two, three - cut.
Z: Besides your three Joni interviews, which were the most memorable moments in your journalism career?
MM: All my interviews and programs are like children for me. I love them equally, whether they turned out great or so-so. But the most notable are: Casals, Israeli generals Moshe Dayan and Ariel Sharon, Leonard Cohen and my radio documentaries: The Holocaust, which was nominated for an ACTRA, and The Bite of the Big Apple, which won the ACTRA.
By the way, the most amazing case of "it just happened" occurred when my son Daniel sent me the transcription of my interviews with Joni as a birthday present. The following day, I bumped into a literary friend in the supermarket. Naturally, I told her of this birthday present. "Let me read a few pages of these transcription," she said in response. A couple of days later, ECW Press in Toronto offered to publish my book, Joni Mitchell: In Her Own Words.
Z: How did your 1999 novel Sulha come about?
MM: During the making of the Bedouin documentary, it just so happened that a Bedouin invited me to stay overnight with his two wives, who never had any contact with a Western person. The following day, that Bedouin invited me to stay with his wives at whatever time and however long would suit me. That invite was such an anomaly that my desert guide and translator, as well as scholars of Bedouin culture, beseeched me to accept this rare invitation and take notes like crazy for them. So, I studied spoken Arabic, returned to that Bedouin compound and, during my months-long stay with the nomads, the main characters that inhabit my novel Sulha - and the story line of the novel - flashed to my mind so fast my pen could barely catch it all. But it took me more than 14 years to actually write it.
Z: What is your passion project?
MM: None of the above would have been possible without my life's partner, Marv Cohen. After he died in 2021, I few to Israel to grieve with my family. Soon after I flew to Israel, a new government came into power on a platform that would turn Israel into a sort of Jewish Iran. Which was a travesty to me, a travesty certain to destroy the Israel that my parents had devoted their lives to rebuild. That's why my passion project these days is to join the millions of Israelis who are determined to crush the draconian efforts of this government, and to fight for democracy and equal rights for all in Israel.
A version this article appeared in the August/September 2023 issue with the headline 'Malka Marom', p. 8.