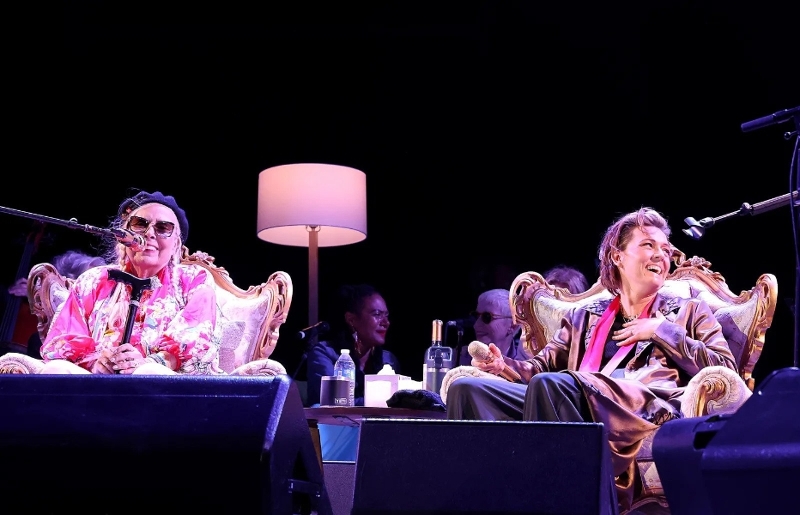 "No, this is different!" Joni Mitchell exclaimed. "Everything is different."
The 79-year-old's first words after taking the stage at the Gorge Amphitheater in Washington on Saturday night were in response to a question from her friend and collaborator Brandi Carlile: "Is it like you remembered?" Carlile was referring to the sublime venue Mitchell had played twice before. But Mitchell seemed to also address a culture that has received her more rapturously, and with more reverence and affection, with each passing year. She could have been describing a world that now hears Joni Mitchell as a genius.
Before this breathtaking three-hour spectacle, dubbed Joni Jam, Carlile - who has helped shepherd her idol's astounding return to music, including her surprise 2022 set at the Newport Folk Festival - told the crowd that it would not be like anything they had ever seen before. This was not an overstatement. Mitchell, a multi-generational hero who in many respects created the vocabulary of modern lyricism, was flanked by her disciples - including the guitarist and keyboardist duo Wendy & Lisa, who were once a part of Prince's band; the virtuoso harmonizers of Lucius; and guitarist Blake Mills, among others. They were all seated beside the music pioneer for a catalog-spanning journey that included rock'n'roll covers, guest appearances, and, most significantly, Mitchell's supple, still-searching voice.
The setting matched the performance: Rolling canyons and the Columbia River behind the stage formed an awe-inspiring panorama, a natural beauty that was, to borrow a line from Virginia Woolf, "too much for one pair of eyes." Fortunately, there were 27,000.
"Laughing and crying, you know, it's the same release," Joni sang in 1974, and the Joni Jam testified to both sides of this eternal fact. A mosaic of well-wrought harmonies and graceful arrangements supported Mitchell, lifting her up without overshadowing her, while the overall tone remained appealingly loose. The jubilance reproduced the energy of the all-star house-party jam sessions Mitchell started hosting with the likes of Carlile, Chaka Khan, Paul McCartney, Herbie Hancock, and others five years ago. "I'm a party animal," Mitchell said at one point. At another, after Carlile took a swig of wine from the bottle, she shared, "Joni just called me 'butch.'"
In the '70s, Mitchell worked to shake off her reputation as overly serious and melancholy. ("I'm rowdy," she insisted to Rolling Stone in 1979. "I'm a good-timer.") On Saturday night, she doubled down on this point. The first song was a rousing group singalong of "Big Yellow Taxi," during which Mitchell did a hilarious impression of Bob Dylan. The last was a rich cover of "Young at Heart," the standard made popular by Frank Sinatra, which found Mitchell sinking into a lively croon: "If you should survive to 105/Look at all you'll derive, out of being alive!" And she was visibly psyched to belt tunes harkening back to her "rock'n'roll dancing days," like "Love Potion #9" and "Why Do Fools Fall in Love." She sipped pinot grigio out of a Yeti tumbler. "Viva la old age!" she enthused.
But the night's most profound moments found Mitchell taking the lead and singing primarily on her own. It could be overwhelming. On "Amelia," an instant highlight, she delivered lines about confusion and the burning desert alongside Blake Mills' delicate guitar playing. Her renditions of "Come in From the Cold" and the title track from 1991's moonlit Night Ride Home were evidence that her voice has only grown stronger since her set at Newport last year. On the latter track, when she sang about a night of beauty so overpowering as to suggest "some surrealist invented this" while the golden sunset glowed behind her, it felt like an even cannier choice.
As the set progressed, it was these wonderful moments - as well as Mitchell's stark takes of Gershwin's "Summertime" and her own standard, "Both Sides Now"; or playing electric guitar and singing 2007's "If," which she said contained her all-time favorite lyrics, in the encore - that made it feel entirely plausible that she might continue performing or recording, should she desire.
Mitchell has been adapting all her life: as a child who survived polio; as a songwriter, creating her own open-tuned "chords of inquiry" to voice her in-betweens; later, collaborating with agile jazz musicians and becoming one. Her new command of her deeper voice, eight years after a brain aneurysm, is the latest iteration. She curved and glided around her low register, occasionally pitching her voice down to a baritone rumble or reaching higher, and there was poetry in the reach. Sitting at her throne, she bounced and swung her cane, which was adorned with an emblem of a wolf, along to the music. She smiled after singing, "I'd still be on my feet." In the '70s, Joni said her fans "should know who they were worshiping," leading her to put more and more personal revelation into her music. Today, she seems just as committed to presenting her reality.
The set found other Joni Jammers taking on her songs in high registers - a prospect that Carlile admitted was "fucking terrifying" for all involved - like Annie Lennox's futuristic cover of "Ladies of the Canyon" and Sarah McLachlan's devout rendition of "Blue." By far the most thrilling of these guest appearances was the not-quite-expected take of Hejira centerpiece "A Strange Boy" by Wendy & Lisa. Wendy spoke of meeting Lisa as a kid, and how they were both enamored of Mitchell's chords on 1972's For the Roses. "We became serious disciples," she said. "One of the reasons Prince hired us was because we sounded like Joni." Wendy also recalled a time when Prince asked Mitchell to take the stage and sing "Purple Rain" with the band; Mitchell didn't know the lyrics, but he assured her, it was just "purple rain, purple rain, purple rain." As Wendy led "A Strange Boy," an inquisitive song about a bewilderingly immature guy, Mitchell joined for some crucial lines: "He asked me to be patient/Well I failed/Grow up!" It was a pure delight.
Mitchell herself told unsparing, irreverent stories, including one about the last time she played the Gorge, in 1998, alongside Dylan and Van Morrison: Dylan had been elusive, but she suggested to Morrison that they should "crash his set" to play a song together. Once behind the mic for her chosen Dylan verse, Mitchell found that she couldn't remember any of the words to his song. So she made up lyrics on the spot. "Bob turned around and gave me a look, and he was grinning from ear to ear. After the set was over, Van said, 'You shouldn't have done that, that was disrespectful.' I said, 'Disrespectful? There's nothing he likes better than to see me fuck up!'"
And before her damning political epic from 2007, "Shine," which takes on Wall Street greed, the Catholic Church's hypocrisy, and corrupt climate deniers, Mitchell reminisced about Carlile's performance of that song earlier this year, as part of her long-overdue Library of Congress Gershwin Prize celebration. Mitchell goofed on the politicians who were in the room that night, and shared how she confronted PBS about their refusal, 16 years ago, to broadcast her ballet, The Fiddle and the Drum, because she swears in it.
When the crowd pulled out their cellphone lights to conjure a star bed during "Shine," Mitchell was awed by the new-to-her spectacle; she'd never seen anything like it. "You look like a fallen constellation," she said, and then referenced her song, "Woodstock." "You're stardust. You're golden."
For many fans, getting to the Joni Jam required driving through Washington state to the remote venue, past austere pine trees onto shifting terrains of desert brush and psychedelic rock formations. This is to say that, in addition to its transcendent music, the Joni Jam offered a full immersion into the psychic landscape of many iconic Joni Mitchell travelogues, which is the road, where she shaped the pop paradigm of the woman wanderer. A school bus tagged with "JONI MITCHELL" and "BRANDI & JONI" across the side drove parallel to my car on the highway out from Seattle.
I spoke with fans while waiting in various lines. One couple told me that, though they started dating around the time of Court and Spark's 1974 release, listening to the album together on an 8-track, they never saw her live. A man who saw her multiple times in the '70s was rendered nearly speechless when asked to describe those experiences. "It was like walking on air," he finally offered.
In a crowd dominated by women, berets and braids much like Mitchell's were abundant. During the performance, Carlile read from a heart-shaped sign in the crowd: "Dear Joni, the world loves you," ensuring that Mitchell heard the sentiment loud and clear. Later, I found Jasmine Leslie, 22, who came all the way from Florida with that sign, and donned a homemade denim jacket covered with Mitchell's self-portrait from her 2000 album Both Sides Now.
Leslie was "still shaking" from the experience of being acknowledged by her heroes. "A few years ago, I was super lost," she told me. "I didn't know what I was doing or who I was." She heard "Hejira" on a particularly rough day, identifying with Mitchell's existential lyric about "chicken scratching for my immortality." "It gave me hope for my life and myself," Leslie said. "She changed and saved my life. I had to make it here." Her favorite part of the night was "seeing Joni smile and laugh."
I could relate to the heavy place Hejira holds in Leslie's life. To hear Mitchell take the lead on that album's "Amelia" - which she delivered largely solo, in her lower register that illuminated the many decades since its mid-'70s release - was to be changed. It somehow contained even more honesty, more knowledge, more comfort and promise. To hear this cracked-open ballad about lostness that takes the form of a conversation with Amelia Earhart - "Maybe I've never really loved, I guess that is the truth/I've spent my whole life in clouds at icy altitudes" - released at age 33, sung at 79, by a woman who appeared on stage beaming, laughing, free, and assured, was a gift of spirit. With the years, and Mitchell's clipped delivery, this song about seeking refuge from heartbreak in travel and dreams was distilled. Refuge was possible, and in Mitchell's existence, it was here.
"Amelia" was true when Mitchell wrote it in 1976. At the Gorge, it was still true. And maybe never truer.