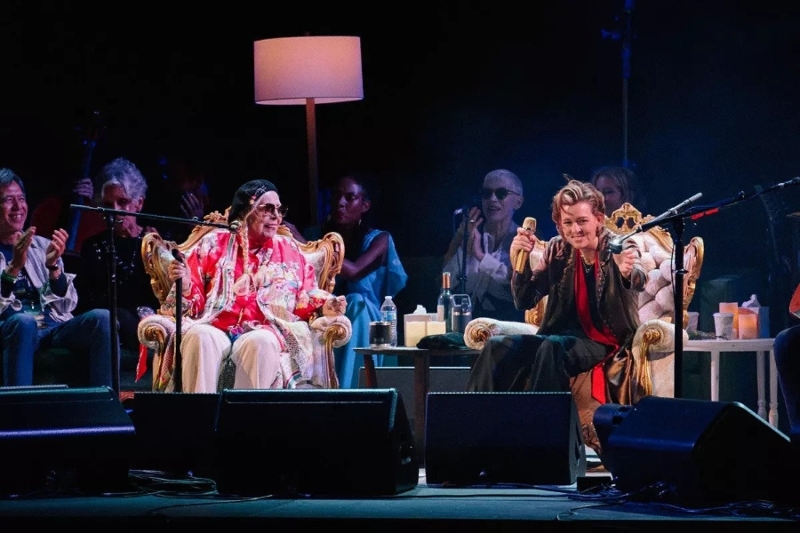 QUINCY, Wash. - Joni Mitchell hadn't played a full concert for a live audience - an audience that knew she was coming, that is - for more than 20 years.
That changed Saturday night, when the 79-year-old singer and songwriter headlined the Gorge Amphitheatre on the banks of the Columbia River in Washington state. The show followed an unannounced appearance Mitchell made at 2022's Newport Folk Festival, seven years after she suffered a debilitating brain aneurysm that made it difficult for her to move and to use her voice.
Modeled by organizer Brandi Carlile after the so-called Joni Jams the singer has held in recent years at her Bel-Air home, the instant-classic Newport gig had Mitchell and Carlile seated in glittering armchairs surrounded by friends and admirers as Mitchell sang and played guitar on some of the indelible tunes that made her a giant of American songwriting in the 1970s, including "Help Me," "Big Yellow Taxi," "Both Sides Now," "The Circle Game" and "A Case of You." (A live album is scheduled for release next month.)
Saturday's nearly three-hour show - part of Carlile's annual Echoes Through the Canyon event at the Gorge - was a similar affair: Among the artists on the bill for the weekend festival were many who appeared at Newport, including Marcus Mumford, Allison Russell, Lucius, Blake Mills and Taylor Goldsmith of Dawes. Yet Carlile also promised surprises: Performing a set of her own Friday night, the folk-rock star brought out Sarah McLachlan and Annie Lennox for unexpected duets.
The Times' Mikael Wood and Amy Kaufman were at the Gorge and provided live updates from the concert as it happened.
6:13 p.m. Greetings from the Gorge, where Joni fever is running hot enough that a woman playing "California" on a dulcimer in the parking lot had drawn a considerable crowd of enthusiastic onlookers.
I'm Mikael Wood, The Times' pop music critic, and I'm here with Times columnist Amy Kaufman to see the woman Brandi Carlile described onstage Friday night as "probably the greatest living legend on planet Earth."
High praise? No doubt. Yet there's been something undeniably moving over the last few years in Carlile's Joni fandom, which has played out against a larger swell of appreciation for Mitchell's groundbreaking work by the likes of Taylor Swift and Phoebe Bridgers.
I'm curious to see which of Mitchell's many famous fans might show up announced tonight, though the real attraction, of course, is Joni herself - an artist I and many others assumed we'd never see perform again. - Mikael Wood
6:32 p.m. I've always heard that you need to see a show at the Gorge before you die, and upon driving into this remote Washington venue, it's immediately obvious why. Think the Hollywood Bowl, except you're overlooking a massive, majestic expanse - the Columbia River winding between the foothills of the Cascade mountains.
Getting to the Gorge is an experience all its own. If you're coming from Seattle, it's at least a 2.5-hour drive. There's camping on the grounds, but most concertgoers stay an hour away in a town called Wenatchee.
As you inch closer to the venue, traffic slows and cow pastures become more frequent. Tonight's Joni Jam is sold out, which means more than 27,000 people are going to be lounging on the lawns above the stage.
The crowd is boomer heavy, and eclectic outfits abound. I saw one woman wearing a hippie ensemble that definitely sells at Halloween stores.
I've got my eyes peeled for any special guests who made the trek out here. Word is that the show tonight will be reminiscent of Mitchell's surprise appearance at the 2022 Newport Folk Festival. Brandi Carlile will start off with an acoustic set at 7 p.m., and Joni and friends are set to come out at 9. Given Carlile's set Friday night, there could be appearances by Annie Lennox, Sarah McLachlan and Marcus Mumford. - Amy Kaufman
7:45 p.m. "I'm Brandi Carlile, from here in Washington state," tonight's opener-slash-facilitator says to begin her set, before telling the crowd that she "came for the same reason as you tonight," which is to witness a performance by "the greatest living songwriter." Her job, as she sees it: to "kill a little bit of time while everyone's getting their makeup done." - M.W.
7:53 p.m. Joni Mitchell has always known how to rock a beret. She's worn them since the inception of her career, on the 1976 cover of "Hejira" and all the way through the Grammy Awards last year. She's selling a red beret at the show tonight - the hats are going for $45 a pop and feature her signature embroidered in gold.
But a group of 10 women who traveled from New Orleans to the show tonight had no need for the merch.
The ladies, who I deemed the Beret Brigade, ordered an array of multicolored chapeaus well in advance in the show. The group of Mitchell fans, who range in age from 50 to 79, decided to rent a house near the Gorge even before they'd secured tickets to the show.
But when the tickets became available to the public, none of the women were able to secure one. As it turned out, the owner of the house they'd rented had his own box at the venue and offered it to them - at face value.
"She was the soundtrack of our childhoods," said Jean Hannan, the elder of the group. "This is like a dream come true."
Tracy Middendorf, an actor who got the gang of local Louisianans together for the trip, said she was hoping for a surprise appearance from Graham Nash or Paul Simon.
"We could hear them playing [Crosby Stills & Nash's] 'Helplessly Hoping' and [Simon and Garfunkel's] 'The Sound of Silence' from our house during sound check, so maybe they'll be surprise guests," said Middendorf. - A.K.
8:00 p.m. Even 1,000 miles from L.A., the stars are turning out for Mitchell. As Carlile walked onto the stage, I spotted Paul Scheer and wife June Diane Raphael rushing to their seats, as well as "Schitt's Creek" star Dan Levy. Asked why he'd made the journey, Levy gestured toward the breathtaking view.
"Isn't it obvious?" he replied. - A.K.
8:11 p.m. An on-the-fly lyrical edit to Carlile's song "The Mother," which name-checks her older daughter, Evangeline: "I am the mother of Elijah too." Both Carlile kids are in the audience tonight, which leads the singer to explain that Elijah always asks why she doesn't get a shoutout. - M.W.
8:16 p.m. Another Carlile-fam cameo: the singer's wife, Catherine Shepherd, who joins Carlile with an acoustic guitar to perform a stripped-down rendition of the Grammy-nominated (and very Joni-esque) "You and Me on the Rock." - M.W.
8:29 p.m. Carlile pauses her set to advise the audience on what we're about to experience: "It's not gonna be someone coming up here singing their songs one after the other," she says. Instead, Carlile compares the Joni Jam to a snow globe in which we're able to see what life has been like for Mitchell as she's relearned how to play music at her home with the encouragement of her pals and inheritors. The show will be long, she warns-slash-promises; it might find some of those involved winging it as they blend covers with tributes with tunes where Mitchell is going it alone. "You're gonna see something like you haven't seen before," Carlile says. - M.W.
9:20 p.m. Joni time. Carlile has taken the stage again and is intro-ing what she calls the Joni Jammers, which include: Celisse, Taylor Goldsmith of Dawes, Blake Mills, Wendy and Lisa, Lucius, Allison Russell, Sarah McLachlan, Marcus Mumford and, as Carlile puts it, "Annie f - Lennox." - M.W.
9:30 p.m. As at Newport, Mitchell and Carlile are seated in plush armchairs, with their collaborators arrayed around them. First up: a festive "Big Yellow Taxi," Mitchell - dressed in a silky red shirt, shades and beret - leading the song with her husky vocals. - M.W.
9:37 p.m. Carlile directs Mitchell's attention to a glass of Pinot Grigio - actually, the wine is in an insulated Yeti cup, which Carlile says is how you drink in Washington - before starting up "Raised on Robbery," from 1974's "Court and Spark." Mitchell seems a bit more relaxed here than she did at Newport, as though she's remembering what it is to be a working musician before a crowd. Fun fact: After the song, she tells Carlile that she wrote it about a hooker in Saskatoon, Saskatchewan. - M.W.
9:42 p.m. Carlile is trying to impart the gravity of the evening to Mitchell, reading audience signs to her: "You see what that heart says right there? It says, 'Joni, the world loves you!'"
Mitchell coos and takes a moment to shout out her fans from Japan and Amsterdam. Her grandchildren, whom she notes are Geminis celebrating their birthdays, are also in the crowd. - A.K.
9:50 p.m. Mitchell is doing a slow and sultry take on 1991's "Come in From the Cold" that reminds you how much she did to vibe-ify singer-songwriter music - to create an atmosphere to flesh out the words and melodies of a song. We talk a lot about Mitchell as a lyricist, but man - what an arranger too. - M.W.
9:53 p.m. For "Hejira"'s "Amelia," Blake Mills takes up what Carlile identifies as Joni's guitar to bust out a dark and lustrous solo - "a sacred honor," as Carlile puts it. - M.W.
9:55 p.m. Before the show, Carlile shares, Mitchell was looking out over the Gorge canyon when she spotted a cave.
She was particularly intrigued by the spot, Mitchell said, because she once lived in a canyon in Greece for two months with the man from her song "Carey."
The one at the Gorge, Carlile said, wasn't that cool - she'd been down there, and it wasn't very deep. The one Mitchell occupied abroad had a storied history - at one point it was a leper colony, and then beatniks and hippies started to visit. "I was part of the hippie invasion," Joni laughed. - A.K.
9:56 p.m. More wine talk: As Carlile takes a swig from their shared bottle, Mitchell tells her, "That's butch." - M.W.
10:03 p.m. "Sex Kills," from 1994's "Turbulent Indigo," is a whole mood: a funky soul-rock groove, a commanding vocal from Mitchell, a bit of barely concealed laughter as she and Carlile sing about "all these jackoffs in the office." - M.W.
10:11 p.m. Annie Lennox moves from the supporting circle to Mitchell's side to share a story about how influential the singer-songwriter was during Lennox's fledgling days as an artist. When she was 19, Lennox says, she shared a basement apartment with a guy who could afford the latest albums. When he brought back one of Mitchell's, it "blew my mind ... and started me on a path I never expected to happen.
"The thing is, back in the day, there were so few of us women doing this thing we're doing," Lennox continues. "We take it for granted, don't we?" - A.K.
10:16 p.m. Mitchell is doing "Summertime" from "Porgy and Bess," and she's taking her time with it, teasing out the blue notes in George Gershwin's melody. Any Joni fan knows that her voice has changed - has lowered and gotten grainier - since the high-and-pure days of "Blue," but it's a gift to hear how much (more) emotional wisdom her singing has accrued as she nears 80. - M.W.
10:19 p.m. Carlile's response to Lennox's performance of 1970's "Ladies of the Canyon": "I don't know what to say - I can only drink wine from a bottle." - M.W.
10:25 p.m. A starmaking turn from Celisse - the L.A.-based singer-guitarist who Mitchell says reminds her of Jimi Hendrix - in "Help Me," the mid-'70s soft-rock hit she turns into a ghostly, percussive soul-funk jam. After the song, Carlile says that the thing about Joni Jams is that you're not just watching Joni perform - you're performing for Joni. - M.W.
10:35 p.m. Carlile asks Mitchell why they started covering the 1959 Leiber and Stoller romp "Love Potion No. 9" at their Joni Jams, to which Mitchell says - with a delicious well-duh tone - that the song is one from her "rock and roll dancing days."
"We have such a good time when we're doing it over at the house and we're drunk," Carlile tells the crowd. Here, Mitchell nails the bass vocal on the line, "I took a drink." - M.W.
10:39 p.m. Mitchell is remembering last summer's performance at the Newport Folk Festival. "I was 25 when I did it" - played the festival - "the first time," she says. "I was 79 last time. Viva la old age." - M.W.
10:55 p.m. What is there to say at this point about "A Case of You"? It might be the most moving love song in pop history; certainly, no song more vividly captures the experience of drinking in another person's charms (even when you know they're not right for you). Mitchell sings it here like a woman who knows that every story about romance contains some kind of lie - a lie worth savoring, and repeating, and bringing into the light. - M.W.
11:00 p.m. Wendy Melvoin is introducing her rendition of "Hejira's" "A Strange Boy" with a story about the time her old bandmate Prince - who she says "would be thrilled if he were here tonight" - asked Mitchell to sing "Purple Rain" with her at a concert.
"How's it go?" she says Mitchell asked, to which Prince sighed in exasperation and said, "Just sing, 'Purple rain, purple rain, purple rain.'" - M.W.
11:05 p.m. "We're gonna ruin one of your songs now, Joni," Marcus Mumford says before he sings "California," Mitchell's early-'70s ode to her adopted homeland. In fact, his gritty folk-soul take on the tune - with dive-bombing guitar by Blake Mills and pinprick backing harmonies by Lucius - is the night's second-best interpretation, behind Celisse's radical reworking of "Help Me." - M.W.
11:07 p.m. What's so interesting about this evening is that it seems monumental for everyone around Mitchell - both the reverent crowd and her collaborators on stage - but it's difficult to tell how it's registering with Mitchell herself. As Carlile, Lennox and Lucius gush over how impactful she's been in their lives, she offers generous laughter. The audience gives her extended standing ovations and she thanks them modestly. Maybe her sunglasses are hiding her deep emotions. Maybe for her this really does feel similar to the Joni Jams in her Bel-Air living room. But her seemingly relaxed attitude toward performing on such a grand stage certainly doesn't make it feel like two decades have passed since she did this. Which gives me hope that this may not be a one-night-only affair. - A.K.
11:13 p.m. Sarah McLachlan sings "Blue" like it's a hymn - which maybe it is? - M.W.
11:15 p.m. Mitchell intros a buoyant rendition of Frankie Lymon & the Teenagers' "Why Do Fools Fall in Love?" with a shaggy-dog tale of a long-ago run-in with the late folksinger Tim Hardin, whom she calls "a bad junkie but a great songwriter." - M.W.
11:23 p.m. Mitchell and Carlile are singing "Shine," the title track from Mitchell's most recent studio album from 2007, which Mitchell notes that PBS declined to broadcast at one point because of her salty language in a line about "another a - passing on the right." Carlile remembers that when she sang that line as Mitchell was being awarded the Gershwin Prize for Popular Song earlier this year, she looked up and saw Speaker of the House Kevin McCarthy. - M.W.
11:27 p.m. Further proof that Joni is one of the best to ever do it: She just compared the crowd's glowing camera-phone lights to "a fallen constellation."
"Where'd they get those lights?" she asks Carlile after they perform "Shine."
"Cellphones," Carlile responds.
"Cellphones? Really?" Mitchell says, stunned. "That was a real spectacle ... Thank you for that." - A.K.
11:30 p.m. We've gotten to the point in the evening where Joni is talking trash about her old classic-rock cronies, including a story about the time she was singing with Van Morrison and Bob Dylan and couldn't remember the lyrics to one of Dylan's songs so she made them up. "You shouldn't have don't that - it was disrespectful," she says Morrison told her. "Disrespectful?" she replied. "There's nothing he likes better than to see me fuck up." - M.W.
11:40 p.m. Mitchell's vocals haven't sounded better tonight than on a slow-and-low version of "Both Sides Now," which seemed to bleed wisdom when she wrote it more than half a century ago but now feels like some kind of ancient rune. Given how long she's been singing it, it's almost impossible to imagine that there's any emotional truth left in the song for her to discover. And yet... - M.W.
11:42 p.m. Following a rousing all-hands "The Circle Game," Mitchell and her many accompanists are leaving the stage to a standing ovation. - M.W.
11:47 p.m. Mitchell and company are back for an encore that begins with "Court and Spark's" "Just Like This Train," for which the singer is playing guitar, hunched over the instrument as she plucks out its ascending chord progression. What a welcome reminder of her singular harmonic sensibility. - M.W.
11:53 p.m. Mitchell stays on guitar for "If," from 2007's "Shine," which features a trumpet solo by Mark Isham. "I love that song," she says when it's over, and you have to respect the fact that Joni is using her big comeback concert to shine a light on one of her least-heard albums. - M.W.
12:01 a.m. Mitchell tells the crowd she has one more she wants to do: a Frank Sinatra song, she says, which turns out to be "Young at Heart," the wistful pop standard from the early '50s by Johnny Richards and Carolyn Leigh about surviving until you're 105. "Thank you for coming, everybody - it was a beautiful experience," Mitchell says before doling out hugs to her many collaborators and shuffling offstage - perhaps to an epic afterparty? - M.W.