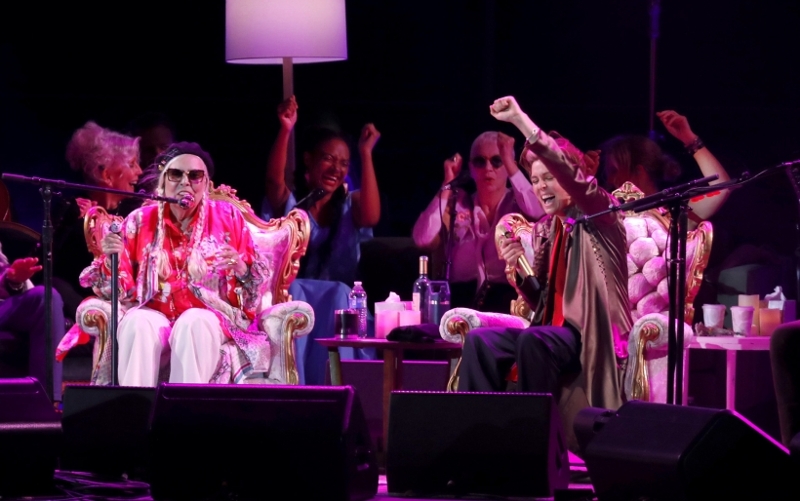 Prior to Saturday night, the last time singer-songwriter icon Joni Mitchell headlined a concert was in the summer of 2000, at the riverfront amphitheater in Camden, New Jersey. She was wrapping her tour in support of Both SidesNow, a collection of jazz covers and re-recorded songs from her own catalog. She was also, as her fourth decade making music drew to a close, becoming disillusioned with the music industry. Her recordings grew fewer, she returned to painting as her means of creative expression, and short of a few public appearances at award ceremonies, she kept out of the spotlight.
That changed last summer, when fellow singer-songwriter and Joni champion Brandi Carlile organized a freewheeling tribute to her at Newport Folk Festival, with Mitchell herself acting as the surprise guest. Her appearance was rapturously received (a live album is out now), and Carlile and Mitchell loved the experience so much that they staged it again on Saturday...with advance notice this time. Fans traveled from all over the country, and the world, to Washington state's legendary Gorge Amphitheatre to attend this rarest of concerts. Taking Newport as a template, it put the celebration of her life and work on a massively bigger scale, with a nearly three-hour set of singing and storytelling by Mitchell and the musicians she inspired, backdropped by the sun setting over the awe-inspiring topography of the Columbia River Gorge.
As Carlile explained in her opening set - where she and her wife Catherine dueted on the very Joni-esque "You And Me On The Rock" from 2021's In These Silent Days - the seed of the concert came from informal jam sessions Mitchell regularly has at her Laurel Canyon home, which are attended by a range of players from Hozier to Chaka Khan. "It's not gonna be a show like you've ever seen before," Carlile said of the headlining set, billed as The Joni Jam. "It's more going to be like holding a snow globe and looking inside, seeing that house with the lights on...seeing into Joni's living room, and how she stepped back into music in a profound way."
The band of Joni Jammers was made up of a star-studded lineup. On vocals and guitar, we saw Celisse, Taylor Goldsmith of Dawes, Blake Mills, Wendy & Lisa, and Phil and Tim Hanseroth of Carlile's band. Additional vocals came from Annie Lennox as well as Lucius' Holly Laessig and Jess Wolfe; Allison Russell sang and played clarinet, Sarah McLachlan sang and played piano. The band was rounded out by Josh Neumann on bass, Ben Lescher on keys, Marcus Mumford and Matt Chamberlain on percussion, and Mark Isham on trumpet, and when they were in full swing, it was beyond gorgeous.
For Mitchell's part, seated in a comfy-looking chair at center stage - the set was decked out with furniture and lamps inspired by her home - there was an air of modesty about the night, at least as much as there could be in a night that was all about her. She beamed with joy at the rounds of applause, but seemed reluctant to talk about the reason for it. Whenever somebody onstage offered a superlative about her (and practically everybody did), she graciously and quietly thanked them, and changed the subject. She shared funny anecdotes from her life that played into the music on the setlist, and engaged with the other musicians' stories about her, some of which were sweetly self-deprecating: bum-rushing the stage at a Bob Dylan show, being asked to sing "Purple Rain" and telling Prince she didn't know the words, going on a bizarre quest for recorded wolf sounds with Tim Hardin. ("We're really at a Joni Jam now," Carlile said after that last one.) "I was 25 when I did Newport for first time I was 79 when I returned," she laughed about last summer's tribute. "Viva la old age!"
Unlike other musical elders who take the stage with a rehearsed air, a probable product of a lifetime of being "on" all the time, Mitchell felt casual and genuine, speaking her mind and not second-guessing herself. And when she sang: just wow. Certainly she no longer sounds like the acrobatic soprano of 50 years ago, and when a song like the opening "Big Yellow Taxi" or "Carey" came round, she was content to sit back, let the other voices onstage - Carlile's most of all - take the lead while she softly harmonized. But those moments of subtlety and tension, of jazzy serenity and release, found her strong as ever; "Amelia" from Hejira was a knockout, "A Case Of You" from Blue (with Carlile handling the high notes), left not a dry eye in the house, and the 26,000-strong crowd was pindrop-silent for her aching rendition of George Gershwin's "Summertime," where her voice had a suave, Roberta Flack-esque ambience.
Part of the show, too, was hearing the musicians sing Mitchell's songs for her. "It's fucking terrifying," Carlile said. "But Joni, you're a source of joy and inspiration, you brought so many of us together, you made us better musicians and better people." Celisse delivered a raw rock guitar reinvention of "Help Me" from Court and Spark, McLachlan got a standing ovation as she played the title track to Blue, Mumford stepped out from behind the congas for a charming take on that album's "California." But the most powerful of these moments was arguably Lennox's synthy re-invention of the title track to Ladies Of The Canyon; she also had the night's most succinct homage. "Joni, you're such a visionary," she said. "Such and legend, such an inspiration to every single one of us out here."
Summing up this sprawling event full of warmth and emotion is no easy task, nor I'm sure is summing up a vast and nuanced body of creative work in a mere three-hour show. Mitchell, though, found a way, and after a moving full-venue singalong to "The Circle Game," she returned for a pointed encore where she played lead guitar on the instrumental "Just Like This Train," returned to her burning jazzy power alley on "If," and closing the night with an apropos version of Sinatra's "Young At Heart," featuring Allison Russell soloing on clarinet. A legendary night fit for a legend.