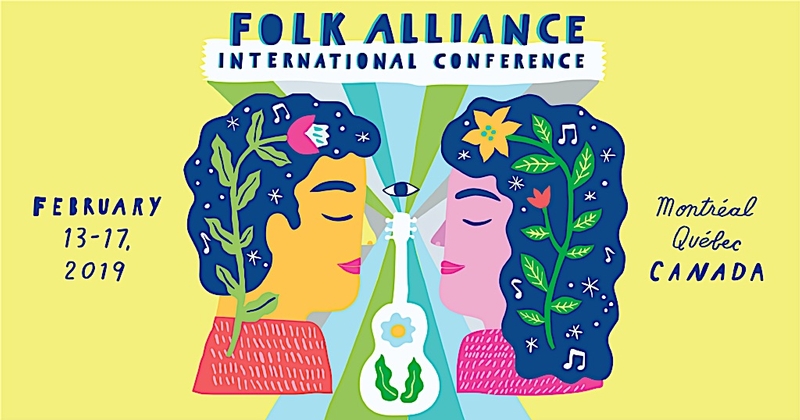 Once again a great success, Folk Alliance International's annual international professional development and networking conference, the world's largest gathering of the Folk music community and industry with over 2500 delegates has completed yet another great event.
This year, it took place this year in Montreal, Quebec, Canada between February 13th to 17th at the iconic Fairmont Queen Elizabeth Hotel. This hotel, of course, is the location where John Lennon and Yoko staged their bed in for peace in 1969 and in suite #1742 recorded Give Peace a Chance. And the location is on land that was the territories of the Kanien'keha-ka and Kahnawa-ke people. The Folk Alliance International's mission is to serve, strengthen, and engage the global folk music community through preservation, presentation, and promotion.
In 1989, 125 people from across the continent traveled to a retreat in Malibu, California, to begin discussions on the formation of a coalition of folk organizers. Invited by Clark and Elaine Weissman and the California Traditional Music Society, they were major presenters and small folk societies, people who'd done business across the continent, but who'd never met face to face. The earthquake that rocked southern California just days before the event was nothing in comparison to how this formational meeting changed the way that the folk music and dance presenters, performers, agents, managers, media, and record companies do business in North America.
Moving the event to Canada in February, of course, meant dealing with the unpredictable conditions of the North but for the most part it wasn't a factor. The effect was felt mostly just in travel. For instance folk legend Eric Andersen who was flying in from the Netherlands was scheduled to give the introduction speech for his friend Joni Mitchell's Elaine Weissman Lifetime Achievement Award but got stuck in Newark, New Jersey and had to cab it to New York where he took a 12-hour train ride to Montreal. He consequently missed the ceremony but was there for his showcases and panel appearances. But once you were inside the hotel the weather was not even a consideration. Everything was contained in the building making it possible to experience all the live performances without going outside. And all the showcase rooms were aptly named, The Joni Mitchell Room, The Leonard Cohen Room The Robbie Robertson Room to name a few. Walking through the hotel was a virtual who's who and who's gonna be of the folk and roots music world. On any given day you could run into Eric Andersen, Tom Paxton, Jim Lauderdale, Buffy Saint Marie, Kim Doolittle, Eliza Gylkyson, John Kay, Matt Andersen and Livingstone Taylor and catch their live performances as well. The cool thing was they were all personable and approachable and seemed to enjoy the idea of meeting their fans in such a musical atmosphere. There was an abundance of young talent as well, giving hope for the future of folk and roots music. Up and comers like Gangstagrass, Orit Shimoni, Shawna Caspi, Moxie and Earle and Coffin. Troubador Orit Shimoni summed up her experience "Folk Alliance humanises a very competitive industry, bringing all the various components into one place: agents, managers, labels, fans, musicians, and media, and instead of feeling overwhelmed and fatigued by the shmooze factor, it's actually reinvigorating and reaffirming that there 3000 people in one place that believe in the power and reasons for music against all odds."
Maybe it's because Tom Paxton was in attendance but the conference ended the song that ran through my head was Tom's 'Wasn't That a Party'.
Next year Folk Alliance International will be held in New Orleans so the French you learned in Montreal might come in handy. Laissez les bon temps roullez!