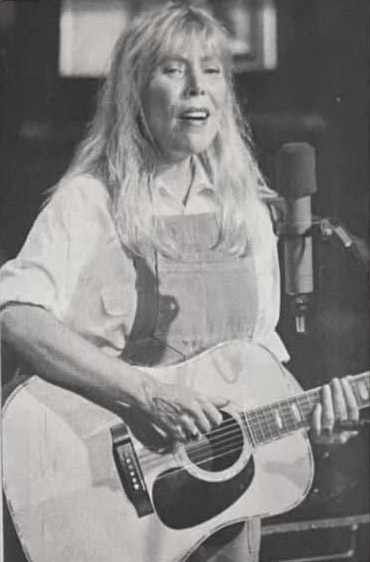 Joni Mitchell came out to play last night on Queen St. W. - and the welcome back was as big as Canada and as intimate as her living-room.
The legendary Canadian singer-songwriter made her first Toronto concert appearance in 11 years, performing live on the national MuchMusic network's Intimate & Interactive show, before an ecstatic and mostly young audience that included Queen St. strollers peering in through a large open window.
"This is the moment of my life!" said York University student Susan Wessels, 19, who waited three hours for a front-row window spot, clutching an old vinyl copy of Mitchell's 1974 Court And Spark album.
"She makes you worship melancholy, if that's possible," said another star-struck Joni fan in the window, Tomaz Jardim, 19, of Toronto.
It was a capital "E" musical and emotional Event, because the Alberta-born, Saskatoon-raised Mitchell is the single most influential woman in pop music - everyone from Prince to Tori Amos sings her praises - and until recently it seemed she had all but given up live performances. There were fears she would become a recluse and was in drastically ill health.
Pushing aside all the intrigue, she was just down-to-earth Joni ("Fame doesn't mean that much to me," she said), all tousled blonde hair matched with tan overalls and cream blouse, casually puffing cigarettes between songs.
Nervous at first, but quickly gaining confidence, her distinctive soprano voice was flawless, bringing vivid stories to life in songs like the jazz-inflected mindscapes of "Moon At The Window" and the true tale of the horrors of a long-ago Irish nunnery, "The Magdalene Laundries."
She looked simply marvelous, lightly tanned and a least 20 years younger than her 50 years, despite admitting that, yes, she has had some problems with her throat - she didn't say what - that now seem to be resolved.
Mitchell performed solo on acoustic guitar, alternately standing at a microphone, sitting on a colorful couch and playing directly to the 75 people in the studio and those on Queen St., joking as a passing ambulance siren punctuated a line of one song with its insistent blare.
She strummed in difficult open tunings with her long nails, presenting songs both old ("Hejira," "Just Like This Train," "Moon At The Window," "Night Ride Home," "Cherokee Louise") and brand new, the latter including two tunes from her upcoming Turbulent Indigo album, and two that she has yet to record.
She shared secrets and fears about songwriting, her childhood friends and fights with her mom and dad, who were watching in Saskatoon, and let us know that even though she lives most of the time in Los Angeles, she also spends a third of the year in her B.C. chalet: "I'm sort of bi-national, I guess."
True to the "interactive" show title, Mitchell fielded questions both from her immediate audience, and from fans across Canada and the U.S. who sent in questions via telephone, fax, videotape and computer e-mail.
"Do your personal relationships have any influence on your music?" asked one Montreal teen, young enough not to know that Joni Mitchell is the poet diva of heart on the sleeve confessional songwriting.
"Are you kidding?" Mitchell replied, enjoying the innocent sincerity.
Another young caller, a budding guitarist, wanted to know how she had made the difficult transition in her 30-year career from a café waitress strumming a $36 ukulele to playing sold-out shows at New York's Carnegie Hall.
"Practise, practise!" came Joni's advice.
Her live audience included such celebrities as Toronto pop singers Jane Siberry and Moe Berg ("She's one of my biggest influences," Berg said) and U.S. actor Ed Begley Jr., who is in town filming a movie.
After 90 minutes of song and chat, Joni Mitchell finished with a new number, "Facelift," a beautifully honest song about new love for a mature woman that she dedicated to her mother and to a quarrel she once had with her.
"Happiness is the best facelift," she sang, and it closed a show that came straight from Joni's hearth, via her heart.