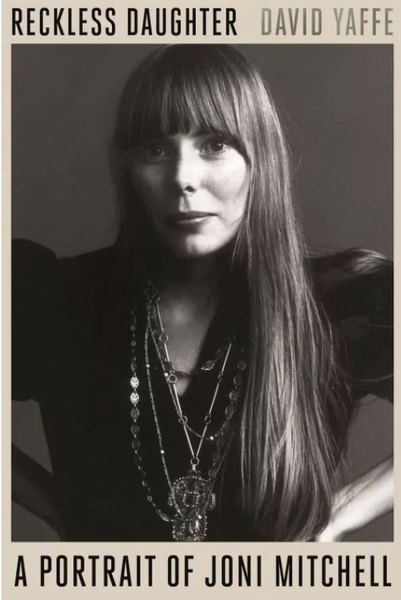 With her regal beauty, imperious nature and nifty clothes, Joni Mitchell could fit right into "Game of Thrones." Her kingdom would be a mix of Canada and California, where handsome male musicians are as available as cigarettes and artistry, not business, prevails; where songs, instead of swords, serve up revenge but also seduce and enlighten. This kingdom is heavily defended, yet the queenly voice that rules it invites us in. Who could decline her invitation? Certainly not David Yaffe, whose "Reckless Daughter" is one more reminder of how difficult it is to refuse greatness.
Yaffe, a professor of humanities at Syracuse University who's written books about jazz and Bob Dylan, wants to "understand the mind" that wrote Mitchell's songs. He creates his portrait using biographical information and extensive quotations from interviews that Mitchell has given to him and others. He tracks her early years in Canada, her rise to fame in 1970s Los Angeles, her expansion into jazz and the decline of her audience and her health.
Though this format allows us to see multiple sides of Mitchell, it also tests our opinion of her as an artist and as a person. Regardless if one likes or dislikes her, no one can dispute that courage and vulnerability have been the motivating forces in both her life and art.
Born Roberta Joan Anderson in 1943, the only child of rather distant parents, Mitchell was 10 when she developed polio. Confined for months to a "polio colony" outside Saskatoon, Canada, and haunted at night by the sound of iron lungs, Mitchell surprised her doctors by learning to walk again, what Yaffe calls the first of her many "acts of defiance." Soon Mitchell would be dancing to rock-and-roll, and soon after that singing and playing guitar in Toronto folk clubs. In 1965, she gave birth to a daughter whom she ultimately gave up for adoption. After this, she married folk singer Chuck Mitchell, and they began performing in Detroit and New York City, but she quickly divorced him, telling Yaffe that her husband was her "first major exploiter." In the remaining pages, Yaffe examines Mitchell's music along with those who inspired and helped shape it: the men who were both muse and nemesis.
Mitchell's list of lovers boggles not because of its quantity but its quality: Leonard Cohen, David Crosby, Graham Nash, James Taylor, Jackson Browne, John Guerin, Sam Shepard, Jaco Pastorius, Don Alias and Larry Klein, among others. Many of her songs reference those lovers - "A Case of You" is about Cohen; "Coyote" about Shepard - and seldom in flattering ways. In many of her interviews in "Reckless," Mitchell is crass and vindictive. She calls Larry Klein, her second husband, a "puffed up . . . dwarf." Another producer is "a slimy little bugger." Peter Asher, briefly her manager in the 1980s, counters such criticisms as an "alternate version of reality." Yaffee seldom comments on Mitchell's abrasiveness, but he's quick to point out the rampant sexism in the music industry that may have prompted it, most notably when Rolling Stone named Mitchell the "Queen of El Lay."
Where Yaffe should intervene is when Mitchell makes outlandish and self-serving statements about music. "It's the same with sus chords," she tells Yaffe. "Only a woman could have discovered harmony that was never used before in the history of harmonic movement." Sus chords are suspended chords, and they have been around for a long, long time. Also, why does it take Yaffe more than 150 pages to tell us that Mitchell's mysterious guitar tuning originated to accommodate her left hand, which was weakened by polio? She's not the only guitar stylist whose hands determined how they play their instrument; the great Django Reinhardt lost the use of two of his fingers in a fire. Putting Mitchell in a wider musical context would be helpful.
And so, her music! Here Yaffe does not hold back. Beginning with early examples before she became Joni Mitchell to her last album, "Shine" (2007), Yaffe solidly traces the glory and gloom of a musical career that expanded our ears and hearts. Mitchell influenced everyone who heard her music, from Jimi Hendrix to Prince to Taylor Swift. She adapted jazz, funk, classical, folk and rock to her own hybrid compositions and stunning lyrics. To his credit, Yaffe treats every album, even the nonsellers of the 1980s - what Mitchell called "The Lost Years" - with respect and equanimity, nor does he shy away from detailing her miscalculations, such as her performative expressions of what she considered her "inner black person." His book ends in 2015, when Mitchell had a brain aneurysm that left her disabled but not defeated.
As with Mitchell's hero Picasso, we must take the good with the bad, the unforgettable voice done in by its daily four packs of cigarettes. It's fitting, then, that Yaffe closes by praising Mitchell's wise, world-weary reprise of "Both Sides Now" on her 2000 album of the same name. Her version reminds us of "how many new meanings had been accumulated from the many lives Joni had been living since she wrote that song" in 1967 . The lonely girl ill with polio had survived to become a great artist. Yaffe's books tells us how she got there.