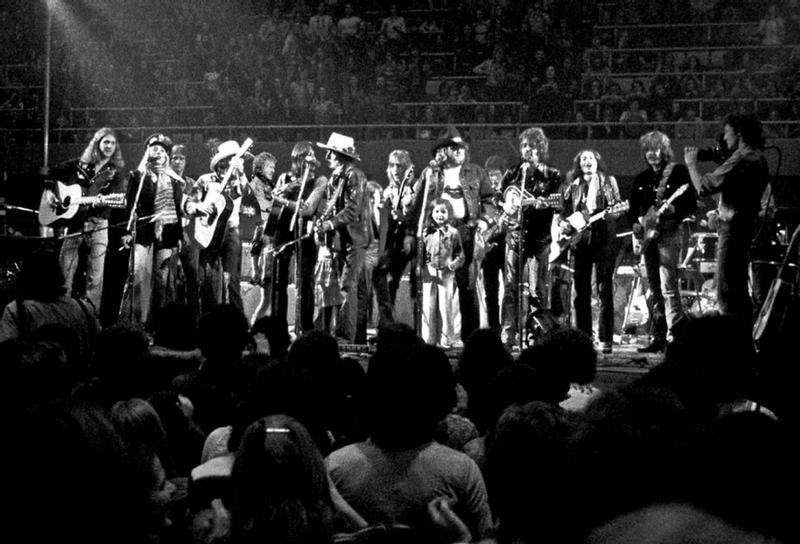 Bob Dylan's Rolling Thunder Revue - a touring band of sorts - was making its way around the U.S. and Canada in 1975. Likened to a "traveling Woodstock" it featured some of the era's musical luminaries. When it came to Toronto, Dylan organized the concert for Maple Leaf Gardens. Here's what happened December 1, 1975 - the night Bob Dylan, Joan Baez and others came to town.
Dylan had given Lightfoot an important slot in the show, right before his own final set. It took a long time for Lightfoot to come out; he was backstage tuning guitars, his usual pre-concert ritual. Baez, acting as emcee, entertained the crowd with her impressions of comedian Lily Tomlin's best-known characters. Then, when it finally came time, Baez introduced Lightfoot. As he walked onstage, Lightfoot looked every inch the handsome hometown hero, clad in denim with sleeves rolled up, ready to work, the spotlight illuminating his blond curls. He'd started out a decade earlier, playing a small room at Steele's Tavern, a few blocks away on Yonge Street. Now he had the prime spot at the hottest concert of the decade.
Backed by his usual sidemen, bassist Rick Haynes, guitarist Terry Clements and pedal steel player Pee Wee Charles, Lightfoot launched right into a brand-new song: "Race Among the Ruins." It was his latest poetic take on a tumultuous romantic life. "The road to love is littered by the bones of other ones," he sang, "who by the magic of the moment were mysteriously undone." The audience loved it. Lightfoot's songs always took listeners on a journey, drawing them into stories rich in emotion and without a trace of artifice. Next up, he sang "The Watchman's Gone," one of his many songs steeped in railway imagery. By the time he closed with "Sundown," his taut tale of sexual jealousy, Lightfoot had everyone cheering wildly. The following night, he added "Cherokee Bend," about injustices suffered by First Nations people, and finished with "High and Dry," an upbeat number he liked to call a "toe-tapper." Meticulously crafted, the songs were nonetheless instantly accessible and sounded entirely natural. With the audience screaming for more, Neuwirth stepped to the mike and urged Lightfoot back. Once again, a simmering "Sundown" enthralled the crowd. Both shows ended with Lightfoot and Mitchell joining tour regulars, friends and family, including Dylan's mother, Beatty, for a jubilant round of Guthrie's "This Land Is Your Land."
The December 1 show broke the four-hour mark. Everyone was ecstatic. Swept up in the euphoria, Lightfoot invited Dylan and the entire cast of more than seventy people back to his place for a party. The Rolling Thunder circus pulled onto Beaumont Road, a quiet cul-de-sac by a ravine in Rosedale. What took place in Lightfoot's mansion was a rock-and-roll bacchanal. His blue-and-silver Seeburg jukebox was working overtime, pumping out a steady stream of Cream, Zeppelin, Doobies and Flying Burritos. Everyone was either drinking, snorting or inhaling something, and smoke floated freely about the sprawling house - past the grand piano, the slate billiard table and the Tiffany lamps all the way up to the master bedroom, with its Frank Lloyd Wright stained-glass window. The heavy consumption may explain why memories of the event are so fuzzy. Most people think there was one big noisy party; others believe there were two. Some recall one of Lightfoot's friends, a six-foot-ten banjo player named Tiny, acting as security and greeting Mitchell, McGuinn, Rivera, Ronson and all the others as they arrived.
But almost everyone remembers Dylan's buddy Neuwirth throwing his leather jacket into Lightfoot's fireplace and filling the house with thick black clouds. Says Ramblin' Jack, "Bobby was a very enthusiastic partier. I don't remember all that transpired at Gord's, because we drank to excess. But we were told we had quite a lot of fun." Ronnie Hawkins, another Rolling Thunder addition, certainly recalls the fireplace incident. "Dylan was into drinking carrot juice at the time, and he and Neuwirth got into an argument. . . . Neuwirth just lost it and threw his jacket into the fire. It was like a smoke bomb going off."
While revelry raged on the main floor, Lightfoot and Dylan were alone upstairs with their guitars, in a parlor room with a leaded bay window and floral wallpaper. Lightfoot had stripped down to a singlet, jeans and sandals. Dylan was still wearing his leather coat and fur hat. They seemed a mismatched couple, a study in contrasts. Here were two songwriters at the top of their games. But neither was comfortable in conversation, despite their friendship and mutual respect. Too guarded, or maybe too competitive. They did, though, share the common language of music. As others partied wildly below, Lightfoot and Dylan quietly traded songs. A recording made that night of Lightfoot playing Dylan's "Ballad in Plain D" can be heard on the Renaldo and Clara soundtrack. A few photographs captured the historic exchange.
Each of them had started out the same way - alone in a room with a guitar, pencil and pad of paper. The discipline of that hard, solitary work created timeless songs that reached millions. Dylan had become the greatest songwriter of his era. Lightfoot was close behind. Although more workmanlike and straightforward, Lightfoot's songs had an artful structure and poetic resonance that made them accessible in ways that Dylan's weren't. Both were highly prolific and idiosyncratic. After selling out the largest venue in the city, attracting a constellation of music's brightest stars and hosting a fabulously decadent party, all these two artists wanted to do was retreat to a room and trade songs over acoustic guitars. For Lightfoot, as for Dylan, it was always about the song.
Excerpted from Lightfoot by Nicholas Jennings. Copyright © 2016 Nicholas Jennings. Published by Viking, an imprint of Penguin Canada, a division of Penguin Random House Canada Limited. Reproduced by arrangement with the Publisher. All rights reserved.