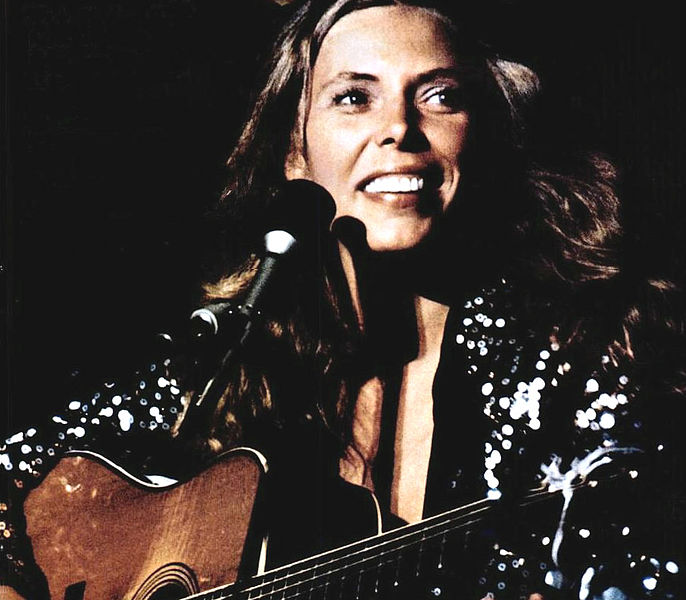 Google translation (Spanish to English). Original Spanish below.
It was a colleague, David Crosby, who said of her that she is "as good a poet as Bob Dylan, and a much better musician." Joni Mitchell treasures many other medals: a fifty-year career outside of awards, and a handful of albums destined to break new ground in contemporary songwriting, which have influenced artists such as Tori Amos, Cat Power or k.d. Lang. Still rebellious and incorruptible, this is part of her story. - Joni Mitchell in 1974. / Billboard
"I'm on a lonely road and I travel, travel, travel..."
Joni Mitchell started her song ˈAll I Wantˈ, released in 1971, with these words. She was not yet thirty years old, and in them she already contained all her present and future yearnings: a desire for freedom that burned between her fingers, an obsessive search for of that personal and artistic independence that has been pointed out so many times as the vertex of his work. At that time, Mitchell had just released ˈBlueˈ, an album shot through with a constant tension between the tacit impositions of life (a family and domestic destiny) and the unique commitment to an autonomous existence focused on art. With that work, written and recorded in an open grave, she established a solid canon for those who, in the future, would work in the field of confessional song within pop music. Since then hailed as the most important Anglo-Saxon singer-songwriter in history, before she had to go a long way full of resignations and not always satisfactory searches.
Born Roberta Joan Anderson in Alberta, Canada, in 1943, Joni grew up an only child in Saskatoon, a small city nestled in the Canadian prairies. Like many other girls of her time, she was condemned to a long period of seclusion due to polimyelitis, with the only consolation of an early artistic vocation, fundamentally dedicated to painting and music. Over the years, Joni would capture her entire childhood in one powerful and insistent image: a small window in the family home, facing the train track, through which she imagined infinite possible destinations, and the opportunity to build a life beyond Saskatoon. While the miracle was not worked, the balm of art remained. Using an old Pete Seeger sheet music book, the living library of American folk, Joni learned the rudiments of the banjo. From the hand of a piano teacher, she absorbed the basic notions of the instrument, but she refused to dominate it within the orthodoxy that they tried to instill in her. And when she was finally able to go to the School of Fine Arts, she understood that painting gave her infinite possibilities of expression, standing out very soon among the rest of the students.
As her life as a couple sank, Joni began compulsively writing songs, building through them an already radically own and unusually complex imaginary for a young composer.
Already in her adolescence, determined to make up for lost time, the city became her particular land of opportunity. In the heat of the jukeboxes, happily nourished by classic rock'n'roll songs, the noisy nights of Calgary widened Joni's longing for escape, and accentuated a vision that would mark her life: painting had been her vocation. first, and the most important, but perhaps the guitar could become a safe conduct towards total emancipation. A short time later, she was already singing on the tables of the Depression cafe, gradually forging her style as a vocalist. However, even relying on her talent for transferring innovative ideas onto canvas, she was far from possessing her own language as a pop music author. He would begin to conquer it little by little, investigating the different sounds that the guitar offered him according to the different tunings, and closely studying the style of contemporaries such as Joan Baez and Judy Collins, who had already carved out enormous prestige within the folk scene. of the time.
It was an intimate tragedy that would give him wings to redouble his efforts. In 1965, barely eighteen years old, she became pregnant with her first child. In the conservative environment of Saskatoon, it did not take long for the news to stigmatize her: without a stable partner or resources within her reach, with abortion being an unimaginable option, the young student of Fine Arts understood that the only viable way out was to give her daughter up for adoption The decision opened a deep gap in Joni's personality, but it also activated the springs so that her talent as a composer, until then dormant, finally exploded. However, the foundations of her professional career were still insecure. A short time later, she found herself embarking on a stillborn marriage, but in which she had mistakenly deposited her project of personal stability. She from Chuck Mitchell, her chosen man, she would take the surname by which we know her today, and with him she undertook a tenuous musical alliance in the US that would only suffocate her recent and inflamed inspiration.
As her life as a couple foundered, Joni began compulsively writing songs, building through them an imaginary that was radically her own. Songs like ˈBoth Sides Nowˈ, her first big hit, arose from the implosion of her inner world, and could only be transmitted with her own voice.
"I've seen love from both sides / From giving and receiving, and yet / It's mirages of love that I remember / I don't really know love at all"
With lyrics that ranged between childhood and maturity, expectations and failures, ˈBoth Sides Nowˈ was an unusually complex song for a songwriter just starting out on her own path. Nor was it an isolated achievement: the theme was part of the large sampler with which Joni appeared in 1967 in New York's Greenwich Village, a bohemian neighborhood congested with music cafes, where emerging artists such as Bob Dylan or Phil Ochs had worked hard on the recovery and modernization of North American folklore. Our protagonist soon stood out among the second great wave of talents who, like Leonard Cohen, were looking for her opportunity in a field as competitive as that one. Even without a representative, becoming hardened with apparent shyness in small venues, Joni had certainly unusual values: she was not only one of the few women who wrote her own material; moreover, she underpinned that material with a solid point of view, infused with a wisdom that was soon detected by her contemporaries. In a very short time, artists like Fairport Convention or Tom Rush were fighting to record her songs. Some colleagues on the folk circuit, such as Judy Collins or Buffy Sainte-Marie, were so quick to model their own versions that they even dumped them on her records before Joni herself had set foot in a recording studio.
Regardless, with her long blonde hair and her angular features, she learned early on to evade stereotypes. Commercially, she seemed to fit the standard of unarmed hippie, ready to preach the summer of love clichés, even though the harsh remarks that peppered her texts pointed in a radically opposite direction. Far from offering conjunctural art, her style was the result of a complex metabolization process, which magnetized the listener with no possibility of escape. On the one hand, Joni picked up the heritage of the old crooners whom she admired so much, working hard on the melodic and harmonic aspect of the music, where direct lyrics without great artifice could fit in as naturally as possible. On the other hand, there was a beacon named Bob Dylan, now omnipresent, who had broadened the language and narrative possibilities of rock music to the point that no one could escape its influence. Broadly speaking, what Joni did was bridge the gap between the two traditions, giving her well-deserved pioneer status.
His grandmother had dragged to the grave an existence of a frustrated poet and musician. Joni understood that his mission was to assume the reins of two parallel destinies, that of that old woman and her own.
This synthesis is masterfully printed on his first recording cycle, the five albums that range from ˈSong To A Seagullˈ (1968) to ˈFor The Rosesˈ (1971). We are talking, in all cases, of records that go deep with few wicks: just an elastic, crystalline voice, and an instrumental core of guitar, piano or dulcémele concocted by the author herself. Additional elements (horns, strings, harmonica, a light rock backing) occasionally push the ensemble along, but it's Joni who, to use a cinematic term, steals every scene, song after song. It's a matter of sound, but also of high-voltage poetry: an intensity that David Crosby, producer of his first album, would compare to the impact of "a hand grenade."
At one point in the documentary ˈWoman Of Heart And Mind: A Life Storyˈ (Stephanie Bennet, 2003), Mitchell introduced a revealing autobiographical note. Her grandmother had dragged her life as a frustrated poet and musician to the grave, the consequence of a blunt family precept that prevented women from developing their artistic interests. Marked by the memory of her, Joni understood that her mission was to assume the reins of two parallel destinies to the last consequences, that of that old woman with a failed vocation and her own. History can help us understand to what extent their songs seem to have been excavated by someone who does not hesitate to get their hands dirty, and why many of them devote themselves to x-raying the desires, disappointments and desire for autonomy of anyone who is willing or Willing to give you your time. In those first albums, female portraits abound: the young woman trapped between an imposed life and her desire to conquer her own destiny (ˈCactus Treeˈ); the friend who is consumed in a lonely daily life (Marcie); the woman before whom she plans the shadow of mental instability (ˈI Think I Understandˈ), or the girlfriend paralyzed by the uncertainty of a love that is born (ˈI Do n't Know Where I Standˈ).
In 1969, with this flourishing catalog in her hands, Joni Mitchell moved her business from Greenwich Village to Laurel Canyon, in the Hollywood mountains, where stars like Jim Morrison and Neil Young rubbed shoulders in a fertile community of artists and musicians, in the that our protagonist finished forging her prestige. There, the beginning of an intense relationship with Graham Nash (Crosby, Stills, Nash & Young, The Hollies) would cause a new conflict with his innate tendency to emancipation, while discovering everything that fame could have predatory: to A packed Carnegie Hall awaited him around the corner, and exposure to the impersonal, massive audiences that fed the big festivals. A burden too heavy for someone who understood creation as an intimate process.
"Sad Songs Are Like Tattoos" (ˈBlueˈ, 1971)
ˈBlueˈ, his masterpiece, is the direct result of all this turbulence. A bloody biographical album, steeped in acoustic pop and bursts of jazz, fueled by one collision after another: abandoning the person you love to cling to your autonomy (ˈRiverˈ, inspired by his romance with Graham Nash), abandoning your daughter, gripped by a paralyzing fear (ˈLittle Greenˈ), barely navigate between professional success and private catastrophe. Legend has it that Kris Kristofferson, after impassively listening to the eleven songs that make up this album full of bars and deserted roads, recommended Joni to keep "something for her", and the facts seem to confirm the anecdote: when leaving the recording sessions Joni herself claimed to feel as fragile and translucent as the cellophane on a cigarette packet. So much so that what followed was a temporary withdrawal, and her determination to, as far as possible, abandon the disks that could put him in a dangerous situation.
She first broke with everything around her, to later break with her music as it had developed up to that moment. Secluded somewhere in the Canadian mountains, without electricity for almost a year, Joni found in nature the necessary balm against the nervous breakdown that a few months before had stimulated her withdrawal. Now her most pressing concern was where to direct her songs. The pictorial vocation, never abandoned, would finally give him the necessary tools to take a turn in his career: if music, like painting, consisted solely of the use of shapes and colors, it was only necessary to try new combinations.
Thus, between ˈCourt & Sparkˈ (1974) and ˈMingusˈ (1979), her recordings became extensive collaborative works, increasingly permeated by the language of jazz. On records like ˈThe Hissing Of The Summer Lawnsˈ, from 1975, where up to fifteen additional instrumentalists weaved a new and exuberant wrapping of African roots, jazz and folk, Joni was renouncing the climate of vulnerability that had dominated her music until then. Live, turned temporary leader of a rock band (L.A Express), she also left behind the lonely woman behind the piano, the guitar or the dulcimer. And as a lyricist, her songs were beginning to experience a slow shift from the personal to the communal, focusing more and more on scratching out the miseries attached to American society of her time.
During the Reagan era, we track down the most corrosive Joni of her career: lashes out at Christian fundamentalism, abuse of women, corporate greed and other moral failings.
Mitchell was aware that her recent swerves would ultimately banish her from major radio stations, condemning her to the ditch of minority audiences. Still, for someone who valued her freedom so much, that risk was not so much a hindrance as a certain comfort. When in 1979 she released ˈMingusˈ, partially composed of labyrinthine jazz scores designed by the legendary Charles Mingus, much of her audience fled in terror; for Joni, however, that was the master move that definitively destroyed her image as a brittle hippie icon, while crowning with honors the central period of her career.
It is possible that her sound designs were standardized thereafter, fueled from ˈWild Things Run Fastˈ (1982) by a more commercial pop, embellished with synth-heavy arrangements and ambient guitars. But under this strange veneer of sophistication, and coinciding with the advent of the Reagan era, we locate the most corrosive Joni of her entire career: an even more ferocious social commentator, who redoubles her forces when it comes to attacking Christian fundamentalism, the abuse of women, corporate greed and other moral failures deeply rooted in the contemporary era. Once again, her intricate narrative cut songs underwent a new twist. Where before there were women who woke up to life or watched it from a rearview mirror, now we find repulsive yuppies. Where there were characters who debated whether or not to give up part of her freedom in the context of an affective relationship, now we find nuns who fall again and again into the most sordid temptations.
Although it is easy to detect the weaknesses that deteriorate characteristic records of this period, such as ˈChalk Mark In A Rain Stormˈ (1988), often punctuated by some routine lyrics and instrumentations that today may be outdated, it is no less true that all of them project an artist in a perpetual war against conformism and frivolity. This explains why, in the nineties, Joni went through a decade full of awards and distinctions, including her entry into the Rock & Roll Hall Of Fame in 1997. Something that many people, including her, understood as a subtle way of expelling her from the present, relegating its uncomfortable presence to the windows of pop music. The fact that he was still able to carve beautiful, adult records, like ˈBoth Sides Nowˈ (2000), where his tobacco-scorched voice breathed new life into old jazz standards, was the least of it: the American music industry, too busy in packaging fast-moving consumer goods, he had ceased to take her into account. In her own words, "they don't appreciate the level of my work. In the industry they treat me like I've been dead for twenty years, and there were even people who were called 'the new Mitchell' when they weren't as good as me. I'm still trying to heal my wounds, and I still have a lot of things to say. But I also know what honor is, and once I felt honored. For example, in a restaurant, when a blind black pianist said to me: "Joni, you make music without gender and without race. That, for me, was an honor."
Of course, there is no "new Joni Mitchell" on the horizon. As certain as Joni Mitchell is alive, distilling new albums (yes, more and more spaced out) from the margins of the media spotlight. It seems more appropriate to simply trace her mark on other contemporary artists, men and women, where Joni's genetic load is scattered in multiple directions. We just have to go to our record collection and check that, if we slide a title by Tori Amos, Sonic Youth, Cat Power, Lucinda Williams, James Taylor, Prince, Fiona Apple, Morrissey, k.d Lang or Tracy Chapman, to name a few, into the player a few names, we will already be under the indelible influence of the author of ˈBlueˈ.
---
Fue un compañero de profesión, David Crosby, quien dijo de ella que es "tan buena poeta como Bob Dylan, y mucho mejor músico". Joni Mitchell atesora muchas otras medallas: cincuenta años de carrera ajena a las concesiones, y un puñado de discos destinados a marcar nuevos caminos en la canción de autor contemporánea, que han influido a artistas como Tori Amos, Cat Power o k.d. Lang. Todavía rebelde e incorruptible, ésta es parte de su historia. - Joni Mitchell en 1974./ Bilboard
"Estoy en una carretera solitaria y viajo, viajo, viajo..."
Joni Mitchell arrancaba con estas palabras su canción ˈAll I Wantˈ, editada en 1971. Todavía no había cumplido los treinta años, y en ellas encerraba ya todos sus anhelos presentes y futuros: un ansia de libertad que le ardía entre los dedos, una búsqueda obsesiva de esa independencia personal y artística que tantas veces se ha señalado como vértice de su obra. Por entonces, Mitchell acababa de publicar ˈBlueˈ, un disco atravesado por una tensión constante entre las imposiciones tácitas de la vida (un destino familiar y doméstico) y el compromiso único con una existencia autónoma y volcada en el arte. Con esa obra, escrita y grabada a tumba abierta, estableció un sólido canon para quienes, en el futuro, trabajarían en el terreno de la canción confesional dentro de la música pop. Saludada desde entonces como la más importante cantautora anglosajona de la historia, antes tuvo que recorrer un largo camino lleno de renuncias y búsquedas no siempre satisfactorias.
Nacida como Roberta Joan Anderson en Alberta, Canadá, en 1943, Joni se crió como hija única en Saskatoon, una pequeña ciudad enmarcada en las praderas canadienses. Como muchas otras niñas de su época, fue condenada a un largo período de reclusión a causa de la polimielitis, con el único consuelo de una vocación artística temprana, fundamentalmente entregada a la pintura y la música. Con el paso de los años, Joni capturaría toda su infancia en una imagen poderosa e insistente: una pequeña ventana de la casa familiar, orientada hacia la vía del tren, a través de la cual imaginaba infinitos destinos posibles, y la oportunidad de construir una vida más allá de Saskatoon. Mientras no se obraba el milagro, quedaba el bálsamo del arte. Con un viejo libro de partituras de Pete Seeger, la biblioteca viviente del folk norteamericano, Joni aprendió los rudimentos del banjo. De la mano de una profesora de piano, absorbió las nociones básicas del instrumento, pero se negó a dominarlo dentro de la ortodoxia que pretendían inculcarle. Y cuando al fin pudo acudir a la escuela de Bellas Artes, comprendió que la pintura le otorgaba unas posibilidades infinitas de expresión, destacando muy pronto entre el resto de estudiantes.
A medida que su vida de pareja naufragaba, Joni empezó a escribir canciones compulsivamente, construyendo a través de ellas un imaginario ya radicalmente propio e inusitadamente complejo para una joven compositora
Ya en su adolescencia, decidida a recuperar el tiempo perdido, la ciudad se convirtió en su particular tierra de las oportunidades. Al calor de las máquinas de discos, felizmente nutridas de canciones de rock'n'roll clásico, las bulliciosas noches de Calgary ensancharon las ansias de escape de Joni, y acentuaron una visión que habría de marcar su vida: la pintura había sido su vocación primera, y la más importante, pero tal vez la guitarra podría convertirse en un salvoconducto hacia la emancipación total. Poco tiempo después, ya estaba cantando sobre las tablas del café Depression, forjando poco a poco su estilo como vocalista. Sin embargo, aun confiando en su talento para transferir ideas innovadoras sobre un lienzo, estaba lejos de poseer un lenguaje propio como autora de música pop. Empezaría a conquistarlo poco a poco, investigando en las diferentes sonoridades que la guitarra le ofrecía según las distintas afinaciones, y estudiando de cerca el estilo de contemporáneas como Joan Baez y Judy Collins, que ya se habían labrado un enorme prestigio dentro de la escena folk de la época.
Fue una tragedia íntima la que le daría alas para redoblar sus esfuerzos. En 1965, con apenas dieciocho años, se quedó embarazada de su primera hija. En el ambiente conservador de Saskatoon, la noticia no tardó mucho en estigmatizarla: sin una pareja estable ni recursos a su alcance, siendo el aborto una opción todavía inimaginable, la joven estudiante de Bellas Artes comprendió que la única salida viable era dar a su hija en adopción. La decisión abrió una profunda brecha en la personalidad de Joni, pero también activó los resortes para que su talento como compositora, hasta entonces dormido, estallase definitivamente. No obstante, los cimientos de su carrera profesional todavía eran inseguros. Poco tiempo después, se veía embarcada en un matrimonio que nacía muerto, pero en el que había depositado erróneamente su proyecto de estabilidad personal. De Chuck Mitchell, el hombre elegido, tomaría el apellido por el que hoy la conocemos, y con él emprendió en EEUU una endeble alianza musical que no haría más que asfixiar su reciente e inflamada inspiración.
A medida que su vida de pareja naufragaba, Joni empezó a escribir canciones compulsivamente, construyendo a través de ellas un imaginario ya radicalmente propio. Canciones que como ˈBoth Sides Nowˈ, su primer gran éxito, surgían de la implosión de su mundo interior, y sólo podían ser transmitidas con su propia voz.
"He visto el amor desde ambos lados / desde el dar y el recibir, y aun así / son espejismos de amor lo que recuerdo / En realidad no conozco el amor en absoluto"
Con una letra que transitaba entre la infancia y la madurez, las expectativas y los fracasos, ˈBoth Sides Nowˈ era una canción inusualmente compleja para una compositora que estaba iniciando su camino. Tampoco constituía un logro aislado: el tema formaba parte del grueso muestrario con el que Joni se presentó en 1967 en el Greenwich Village neoyorquino, un barrio bohemio congestionado de cafés musicales, donde artistas emergentes como Bob Dylan o Phil Ochs habían trabajado duro en la recuperación y modernización del folklore norteamericano. Nuestra protagonista no tardó en destacar entre la segunda gran oleada de talentos que, como Leonard Cohen, buscaban su oportunidad en un terreno tan competitivo como aquel. Aún sin representante, encalleciéndose con aparente timidez en locales de pequeño aforo, Joni contaba con valores ciertamente inusuales: no sólo era de las pocas mujeres que escribían su propio material; además, ella apuntalaba ese material con un punto de vista sólido, insuflado por una sabiduría que no tardó en ser detectada por sus contemporáneos. En muy poco tiempo, artistas como Fairport Convention o Tom Rush se peleaban por grabar sus canciones. Algunas compañeras del circuito folk, como Judy Collins o Buffy Sainte-Marie, se apresuraban tanto a la hora de modelar sus propias versiones que incluso las volcaban en sus discos antes de que la propia Joni hubiese pisado un estudio de grabación.
Pese a todo, con su larga melena rubia y sus rasgos angulosos, aprendió muy pronto a escabullirse de los estereotipos. Comercialmente, parecía encajar en el estándar de hippie desarmada, dispuesta a predicar con los clichés del verano del amor, aunque las duras observaciones que empedraban sus textos apuntasen en una dirección radicalmente opuesta. Lejos de ofrecer arte coyuntural, su estilo era el resultado de un complejo proceso de metabolización, que imantaba al oyente sin posibilidad de escape. Por un lado, Joni recogía la herencia de los viejos crooners a los que tanto admiraba, trabajando con ahínco en el aspecto melódico y armónico de la música, donde letras directas y sin grandes artificios pudiesen encajar de la forma más natural posible. Por otro lado había un faro llamado Bob Dylan, ya omnipresente, que había ensanchado el lenguaje y las posibilidades narrativas de la música rock hasta el punto de que nadie podía escapar a su influjo. A grandes rasgos, lo que Joni hizo fue tender un puente entre ambas tradiciones, hecho que le otorgó un merecido estatus de pionera.
Su abuela había arrastrado hasta la tumba una existencia de poeta y música frustrada. Joni entendió que su misión era asumir las riendas de dos destinos paralelos, el de aquella anciana y el suyo propio
Esta síntesis está magistralmente impresa en su primer ciclo de grabaciones, los cinco álbumes que comprenden desde ˈSong To A Seagullˈ (1968) hasta ˈFor The Rosesˈ (1971). Hablamos, en todos los casos, de discos que calan hondo con pocos mimbres: tan sólo una voz elástica, cristalina, y un núcleo instrumental de guitarra, piano o dulcémele urdido por la propia autora. Los elementos adicionales (vientos, cuerdas, armónica, un leve acompañamiento de rock) empujan ocasionalmente el conjunto, pero es Joni quien, por utilizar un término cinematográfico, roba todas las escenas, canción tras canción. Es una cuestión de sonido, pero también de poesía de alto voltaje: una intensidad que David Crosby, productor de su primer álbum, compararía con el impacto de "una granada de mano".
En un momento del documental ˈWoman Of Heart And Mind: A Life Storyˈ (Stephanie Bennet, 2003), Mitchell introducía una reveladora nota autobiográfica. Su abuela había arrastrado hasta la tumba una existencia de poeta y música frustrada, consecuencia de un tajante precepto familiar que impedía a las mujeres desarrollar sus inquietudes artísticas. Marcada por su recuerdo, Joni entendió que su misión era asumir hasta las últimas consecuencias las riendas de dos destinos paralelos, el de aquella anciana de vocación malograda y el suyo propio. La historia nos puede ayudar a entender hasta qué punto sus canciones parecen excavadas por alguien que no duda en mancharse las manos, y por qué muchas de ellas se consagran a radiografiar los deseos, los desengaños y el ansia de autonomía de cualquiera que esté dispuesto o dispuesta a concederle su tiempo. En esos primeros álbumes abundan los retratos femeninos: la joven atrapada entre una vida impuesta y su afán de conquistar el propio destino (ˈCactus Treeˈ); la amiga que se consume en una cotidianidad solitaria (ˈMarcieˈ); la mujer ante quien planea la sombra de la inestabilidad mental (ˈI Think I Understandˈ), o la novia paralizada ante la incertidumbre de un amor que nace (ˈI Don't Know Where I Standˈ).
En 1969, con este catálogo floreciente entre manos, Joni Mitchell desplazó su actividad desde el Greenwich Village a Laurel Canyon, en las montañas de Hollywood, donde estrellas como Jim Morrison o Neil Young se codeaban en una fértil comunidad de artistas y músicos, en la que nuestra protagonista terminó de forjar su prestigio. Allí, el inicio de una intensa relación con Graham Nash (Crosby, Stills, Nash & Young, The Hollies) provocaría un nuevo conflicto con su innata tendencia a la emancipación, al tiempo que descubría todo lo que la fama podía tener de depredadora: a la vuelta de la esquina le esperaba un Carnegie Hall rebosante, y la exposición ante las audiencias impersonales y masivas que alimentaban los grandes festivales. Una carga demasiada pesada para alguien que entendía la creación como un proceso íntimo.
"Las canciones tristes son como tatuajes" (ˈBlueˈ, 1971)
ˈBlueˈ, su obra maestra, es el resultado directo de todas estas turbulencias. Un disco biográfico y sangrante, macerado en pop acústico y ráfagas de jazz, alimentado por una colisión tras otra: abandonar a la persona a la que amas para aferrarte a tu autonomía (ˈRiverˈ, inspirada en su idilio con Graham Nash), abandonar a tu hija, atenazada por un miedo paralizante (ˈLittle Greenˈ), navegar a duras penas entre el éxito profesional y la catástrofe privada. Cuenta la leyenda que Kris Kristofferson, tras escuchar impávido las once canciones que componen este álbum lleno de bares y carreteras desiertas, recomendó a Joni que se guardase "algo para ella", y los hechos parecen confirmar la anécdota: al abandonar las sesiones de grabación, la propia Joni aseguraba sentirse tan frágil y traslúcida como el celofán de un paquete de tabaco. Tanto que lo que siguió fue un retiro temporal, y la determinación de, en la medida de lo posible, abandonar los discos susceptibles de empujarle a una situación de peligro.
Primero rompió con todo lo que le rodeaba, para romper después con su música tal y como se había desarrollado hasta ese momento. Recluida en algún punto de las montañas canadienses, prescindiendo de la electricidad durante casi un año, Joni encontró en la naturaleza el bálsamo necesario frente a la crisis nerviosa que pocos meses antes había estimulado su retiro. Ahora, su preocupación más apremiante era hacia dónde dirigir sus canciones. La vocación pictórica, nunca abandonada, le concedería finalmente las herramientas necesarias para emprender un giro en su carrera: si la música, como la pintura, consistía únicamente en el uso de formas y colores, tan sólo era necesario probar con nuevas combinaciones.
Así, entre ˈCourt & Sparkˈ (1974) y ˈMingusˈ (1979), sus grabaciones se convirtieron en extensos trabajos colaborativos, cada vez más impregnados por el lenguaje del jazz. En discos como ˈThe Hissing Of The Summer Lawnsˈ, de 1975, donde hasta quince instrumentistas adicionales urdían un novedoso y exuberante envoltorio de raíz africana, jazz y folk, Joni estaba renunciando al clima de vulnerabilidad que había dominado su música hasta el momento. En directo, convertida en líder temporal de una banda de rock (L.A Express), también dejaba atrás a la mujer solitaria detrás del piano, la guitarra o el dulcémele. Y como letrista, sus temas comenzaban a experimentar un lento desplazamiento desde lo personal a lo comunitario, centrándose cada vez más en rascar las miserias adheridas a la sociedad estadounidense de su tiempo.
Durante la era Reagan, localizamos a la Joni más corrosiva de su carrera: embiste contra el fundamentalismo cristiano, el abuso hacia las mujeres, la avaricia corporativa y otros fracasos morales
Mitchell era consciente de que sus recientes volantazos acabarían por desterrarla de las principales emisoras de radio, condenándola al foso de las audiencias minoritarias. No obstante, para alguien que apreciaba tanto su libertad, ese riesgo no supuso tanto un obstáculo como un cierto consuelo. Cuando en 1979 lanzó ˈMingusˈ, parcialmente compuesto por laberínticas partituras de jazz diseñadas por el legendario Charles Mingus, buena parte de su público huyó aterrorizado; para Joni, sin embargo, esa fue la jugada maestra que destruyó definitivamente su imagen de quebradizo icono hippie, al tiempo que coronaba con honores el período central de su trayectoria.
Es posible que sus diseños sonoros se estandarizasen a partir de entonces, alimentados desde ˈWild Things Run Fastˈ (1982) por un pop más comercial, embellecido con arreglos cargados de sintetizadores y guitarras ambientales. Pero bajo este extraño barniz de sofisticación, y coincidiendo con el advenimiento de la era Reagan, localizamos a la Joni más corrosiva de toda su carrera: una comentarista social aún más encarnizada, que redobla sus fuerzas a la hora de embestir contra el fundamentalismo cristiano, el abuso hacia las mujeres, la avaricia corporativa y otros fracasos morales fuertemente enraizados en la era contemporánea. Una vez más, sus intrincadas canciones de corte narrativo experimentaban un nuevo giro. Donde antes había mujeres que despertaban a la vida o la observaban desde un retrovisor, ahora encontramos a yuppies repulsivos. Donde había personajes que se debatían entre ceder o no parte de su libertad en el contexto de una relación afectiva , ahora hallamos a monjas que caen una y otra vez en las tentaciones más sórdidas.
Si bien es fácil detectar las debilidades que deterioran discos característicos de este período, como ˈChalk Mark In A Rain Stormˈ (1988), a menudo salpicados por alguna letra rutinaria e instrumentaciones que hoy nos pueden resultar caducas, no es menos cierto que todos ellos proyectan a una artista en perpetua guerra contra el conformismo y la frivolidad. Esto explica que, en los años noventa, Joni atraviese la década colmada de premios y distinciones, incluyendo su entrada en el Rock & Roll Hall Of Fame en 1997. Algo que mucha gente, incluyéndola a ella, entendió como una forma sutil de expulsarla del presente, relegando su incómoda presencia a las vitrinas de la música pop. El hecho de que aún fuese capaz de tallar discos hermosos y adultos, como ˈBoth Sides Nowˈ (2000), donde su voz calcinada por el tabaco insuflaba nueva vida a viejos estándares de jazz, era lo de menos: la industria musical norteamericana, demasiado ocupada en empaquetar productos de consumo rápido, había dejado de tenerla en cuenta. En sus propias palabras, "no valoran el nivel de mi trabajo. En la industria me tratan como si hubiese estado muerta durante veinte años, e incluso hubo personas a las que llamaron "la nueva Mitchell", cuando no eran tan buenas como yo. Aún estoy tratando de curarme las heridas, y todavía tengo un montón de cosas que decir. Pero también sé lo que es el honor, y alguna vez me sentí honrada. Por ejemplo, en un restaurante, cuando un pianista negro y ciego me dijo: "Joni, haces música sin género y sin raza". Eso, para mí, fue un honor".
Por descontado, no hay "nuevas Joni Mitchell" en el horizonte. Tan cierto como que Joni Mitchell está viva, destilando nuevos discos (eso sí, cada vez más espaciados) desde los márgenes del foco mediático. Parece más adecuado rastrear, simplemente, su huella en otros artistas contemporáneos, hombres y mujeres, donde la carga genética de Joni se desperdiga en múltiples direcciones. Basta con acercarnos a nuestra colección de discos y comprobar que, si deslizamos en el reproductor algún título de Tori Amos, Sonic Youth, Cat Power, Lucinda Williams, James Taylor, Prince, Fiona Apple, Morrissey, k.d Lang o Tracy Chapman, por citar unos pocos nombres, ya estaremos bajo la influencia indeleble de la autora de ˈBlueˈ.