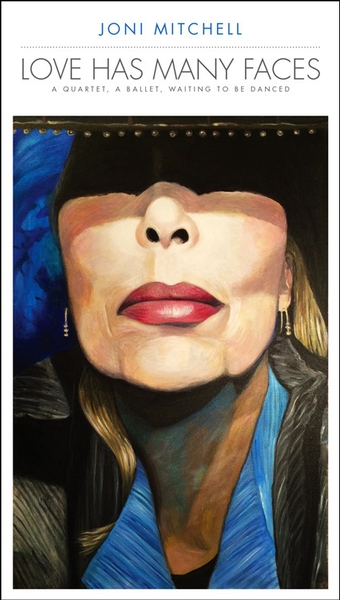 Joni Mitchell's discography gathers 19 original albums spanning from the masterful to varying degrees of flawed, a range highlighting her lack of artistic complacency. She's had her share of compilations, and Rhino's Love Has Many Faces: A Quartet, A Ballet, Waiting to be Danced is the third box set devoted to her work. Containing four CDs curated by Mitchell from a long stretch of productivity, it eschews chronology for a quite personal and sometimes frustrating thematic vision.

The first inapt tag I've read applied to Love Has Many Faces is "career-spanning," its usage positing Mitchell's musical activity beginning with 1971's Blue. Indeed, nothing from '68's Joni Mitchell/Song to a Seagull, '69's Clouds or '70's Ladies of the Canyon is included here, and it leads me to a minor quibble in the casual use of "greatest-hits" to describe this collection; a few of her larger singles did make the cut, but absent is "Big Yellow Taxi" from Ladies or "Help Me" from '74's Court and Spark.

Given the specifics of this box, the omissions make sense. Artist-assembled and love song-themed (the subject nowhere near as constrictive as a Joni newbie might suppose), these 53 tracks essentially underscore what Mitchell's made clear since the arrival of Blue; in particular, she's anything but just another strumming folkie, and as Love Has Many Faces' accompanying book rounds up 54 poems and six new paintings, at this late date it's hard to imagine anybody lumping her into that bag.

"I am a painter who writes songs," Mitchell is quoted in the press materials, and after spending time with the entirety of this set, at less than a minute shy of four hours long no small undertaking, I consider the key portion of her statement as "writes songs." Over the years she's done a good job transcending mere writing to enter the realm of robust musicality, though her self-assessment does differ, and at points substantially, with this reviewer's evaluation of her oeuvre.

Music writers tend to delight, and at times a little too much, in deviating from the general consensus, but in Mitchell's example it's difficult to deny many of the established notions ring true. Her first three discs are surely folky, but they're also introspective records loaded with fine moments leading nicely into the sustained brilliance of Blue.

People have been known to argue over whether Blue or Court and Spark stands as her greatest LP. Trust me, I've witnessed it happen, and the contention can be fierce. However, '72's For the Roses is accurately assessed as Joni in near-top form, giving her a trifecta. Hell, the count goes up to four if one includes, as Mitchell doesn't here, the stylistically prescient Ladies of the Canyon; this places her in very rare company.

Her next batch of studio albums, '75's The Hissing of Summer Lawns, '76's Hejira, '77's Don Juan's Reckless Daughter and '79's Mingus, featured increased experimentation as she delved into a lengthy conversation with jazz. Smaller sellers and less critically lauded, the bad press didn't really begin until Don Juan hit the racks. In my estimation a decidedly underrated double LP, it fared better than Mingus, which began as a collab with the titular jazz giant and was completed by Mitchell after his death; while problematic, it's stronger than its reputation suggests.

As was the case with many veteran musicians, the '80s weren't kind to Mitchell, and it wasn't until far into the next decade that she got somewhere in the vicinity of her previous stride. Across the span Mitchell's knack for writing wasn't the problem; instead it was choices in execution (much of them on her shoulders as producer) that hit a nadir in '85 with the Thomas Dolby-assisted synth-driven sound of used-bin staple Dog Eat Dog.

Love Has Many Faces reveals a seeming indifference on Mitchell's part to finality in the recording process, with a handful of tunes here represented by versions from a pair of fairly recent orchestral affairs, 2000's Both Sides Now and '02's Travelogue. This actually pays dividends in regards to "You Dream Flat Tires," "Love," and "Be Cool" from '82 Wild Things Run Fast, the album kicking-off those '80s doldrums, but it's less welcome when it's "Amelia" from Hejira, "Last Time I Saw Richard" from Blue or "Both Sides, Now," its reading the closest we get to Clouds.

Things start out strong with the mid-tempo groove of The Hissing of Summer Lawns' "In France They Kiss on Main Street," its mix of slippery '70s bass and a proficient guitar break leading into the unusually-structured song of recollection "Ray's Dad's Cadillac," one of three on the first disc culled from 1991's re-steadying effort Night Ride Home.

A bit surprisingly, For the Roses' only selection is the pop-folk of "You Turn Me On, I'm a Radio," a modest chart hit in '72, reaching #25. It's followed by "Harlem in Havana" from '98's Taming the Tiger, which steers clear of pastiche as it explores an obvious hybrid; but even with Wayne Shorter blowing soprano it doesn't attain much more than a pleasurable surface.

Unexpected and sometimes questionable decisions abound. "Chinese Café/Unchained Melody" from Wild Things Run Fast basically overdoses on post-Steely Dan sophisto-sheen and "Dancin' Clown," a head-scratching team-up with Billy fucking Idol from '88's Chalk Mark in a Rain Storm, a record with a lineup so diverse it might give Hal Wilner pause, is plagued by terribly dated instrumentation that quickly sinks it like a lead something or other.

On the positive side there's the vivid production, complex arrangement and sturdy vocals of "Car on a Hill," and the Hissing duo of "Harry's House/Centerpiece" and "Shades of Scarlet Conquering" establish the benefits of Mitchell's sophistication, the former exuding a sly bluesy feel as the latter successfully toys with AOR. And sequenced directly after "Dancin' Clown," is the exceptional "River"; through piano, voice and emotion, it cleanses the ear.

Disc two continues the template, though it does hold a few distinct wrinkles. The likeable horn ambiance of "Not to Blame" makes a good case for the Grammy-winning comeback of '94's Turbulent Indigo as Both Sides Now's neo-Big Band "Comes Love" sees her jazz inclination perhaps massaged to a fault as she employs backing that's impossible to not admire; fully embrace is another matter.

I much prefer the Blaxploitation funk-tinged pop stab "Trouble Child," mainly because she was borrowing from her peers. And Mingus' emotive and eccentric "The Wolf That Lives in Lindsay" happily lacks upscale homage. Plus, unlike "Moon at the Window," a cut from just three years later, it's not studio-finessed into intensive care.

Dog Eat Dog's "Tax Free" ditches the jazziness for a full-blown overtly political techno-pop extravaganza that unfortunately feels like a relic. By contrast, "Hana" from '07's Shine is destined to be just as dated, but its production and playing are also likely to sound better in 20 years than the '80s material does right now.

Disc three intriguingly eschews the '80s entirely, though the aforementioned revamps from Wild Things Run Fast do appear here. "You're My Thrill" emphasizes her perseverance to the jazz ideal, the Big Band lushness avoiding schmaltz and any sense of danger simultaneously. I'm more drawn to "Borderline," the acoustic way up front in the mix and the horn pushed back. Of course, Mitchell proves a capable vocalist and lyricist throughout; "A Strange Boy" combines voice and vivid imagery with a slightly steamy environment.

Opening disc four is "Don Juan's Reckless Daughter," its attentiveness to sonic detail and Fusion-informed ambitiousness preferable to the conventional jazz-pop of "Two Grey Rooms," a significant letdown lifted by the wooziness of "God Must Be a Boogie Man; a Travelogue number originally from Mingus, it's the best of all the orchestral work.

Out of left-field comes the brisk fresh air of "Raised on Robbery," Mitchell's boogie-pop referencing the Andrew Sisters as Robbie Robertson guests on guitar; issued as a 45 from Court and Spark, it should've been a bigger hit. And Mingus' "Sweet Sucker Dance" offers the deft contributions of Shorter and Herbie Hancock, but it's the bass of Jaco Pastorius that almost steals the show, and I'm no great fan of the guy.

Sadly, "Lakota," the first of two consecutive tech-swamped ditties from Chalk Mark in a Rain Storm, the second being a rewrite of the Sons of the Pioneers' chestnut "Cool Water," breaks a nice run of quality. Mitchell electing to close with "My Best to You" does sorta insinuate Love Has Many Faces as a mixtape run amok, which it kinda is; the confessed initial idea was to compile a single CD.

Deluxe total package aside, Mitchell completists will access no new discoveries, for nary a rarity or unreleased cut is unearthed. But that's not strictly true; the set could be well worth acquiring by her heavy-duty fans simply for the surprises triggered by the extended self-perspective. Speaking as a less avowed follower of her stuff, this endeavor is uneven, occasionally perplexing and just as often enlightening. While this writer can only rank it so high, Love Has Many Faces does reinforce Mitchell's determination to forge her own path, and that's definitely deserving of salute.