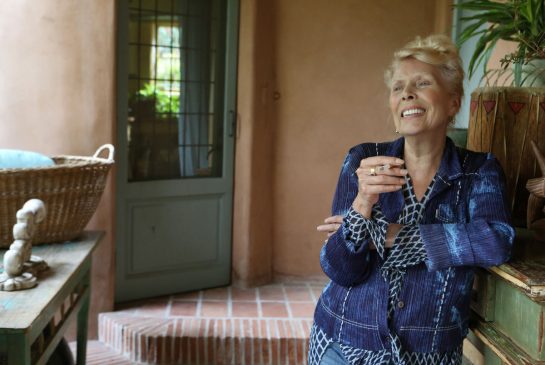 The famous singer-songwriter, 69, reminisces in a one-on-one interview with the Star as she prepares for Luminato Festival tribute to her, Joni: a Portrait in Song, on at Massey Hall June 18 and 19.

BEL AIR, CALIF. - She can't return; she can only look behind from where she came.

Joni Mitchell turns 70 on Nov. 7. The woman who wrote "The Circle Game," "Both Sides Now," "Woodstock" and dozens of other songs that helped define a generation is making a rare public appearance in Toronto on June 18 and 19 as part of Luminato Festival's tribute to her, Joni: a Portrait in Song.

It's the kind of event that occurs at the end of an artist's journey, and Mitchell, who has spent most of the last decade battling ill health, is well aware how final the whole thing seems. Aware, but unwilling to acquiesce.

"I don't want to give up life. I'll give death a real fight. I just want it to be a long way off."

So she's turned her sprawling villa, nestled on a hill high above the city of the angels, into both her refuge and her fortress.

"Yes, you can call me a recluse," she says. "But I like living alone."

And so she remains secluded here, where the walls are filled with self-portraits in vivid hues. The Jonis of yesterday are there to greet the Joni of today.

"I am a lonely painter. I live in a box of paints," she wrote in "A Case of You" on her iconic 1971 album, Blue. "To tell you the truth, it's how I've always been," she says softly.

Even though she was raised in rural Saskatchewan, the only child of Bill and Myrtle Anderson, one of her first memories is how "my family could only afford to get me the box of eight Crayola crayons, but I craved the one with all 24 colours. I wanted magenta and turquoise and silver and gold."

Mitchell doesn't sing anymore, but the way her husky voice intones the names of those hues makes them come to life with the same gentle power she commanded during her glory days as a singer-songwriter.

Colour was her first love. "My parents told me I'd point to a bed of flowers and say 'Pink. Pretty,' before I knew any other words," she says. But music came soon after.

"Rachmaninoff made a musician out of me. His 'Rhapsody on a Theme by Paganini' was the piece that sent me into raptures," she said about the aching music the Russian composer created in 1934 as he entered the last decade of his life, reflecting on his past as Mitchell does today. "It spoke to me. To me, it was a tender entreaty for the misunderstood.

"Why did that appeal to me? Because my mother never 'got' me. She wanted me to be something that I wasn't and I always seemed to be pleading with her for understanding. I couldn't be the sweet, obedient child she wanted. That wasn't inside me anywhere."

Perhaps Myrtle Anderson wanted to be able to control her daughter because her life hadn't turned out as she'd planned.

She had married a dashing Air Force lieutenant during the war, but in peacetime, he seemed to lose his ambition, working as a grocer in small towns. The family just scraped by, something Joni was always made aware of.

"I was 7 or 8 and of course we couldn't afford to buy the record, but I'd go downtown to the music store, slip it out of its brown paper envelope, take it into the listening booth and be transformed. I wanted to play it for my mother so much, because it expressed exactly what I felt by her refusing to understand me."

But she never did, and the next year brought a more serious problem. During the polio epidemic of 1951, Mitchell was stricken with the disease and put into a ward where "the thing that terrified me the most were the children who were forced to live inside the iron lung." She tells this story in a haze of smoke

from the cigarettes she lights up non-stop and unrepentantly, just as she has since she was 9 years old.

She recovered from the illness, although it left her with a weakened left arm and, later in life, muscular atrophy.

"My childhood was very difficult. I had every childhood disease and then some, but my parents didn't mollycoddle me. They left me to fight those battles on my own. I guess that was very Canadian, very stoic. But it's good.

"I had to become a warrior. I had to give up hope and find a substitute for hope that would be far more stable."

And that was in her music. She studied piano briefly in her childhood, bought herself a ukulele at the age of 14 and finally graduated to a guitar, making her debut in a Saskatoon coffee house in 1962.

In 1964, she wrote her first song, but then life sent her a dizzying succession of events. After losing her virginity to a local boy, she became pregnant, moved to Toronto, gave birth to the child, gave it up for adoption and then married a fellow musician named Chuck Mitchell. Two years later the marriage was over.

But the career was just beginning. She took Mitchell's last name and moved to New York, where she began writing some of her best known songs like "Both Sides Now," "Chelsea Morning" and "The Circle Game," all within a period of months.

Artists like Buffy Sainte-Marie, Ian and Sylvia Tyson and Judy Collins recorded her work, but it was rocker David Crosby who heard her sing in Los Angeles in 1968 and got Reprise Records to record her first album, Song to a Seagull, that year.

Her career shot upward after that, as did her personal life. She became emotionally involved with many of the big music names of the day, including Crosby and Graham Nash, sparking a long-lasting vein of gossip.

"Who was she schtupping?" laughs Mitchell, referring to people who wondered what song was about which lover. "That's all they still care about.

"Some people like to call me a confessional songwriter. ... Yes, I often begin my songs on a personal level, but I hope they go on to a bigger truth that transcends my experience. I'm not saying, 'Look at me look at me.' It's the exact opposite. I'm saying, 'Look at you, look at you. Are we not human? Do we not share these things?' "

But Mitchell started to pay the emotional price after Blue was released to tremendous success in 1971. It was an album filled with deeply personal songs about relationships gone wrong.

"I was being told that people were horrified by the intimacy of it. People said it was shocking. It wasn't. It was about human nature. It's all I had to work with. It's a soul trying to find itself and seeing its failings and having regrets. What's so horrible about that?"

In the end, the process of opening up her heart and showing it to thousands of people in ever-larger venues wore her down. Badly.

"Some people would call it a nervous breakdown, but I just hit that pocket that everyone does on some point in their journey through their lives. That identity crisis, that, 'Who am I, really?' You're lucky if it hits you early like it did with me."

So at the age of 28, she withdrew to the Sunshine Coast of British Columbia, to "a little stone house like a monastery where I could just go away and hide.

"I bought every psychology book I could lay my hands on. Jung, Freud, theology, self-help, psychiatry."

One book, published in 1927, stood out above all the rest, a volume called Beethoven: His Spiritual Development.

"It was all about his struggles, and self-doubts and his worries about how his work was being received and what it all meant on a deeper level and, of course, about his going deaf.

"At the time, that's just what I was thinking about too. How am I going to get back in the saddle? And what about the audience? Would you still love me if you knew what I was really like?"

And so she wrote a series of self-revelatory songs on her 1972 album, For the Roses, which fell between her two most commercially successful recordings, Blue and Court and Spark.

The ultimate catharsis comes with the final song, "Judgment of the Moon and Stars."

"I spoke to (Beethoven) and to myself at the same time. I said you've got to keep going in spite of your deafness, in spite of everything."

And in a heart-rending moment, Mitchell can't help herself, and she slips into singing, raspy and muted, to be sure, but with a passion time hasn't erased.

"You've got to shake your fists at lightning now
You've got to roar like forest fire.
You've got to spread your light like blazes
All across the sky."

As she sings, Mitchell moves her right hand, the one holding the omnipresent cigarette, like a conductor. Her hair is still blond, though swept up instead of hanging straight in the '60s folksinger style she favoured for decades.

She pauses, then speaks softly to herself: "Keep going, Joan, tap into it." A rueful laugh. "One of my friends calls me Beethoven in drag."

But in recent years, Mitchell's concerns have been less artistic and more practical as she has struggled with Morgellons Syndrome, a parasitic infestation some doctors claim is delusional. Sufferers have inexplicable painful skin lesions and a general weakening of the immune system.

"I haven't been doing much lately because I've just come through about seven years of a flattening kind of illness. I'm not cured but I've found a helpful physician way outside the box. Western medicine says this doesn't even exist, it's a psychotic disease. It's not."

But while disease may continue to batter Mitchell daily, she's not prepared to tremble before her own mortality.

"I'm good with death. I'm not morbid about it. I've had a lot of things die in my arms. A robin that had been mauled by a cat. I buried it in my yard. My cats begin to die, one by one. One had two grand mal seizures in my arms. Another one I had named Nietzsche died in the night. He was such an elegant cat and he died twisted like a pretzel, kind of like a Tom and Jerry cartoon. I knew he wouldn't have wanted that, so I shaped his body back to normal before rigor mortis set in."

Dealing with all this disease has prompted Mitchell toward a new accord with her long-lost daughter, Kilauren Gibb. They were reunited in 1997 after medical and adoption records linked them up and there was a short, happy time together.

But it disintegrated into rancour and violence, with the tabloids having a field day until the tensions between the two caused them to separate in 2001.

Mitchell accepts that part of the story and has gotten past it.

"(Gibb) had abandonment issues and she was pretty rough on me and conscripted my granddaughter, but we've worked through all of that. We reminisced about all the little tricks we pulled and the ways we can hurt each other. That's over. We're going to see each other soon."

And as for regrets? "Well, when I listen to my old recordings, I sometimes hear things I don't like and I wish were different. A wrong note I played or a lyric I sang in too whiny a voice. But no, they are what they are."

She smiles and stubs out one last cigarette into the overflowing ashtray as the late afternoon shadows lengthen.

"But in terms of my life? No, I would not change anything. I have no doubt that it unfolded as it was supposed to."