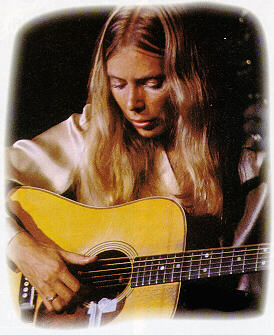 From fey innocence to worldly sophistication, from the hits to the misses, two compilations reveal that Joni Mitchell boasts several more dimensions than her imitators, says Barney Hoskyns.

Devo did it, and so did Public Enemy. But up till now no-one from the higher echelon of '70s singer song writers has released an album of greatest Misses.

Mind you, the simultaneously released Hits boasts a title that - in the case of Joni Mitchell - is at best a relative term. Reflect that this empress among fairer-sex troubadours has only visited the US Top 40 singles chart four times in her 28 year recording career, and the Top 20 but once. So much for "stoking the starmaker machinery behind the popular song".

What Mitchell has done, on the other hand, is record a handful of the greatest albums ever made - Blue, Court And Spark, and The Hissing Of Summer Lawns, for starters - making the rationale behind compiling 29 of her songs on two albums a pretty solid one. To her credit, moreover, she has sequenced said songs with a degree of imagination that puts most Best Ofs to shame.

Most of the lucky 29 make a fair case for suggesting that the former Roberta Joan Anderson is right up there with the big boys - with Bob, with Brian, with Stevie, with John and Paul. There certainly aren't many women who can hold a candle to her oeuvre: maybe Aretha, maybe Kate Bush; none of the current crop of American warblers. Airs and graces the lady may have, but airs and graces backed up by Woodstock, The Arrangement, A Case Of You, Help Me, Dog Eat Dog and The Magdalene Laundries (to give semi-random examples from the two albums) are almost forgivable.

Some of Mitchell's songs are great art. Almost all of them are emotionally complex, musically gripping. From the earliest virginal days of Chelsea Morning to the late, husky despair of Sex Kills, Joni's is a voice that belongs to her alone. So we should excuse her occasional impatience with the received idea that she is godmother to all those maidens who do nothing more useful than string together stale chords and trite musings and call them songs.

Granted, the earliest 'hits' sound a bit fey today. Urge For Going and Both Sides Now have a kind of pellucid innocence about them, while even Mitchell acknowledges that the winsome Circle Game only has any currency these days as a campfire singalong. The first hint of her defining gravitas comes with Woodstock, a song of starry-eyed hippy faith which, with its shimmery electric piano and weirdly yodeled vocals, sounds a simultaneous note of dread.

Thereafter the journey from acoustic confession to jazz-rock commentary is tracked by classics from Blue (Carey, California, River), from For The Roses (You Turn Me On, I'm A Radio) and from Court And Spark (Raised On Robbery, Help Me, Free Man In Paris). Whether you prefer your Joni vulnerably alone or ironically chic, you'll find her at her best here.

It may surprise some to find that A Case Of You - the Stairway To Heaven of the singer-songwriter set appears not on Hits but on Misses, an interesting jumble of songs as different as The Arrangement (Ladies Of The Canyon), The Wolf That Lives In Lindsey (Mingus) and Beat Of Black Wings (Chalk Mark In A Rainstorm). Not surprisingly, there are more tracks here from Mitchell's post-Court And Spark period - from unfairly dismissed albums like Dog Eat Dog, though not from Don Juan's Reckless Daughter than from before it. Personally, I go a bundle on the grainy maturity of her vocal persona on such '90s songs as Passion Play, Come In From The Cold and Nothing Can Be Done, but they're not to everybody's taste.

Interesting as Misses is, there are puzzling omissions from it that suggest Mitchell has a strange idea of what her fans really want. Just one song from Hejira? Just one from The Hissing, and that one Harry's House rather than, say, The Boho Dance? The Reoccurring Dream rather than the sublime My Secret Place from Chalk Mark? Impossible Dreamer from Dog Eat Dog and not the astonishing Good Friends? Oh well, it's her album and she'll be perverse if she wants to.

It should be interesting to see by what margin Hits outsells Misses, always assuming it does. Neither is likely to sell spectacularly, of course. I mean, who needs Joni in '96 when you've got Jewel and Jill Sobule? Right?