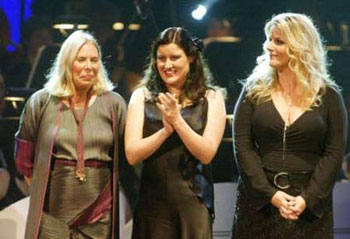 [Photo by Fred Prouser]
Singers (L-R) Joni Mitchell, Paula Cole and Trisha Yearwood are shown on stage at the conclusion of the 'Stormy Weather' concert featuring top female singers performing an array of pop, jazz and blues standards to benefit the Walden Woods Project and the Thoreau Institute at Walden Pond November 14, 2002 in Los Angeles.
Kakki:
Just got back from the Stormy Weather benefit. Met up with some of the gang for dinner and then we headed over to Wiltern. This time around Henley decided to have a long private VIP dinner inside the theater before the show which lasted almost two hours past the start time of 8:00 p.m. People were massing at the few doors and the heat and lack of air was enough to make you pass out. Rick, Brad and I finally made our way outside for air as an increasingly fed up crowd were starting to yell "let us in, let us in!" Geez. Not good.
Finally we were let in. This time around the women mostly performed contemporary songs with just a few old standards here and there. My set list is incomplete. The performers were Michelle Branch, Susan Tedeschi (awesome and one of her songs was Joni's "River"), Deborah Fox, Paula Cole ("So Ordinary" and Tom Waits "The House Where Nobody Lives"), Norah Jones (wonderful), Trisha Yearwood (one of the best last time and this - "St. Cloud, Minnesota" and "The Man That Got Away"), Sheryl Crow ("Run Baby Run" and "Goodbye"), Reba McIntyre ("I Got Lost in His Arms"), Stevie Nicks (OMG - "Landslide" - the BEST of the night and "Sunday Kind of Love") and for the finale JONI doing "Woodstock", "What's A Sweetheart Like You Doing in a Dump Like This?" (not kidding - is this a Waits or Newman song?? and then a big surprise "Chinese Cafe". She looked stunning in a long gun metal grey with dark fuschia trim crinkle-pleated Miyake kimono-style gown (for those who enjoy the fashion report ;-) Henley did refer to her "takes" on the music biz as he introduced her.
As in '98 they had the "El Nino Orchestra" back and it was filled with many of Joni's best boys - including Peter Erskine on drums, Bob Sheppard, incredibly channeling Wayne Shorter on sax and flute, Ralph (Joni's concertmaster on the 2000 BSN tour) on first violin, Vince Mendoza conducting and Larry Klein musically directing.
We didn't see any "stars" other than a haggard looking Nick Nolte getting into his car after the show ;-) All the big shots were there, though, somewhere at their VIP tables ;-) Phyliss and Bob were going to the VIP reception after the show, so hopefully she can fill us in on more manana. She was going to try to sneak the rest of us in but we had heat prostration at that point LOL.
Henley made some remark about being back in two years - hope next time he starts his private gala at 3 in the afternoon, though!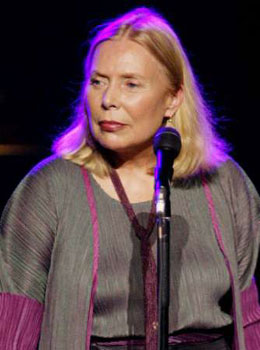 [Photo by Fred Prouser]
Singer Joni Mitchell performs during the 'Stormy Weather' concert featuring top female singers performing an array of pop, jazz and blues standards.
All Stevie fans -
Her Landslide alone was worth the price of admission. I've never been a huge fan, but this tonight was utterly astounding. The way the orchestra played with it (with total Wayne Shorter treatment coming from Bob Sheppard) I swear it sounded like a song off Travelogue! Unforgetable. At the show in '98 Stevie got more applause than Joni, but this time Joni got more! Tons of people screaming out "we love you, Joni, we love you!!" Had to make her feel good.
And I think you may be right about it being a Dylan song - I thought Dylan at first, too, but Joni kind of did it in a Waits style! She said it was one of her favorite songs.
Coyote Rick: There isn't much to add from my seat (next to Kakki), except to reiterate how HOT it was -- man, they are touting the old Wiltern as the NEW Wiltern, but they had better get some A/C.
I thought two things were significant. First, Joni again this year was the final performer. This happening after Henley introduced her as being an influence on all the women that performed on the stage that evening. Joni was also the only one to perform three numbers. The others were limited to two. She looked happy, rested and beautiful.
It was a great show. Enough has been said about Stevie. She blew me away. On the way home, Brad asked me why she plays with her dress so much. He only vaguely knew who she was -- but knows her "group." My work is never done with that man. He was a trooper -- for him the evening was comparable to root canal. But he did say Joni was far and away the most into what she was doing. He said he felt more from her singing than all the others combined. Whew!
I was taken with Reba's performance as well. Never a fan, her stage presence and voice surprised me. If anyone has recommendations for a Reba LP that is just a little bit country, let me know.
Finally, as is my favorite part about this cyber family, meeting up with fellow JMDLers is always a blast and makes waiting for late concerts and sitting in hot concert halls worth it!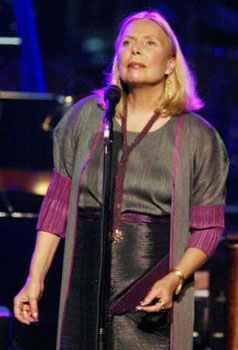 [Photo by Fred Prouser]
Phyliss:
Well, I finally made it home, but I'm pretty exhausted. I'll try my best to be coherent and add what I can. It was so great to see my list buds! The kind of friends you can just pick right up with, so natural. Love it!
The Wiltern is a beautiful place but the whole thing was not very well organized. I guess the big-wig dinner took longer than they expected and as Kakki said, we stood outside the door in crowded heat for an hour waiting to be seated. Bob and I actually went to the box office and complained, going so far as to ask for a refund, mostly for drama. The lady at the box actually agreed that the situation sucked, but said that they would start very soon and we would miss an awesome concert if we chose to leave. (This, of course, turned out to be true!) When we did get in, they were still auctioning off stuff to the hi-rollers like " walk in part on Will and Grace", "Poster signed by all that night's performers" and "private jet to front row tickets for opening night of Celine Dion's new show in Vegas" (barf) I'm pretty sure Michael CAine bought that one for 5K, as he racked up roughly 20K in purchases in the name of charity. Oh yeah, the auctioneers were Don Henley and Paul Riser. I didn't notice what time the concert actually started but I guess it could have been 2 hours late, I'm not sure. Our seats were quite comfortable, temperature wise anyway, I guess the higher you got the hotter it was. Sorry you guys had to sweat through it! So, that wasn't you yelling out "We Love You Joni" in unison????
The concert has been covered well by Kakki and Rick. I'll add that Joni DID introduce her second song with "This is a Dylan song I've always loved. It's a thrill to be able to sing it here" I'll also add that her orchestral version of Woodstock was by far the highlight of the evening for me. Quite dramatic..Mesmerizing.
I had brought a little gift I made for Joni, a raku necklace, and a card.. Our very expensive tickets included a "VIP Post-Concert Party". I was hoping she would be there and I could give it to her. The party was a veritable sugar fest with every sort of dessert imaginable. I swear the whole place smelled like sugar. We waited patiently, chatting with some folks for at least 30 minutes, but the only celeb we saw was Mick Fleetwood. I was starting to figure that they just weren't going to show and we were going to leave when in struts Larry Klein. I jumped in front of him and introduced myself, complimented him on the great show. I told him I had a little gift for Joni and asked if she was coming. He said he didn't think so but said he would be happy to give it to her for me. So, it's in Mr. Klein's hands. I hope she did get it, and enjoyed it.
Kakki: Thanks for your report! I'm sorry you only got to see Mick Fleetwood at the after party, but am SO glad you got to pass that beautiful necklace along to Mr. Klein!
Part of me feels so bad that much of last night was a disappointment and a bit icky on some levels. The Wiltern is usually a fantastic venue. The logistical and other debacles I've never seen before at concerts here. The one saving grace through it all were the performances of the artists and that incredible orchestra that carried on through it all. The '98 show was so much more professional but I will tell you that we DID get a much greater Joni and Stevie show this time around! It wasn't us yelling "we love you Joni" - we were on low energy up there in the rafters, but I thought your Bob yelled it out at one point ;-)