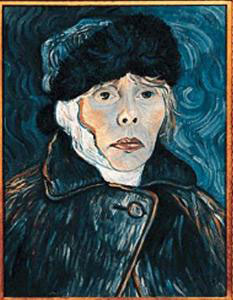 1994
26½ x 22½ x 2½ in Neo-Classicism, Late Figurative Oil on linen
(from 'I sing my sorrow and I paint my joy' by Deirdre Kelly, Toronto Globe and Mail, June 8, 2000)
ON HER VAN GOGH-STYLE SELF-PORTRAIT "I painted it around, I guess, 1993 when I met Don Freed [her boyfriend] -- who's the subject of some of these paintings in the show -- for the first time. And he said, 'How are you?' And I said, 'Undervalued.' [Laughs.] And I was. I was very frustrated at that time because the normal outlets for getting your product marketed in my business, those doors had been closed to me, and no one could give me a reason why. . . .
"So my work was being rejected whereas mediocre work was being accepted and elevated on the basis of newness and youth and, you know, obvious mercantile speculation ran in that direction. So, rather than physically cut my ear off, I did it in effigy. [Huge belly laugh.] I'm not that stupid."