Edith And The Kingpin - melody, chords, lyrics
piano music transcribed by Oliver Burkardt

Download/View Transcription (PDF)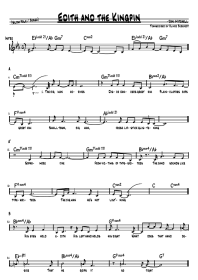 Author Notes:
The Melody and Lyrics are a 1:1 transcription from the Album "The Hissing of Summer Lawns" from 1975 .
The chords present the harmonic structure of this recording.
This Version is intended to be played by any type or number of instruments.
The lead-sheet layout addresses the practical needs of any musician, who might need a compact layout without lyrics.