Rainy Night House
Guitar chords transcribed by Gerald Hillman
Tuning: DADFAD (other transcriptions in this same tuning)
"Joni" Tuning: D75345
Tuning pattern: x75345 (others in this same pattern)

Download/View Transcription (PDF)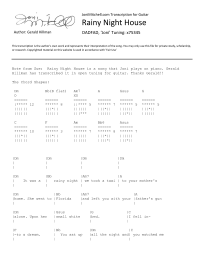 Author Notes:
Note from Sue: Rainy Night House is a song that Joni plays on piano. Gerald Hillman has transcribed it in open tuning for guitar. Thanks Gerald!!

NOTE: I've transcribed this as sort of a combination of "Ladies Of The Canyon" and "Miles Of Aisles" versions. On guitar, it sounds closer to the "Miles Of Aisles" version, and therefore, I've written the lyrics as Joni sings them on "Miles Of Aisles". I didn't include the lead break.

The Dm chord is played (mostly) as a harmonic on the 12th fret with the 6th string (low D) played open to give it a deep, heavy bass. Play D (6th) string (either open or as a harmonic) followed by an upstroke harmonic on strings 1-5. Ocassionally (as you hear it), you may want to play the Dm
chord fully open. Personally, I mostly use the harmonic form.