Download/View Transcription (PDF)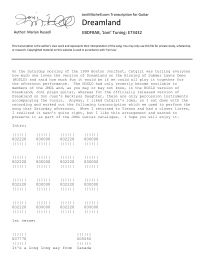 Author Notes:
On the Saturday morning of the 1999 Boston Jonifest, Catgirl was telling
everyone how much she loves the version of Dreamland on the Hissing of
Summer Lawns Demo (HOSLD) and said how much fun it would be if we could all
play it together for the afternoon performance. The HOSLD had only recently
become available to members of the JMDL and, as you may or may not know, in
the HOSLD version of Dreamland, Joni plays guitar, whereas for the officially
released version of Dreamland on Don Juan's Reckless Daughter, there are
only percussion instruments accompanying the vocals. Anyway, I liked
Catgirl's idea, so I sat down with the recording and worked out the
following transcription which we used to perform the song that Saturday
afternoon. When I returned to Vienna and had a closer listen, I realized it
wasn't quite right, but I like this arrangement and wanted to preserve it as
part of the JMDL Guitar catalogue. I hope you will enjoy it.