Joni given Kennedy Center Honor
Posted December 05, 2021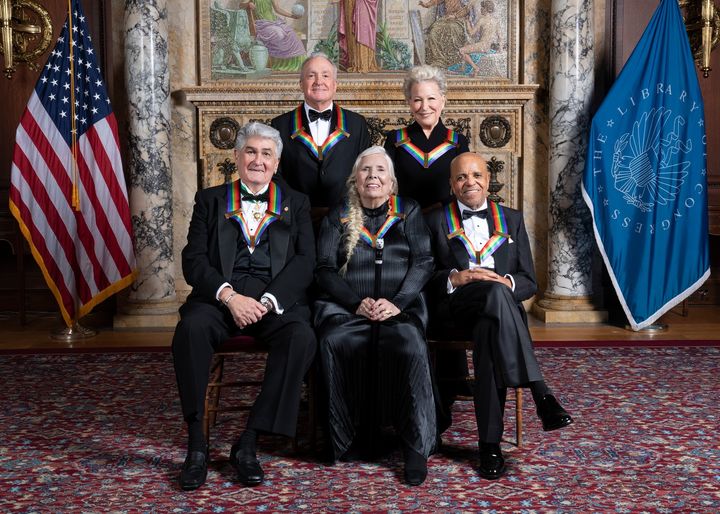 Today at 3pm (EST) this year's Kennedy Center honorees- Joni, Lorne Michaels, Bette Midler, Berry Gordy, and Justino Diaz- attended an awards ceremony at the White House, hosted by President Biden.
Tonight, they were honored at the Kennedy Center before a packed audience that included Biden, Vice President Harris, several Cabinet secretaries, and House Speaker Nancy Pelosi. Stage presenters included Norah Jones, Scarlett Johansson, Jimmy Fallon, Chita Rivera, Kevin Nealon, Amy Poehler, Seth Meyers, Paul Simon, Stevie Wonder, Colin Jost, Michael Che, Kelli O'Hara, Yo-Yo Ma, Kristen Wiig, Kate McKinnon, Steve Martin, Kenan Thompson, Beanie Feldstein, Kate Baldwin, Taylor Trensch, Goldie Hawn, Melissa Manchester, Barbara Hershey, Andra Day, Ellie Goulding, and David Letterman. Brandi Carlile performed "River," and Brittany Howard and Herbie Hancock united to perform "Both Sides Now".
The lifetime achievement medals had been presented to the honorees on Saturday night in a black-tie dinner for 210 donors, politicians and the recipients' families and friends at the Library of Congress. The dinner accords the honorees their chance to say a few words of thanks. Referencing her struggles with illness, Joni struck a tone of optimism: "I'm hobbling along but I'm doing all right!" she said, in brief remarks.
Highlights of the tribute performances will air on CBS on December 22 at 9pm Eastern/8pm Central. Mark your calendars! Photo by Scott Suchman (Dec 4 at the Library of Congress)/ Portions of the text by Peter Marks