1970 duet with James Taylor officially released today
Posted October 08, 2021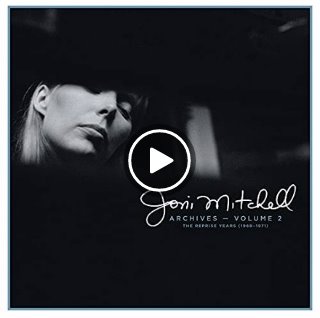 In August of 1970, Joni traveled to the Four Corners region of the American Southwest to visit James on the set of Two-Lane Blacktop, his first and only starring acting role. While filming on location in Albuquerque, New Mexico, Taylor wrote "You Can Close Your Eyes" for Mitchell and performed the song live in October 1970 when they were in Vancouver to play at Amchitka, a benefit concert supporting Greenpeace's protest against nuclear weapons tests at Amchitka, Alaska.
Taylor played the song again a few days later at the Paris Theatre in London on October 29, 1970, where he and Mitchell sang it together. Their performance was recorded (and later broadcast on December 27) for "In Concert," a weekly show on BBC Radio hosted by famed British DJ John Peel.
Today it's being released digitally. Read the full press release here.