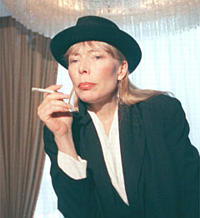 Joni Mitchell will receive a lifetime achievement Grammy next week, yet another honour for a songwriter who has always put her art first.

TORONTO -- A lifetime achievement Grammy seems a somewhat overdue honour to bestow upon Joni Mitchell, given the impressive battery of career accolades she's already had.

When the singer finally receives that award next week, it can join the host on her shelf: five Grammys, a Governor General's Performing Arts Award, Rolling Stone's artist of the year, Billboard Magazine's century award and her entry in the Rock and Roll Hall of Fame (the first Canadian woman to make it there).

The awards are wonderful, but not enough to do her justice, says longtime friend and manager, Sam Feldman.

"I think that the real acclaim that she should have had is subverted by the commercial goals of the industry at large and the media," says Feldman, who is admittedly biased in Mitchell's favour.

And that's not just because Mitchell's folk-rock heyday is now a matter of nostalgic myth to the rock video generation.

"It's not so much which palette she's painting on, it's more that there's a huge exploitation process that happens in our society that more often than not ignores true artistry."

Feldman is not suggesting that Mitchell feels unappreciated, nor that she is hungry for the praise of her peers or publicity.

"It's impossible -- Joni Mitchell cannot pander. It's not in her chemistry to ever do anything for commercial purpose," says Feldman. "If she thought she was, inadvertently, I'm sure she would take a left turn."

The Rolling Stone Encyclopedia of Rock refers to her as "one of the most respected singer/songwriters in rock... also one of its most daring and uncompromising innovators." The Oxford Companion to Popular Music says Mitchell is "probably the most important woman songwriter of her era."

The influence Mitchell has had on other artists throughout her career is undeniable. But she remains an elusive personality, holed up in her Los Angeles villa until it suits her to emerge: in 1997 she declined to appear at her induction into the Rock and Roll Hall of Fame in Cleveland, but she did attend the unveiling of her star on Canada's Walk of Fame last October.

Mitchell's Lifetime Achievement Grammy will be handed out at a members-only Grammy-week ceremony. Awards will also go to Al Green, Rosemary Clooney, late bandleader-pianist Count Basie and the late crooner Perry Como. It was not certain that Mitchell would attend, as she is currently in the studio recording an album.

She is a study in contradiction -- her privacy is paramount, but Mitchell expresses herself so thoroughly and intimately that her art invites a personal emotional connection.

"She's a complete and utter inspiration, no two ways about it," says Winnipeg-born singer/songwriter Chantal Kreviazuk.

"Just that she could believe in herself so much. I recently bought (1974's) Court and Spark again. I was just blown away by the way that she just seemed to dive into that record. You get the feeling that there's no turning back. This is so real; she meant it, every note, every phrase and she was not going to question herself on any level. You get the sense that it's really her and not a lot of guidance coming from around her."

Even as she draws an audience in, there's a distance between Mitchell and her art.

"To me there's no getting inside Joni Mitchell's head," Kreviazuk says.

"I don't get a sense that you could learn how to do what she does."

Born Roberta Joan Anderson in 1943 in Fort Macleod, Alta., and raised in Saskatchewan, Mitchell has bounced between suffering and prosperity throughout her life. At the age of nine she contracted polio and at 20 gave birth to a daughter by an ex-boyfriend from college.

She married singer Chuck Mitchell soon after, but the baby was given up for adoption.

Her career blossomed and by 1974 she was on charts and touring with the biggest names around. She recorded hits (Big Yellow Taxi, Help Me, Woodstock) and moved into legend, establishing lasting musical ties -- and sometimes romantic relationships -- with an elite circle including James Taylor, Graham Nash, Neil Young and David Crosby. She would later return to visual art, an early passion, with a critically well-received exposition of 87 original paintings that debuted last year at Saskatoon's Mendel Art Gallery.

"There's musicians, there's artists and there's entertainers. Sometimes they cross over," says Feldman, who manages Mitchell from Vancouver with partner Steve Macklam.

"There's some talent that is so huge, it's undeniable, it's not going to be held back -- it's too good, it's too meaningful, it connects with people too heavily."

In 1997 Mitchell's personal life came full circle -- she finally regained contact with her long-lost daughter, Kilauren Gibb. The reunion was reported widely as a joyful event but even that turned bittersweet as a custody battle between Gibb and a former boyfriend caused turbulence. In January 2000, police were called to the singer's home during a quarrel involving Mitchell and her daughter. The incident turned up in court records filed by Gibb's ex-boyfriend.

But Mitchell has never morbidly trafficked in her own personal woes, nor has she flaunted her huge success. Instead, she has produced art.

"In a way, she has talked about all of those personal things in her music, not so it comes across as 'there once was a little girl with polio,"' says Allen MacInnis, artistic director of the Prairie Theatre Exchange in Winnipeg.

MacInnis created and directed Joni Mitchell: River, a play based on 28 of Mitchell's songs that runs through the arc of a fictional love affair using only Mitchell's lyrics and music.

"She creates for you a way of understanding being isolated and then being pulled back into the world or giving up something in order to have something else," he says.

"What her lyrics are about is an incredible specificity and a poetry that in just a few words says everything you need to say, it has such impact. Plus, I think the word is probity, a perfect match very often between music and lyric."

In an age where careers are measured in months rather than years, modern musicians see Mitchell as standing for art over image, says Kreviazuk.

"The thing about Joni Mitchell is that she brings you back to square. No matter what's going on out there, if I consider her voice, her lyrics, her thing, I can never ever imagine writing anything quite so poignant, so beautiful. She's the real deal."