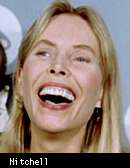 Joni Mitchell has the Web to thank for helping her reconnect with the daughter she gave up for adoption more than 30 years ago.

It turns out her now 32-year-old daughter, Kilauren Gibb, was surfing, too. At friends' recommendations, the former model was checking out the Joni Mitchell home page, and everything clicked. "The more I read, the more I realized how alike we were. She was a singer, I was into music. She was an artist, I painted. We both enjoyed the same things," Gibb told the Toronto Star.

The celebrated chanteuse announced in December that she was desperately trying to find her long, lost daughter. Mitchell had the baby--whom she named Kelly--in Toronto in 1965, when she was a struggling art student.

Mitchell wanted her child to know about potential health threats. She also wanted to introduce her parents to the granddaughter they never met.

Unfortunately, the publicity around Mitchell's quest led to many dead ends. "Impostors came out of the woodwork," she told the Los Angeles Times.

Meanwhile, five years before Mitchell's announcement, Gibb was told by her parents that she had been adopted. Gibb was pregnant and wanted to make sure her baby wouldn't face any genetic health problems, so she contacted Children's Aid Society, the Canadian agency that tracks adoptions, and was placed on a waiting list.

In January, she finally received a packet of sparse information about her birth mother: She came from Saskatchewan, was an only child and had survived childhood polio. "It was the kind of brief descriptions you'd get for characters in a play," Gibb told the Times. There was one more detail: Her mom was a successful Canadian folk singer.

That's when Gibb found the encyclopedic fan site dedicated to Mitchell. "She decided that she'd found her birth mother and then contacted me through email. I asked her a few pertinent questions, and when her answers jibed with what I knew to be true, I referred her to Joni's managers, who investigated and verified her authenticity," says Webmaster Wally Breese.

The pair finally met for the first time at Mitchell's L.A. digs four weeks ago. Mitchell also had a chance to meet her 3-year-old grandson, Marlin. "I immediately got the feeling that I was home, that we belonged together," Gibb told the Star.

Gibb says she will meet her real father, Brad McMath--a Canadian photographer who had a brief fling with classmate Mitchell back in the '60s--and her maternal grandparents later this year.