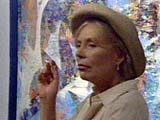 SASKATOON - A collection of Joni Mitchell's visual art is drawing rave reviews from music and art fans who have come from all over the world to see the display in Saskatoon.
The exhibition, a retrospective titled Voices: The Work of Joni Mitchell, opened Friday at the Mendel Art Gallery.
Mitchell briefly spoke to visitors to the retrospective, then wandered through the display with relatives and friends she grew up with on the prairies.
Joni grew up in Saskatchewan, where she began her heralded career as a singer-songwriter under the name Joni Anderson, then became Joni Mitchell after marrying a musician called Chuck Mitchell.
The exhibition shows the links between her music, writing and visual art. On display are 80 drawings, photographs and paintings, several of them haunting self-portraits.
It is the first retrospective of her work in Canada.
Gilles Hebert, the director of the gallery, developed the exhibition. He says he discovered that Mitchell doesn't separate her music from her writing or her painting — they're all linked:
"She'll talk about how she became interested in jazz and ...[how] she began to act on it in the 1970s and the resulting change in her visual art production at the same time," Hebert explained. "And that it's all linked, not consciously, but organically. If we've done the job right, our visitors will make links between her three areas of work."
The exhibition, which will be in Saskatoon until mid-September, will combine Mitchell's visual art with some of her poetry and lyrics as well as a selection of her music.