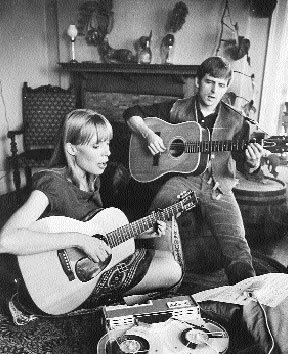 Song takes writer to Joni Mitchell's Detroit apartment -- some 30 years after she moved on

Joni Mitchell's been with me a lot lately.

Help me
I think I'm falling
In love again ...

The lyrics from her song "Help Me" repeated endlessly in my mind recently -- in the shower, at work, during the drive home. The words mean something more for me as an adult. Things a child couldn't understand when the song was a hit in 1974.

It meant even more later when I found myself at her door.

For days, I heard the vocals, woodwinds and reeds. They stayed with me so long that I looked up Joni Mitchell in one of my music reference books.

I was surprised to learn that she had moved to Detroit in 1965 after marrying local folk singer Chuck Mitchell. Though successful musically, the young couple separated only a year-and-a-half later.

I wondered where they had lived and if the building still existed. It seemed like a fun idea to track down Joni's old haunts.

On a whim, I wondered if there was anything about Joni's Detroit stay in the clippings files of The News. Between editions one night, I went through her file and found just what I'd expected -- nothing on her days in Detroit. Same with her photo file.

Then I wondered about Chuck.

Not only was there a Chuck Mitchell file, it also contained two stories that appeared in the News in early 1966. One of them profiled the folk duo and their "camp" fifth-floor walk-up apartment on the corner of Cass and Ferry by Wayne State. A quick check of Chuck's photo file provided a bonus -- a half-dozen black and white photos which appeared with the 1966 story of the couple in their apartment.

Those faded, yellow clippings, forgotten for probably 30 years, told more about their lives than I ever thought I'd learn.

Now I was not only consumed by the song, but also by the pictures of the seemingly happy young couple, singing and playing their guitars in their modest apartment. One photo that stood out is of the couple in a dark room near a window.

The arrangement of the figures, the faces reflected in gray-white tones, and the 1960s feel of the image became locked in my mind. I photocopied the picture and another of their apartment building -- the Verona.

A few weeks later on a trip to Wayne State University's main library, I brought the photocopies with me. I wondered what was on the apartment site today. The Verona was described in the story as being in a section "destined to be torn down for urban renewal." Chuck thought the building would stand at least another 10 years. He joked about buying it after becoming rich.

I turned down Ferry, and there was the Verona with its worn, faded brick face. My gaze fell from the fifth floor to the front steps, where I imagined Joni and Chuck descending, acoustic guitars in tow.

I told my story to Mike, a co-worker who lives in the Cass/Ferry area. Mike told me that Scott, a friend of his, lives in the Verona and thought he had Joni's old apartment. Mike photocopied the pictures to give to Scott, thinking they might offer some proof.

Soon I found myself in Scott's apartment.

He had pinned the photocopies of the pictures on the walls of the rooms where they had been taken. It was a neighborhood legend that Joni Mitchell had lived in the building, but no one had verified this for Scott, who had wondered about it over the eight years he lived there.

The walls, windows and woodwork made it easy to identify the rooms in the photos. Despite the posters, wall hangings and other evidence of four guys living together, there was no doubt. It was the same place.

I pictured Joni and Chuck strumming their guitars in the front room, and wondered what songs they had played together. Scott's favorite image is of Joni sitting on a daybed reading a magazine in what is now his bedroom.

I asked about my favorite photo, the one taken by the window.

We moved to the small kitchen in the rear, where it was taken. I imagined the photographer composing the shot, positioning Joni and Chuck in the gray light as I stood in the same space.

"You know," Scott said as I looked at the photo, "there's a song on her first album where she sings, 'I had a king in a tenement castle / Lately he's taken to painting the pastel walls brown.' The walls in here are kind of a brown color.

"I'd like to write her just to say I live here now," he went on. "In that song she also sings, 'I can't go back there anymore / You know my keys won't fit the door.' I'd jot those lyrics down and say to her 'Well, you can still come back if you'd like.' I don't know if she'd care, though."

Then I remembered the remaining words to the chorus of that gloomy song: "You know my thoughts don't fit the man / They never can they never can."

I wondered what sadness had also been felt between those walls.

I left the apartment a few minutes later, amazed at where a song in my head had taken me. Now, I can't help but hear the sad lyrics of "I Had a King" when I think of the Verona, the beige walls of Scott's kitchen, and the photo that captivated me.