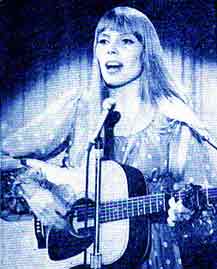 Thanks to Johnny Cash, everyone in the U.S. who watches the Johnny Cash show knows there's a place in Canada with the funny sounding name of Saskatoon, Saskatchewan.

Watching the first show last week one.might have been led to think that it was a Saskatoon special and the only thing missing was for Mayor Sid Buckwold to be introduced from the audience a la Jean Drapeau-style.

Not often enough do U.S. produced television shows give recognition to Canadian entertainers and their home towns.

What with Saskatoon native Joni Mitchell as the featured guest on the show and reference later to a song Cash wrote entitled "Girl From Saskatoon," this city gained a tremendous amount of prestige. Miss Mitchell's performance only added to that prestige.