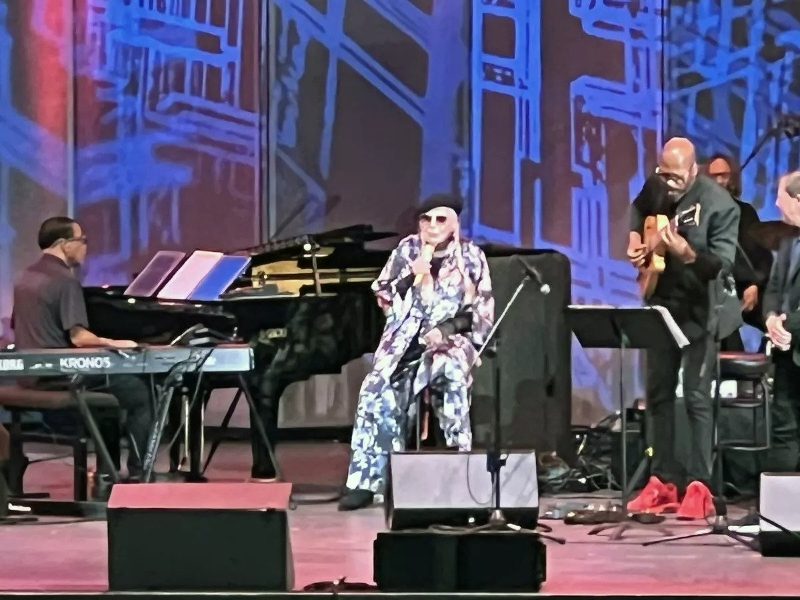 LOS ANGELES - Joni Mitchell earned a standing ovation at the Hollywood Bowl Wednesday night after her surprise vocal cameo at an all-star concert honoring jazz visionary Wayne Shorter, who died March 2 at the age of 89.
In fact, Mitchell - whose unadvertised appearance was welcomed by the cheering audience - earned two standing ovations at the Herbie Hancock-led "Celebrating Wayne."
The first was when Mitchell was introduced by Hancock for the final song of the concert's first half, prompting the audience of more than 15,000 to rise to its feet as one. Mitchell, 79, was on stage to sing for only the third time this year, following her unexpected performance at the 2022 Newport Folk Festival in Rhode Island.
Prior to Newport, Mitchell - who suffered a near-fatal brain aneurysm in 2015 - had not given a full-length performance in public since 2002. She had done a few songs in 2007 in Hollywood's nearby Kodak Theater, at a concert honoring pianist/composer Hancock that also featured saxophonist/composer Shorter.
The three had first joined forces on Mitchell's 1979 album, "Mingus." They went on to collaborate a number of times in the following decades, perhaps most memorably on Hancock's all-star Mitchell tribute, "River: The Joni Letters," which won the 2008 Grammy Award for Album of the Year.
"Some of you may know this song," Mitchell told the Bowl audience. "If you do and want to sing along, join in."
What followed was a deeply moving rendition of "Circle Game," her 1966 classic about the wonders of youth and the wisdom of age.
Mitchell's voice was a bit shaky at first but grew stronger and more expressive with each new verse. While she now sings in a lower range than in her storied heyday, her voice exudes the burnished gravitas of a determined survivor who now truly does see life from both sides. As such, her performance was an emotional triumph.
"We love you, Wayne!" Mitchell said at the song's conclusion.
She was deftly accompanied by a small group that included Hancock on piano, Chris Potter on soprano saxophone and former Shorter bassist John Patitucci.
The three performed in other configurations during the two-part, 13-song concert. The lineup also featured Rock & Roll Hall of Famer Carlos Santana and bass great Ron Carter, who in the 1960s performed alongside Shorter and Hancock in the legendary Miles Davis Quintet.
They were joined by a diverse, multi-generational group of musicians that ranged from saxophonist Kamasi Washington, guitarist Lionel Loueke to bassist/singer Esperanza Spalding and drum dynamos Cindy Blackman Santana and Terri Lyne Carrington. Agile alto saxophonist Devin Daniels, a student at the UCLA-based Herbie Hancock Institute of Jazz, was the youngest at 23.
Carlos Santana brought biting guitar power to "All Blues" and the propulsive "Sanctuary," while Carter and DeJohnette joined Hancock, Potter, Washington and others for two Miles Davis Quintet gems, "Delores" and the expansive "Pinocchio."
For many in the audience, the concert's high point came with a three-song salute to Weather Report, the pioneering fusion jazz band Shorter co-led in the 1970s and 1980s with keyboardist Joe Zawinul, another Miles Davis group veteran.
Those three selections - the bristling "Palladium," the elegiac ballad "A Remark You Made" and the ebullient "Birdland" - combined fire and finesse, qualities Shorter brought to every musical setting.
The band for this segment was anchored by Hancock on piano, Blackman Santana on drums, Marcus Miller on electric bass and former Weather Report percussionist Alex Acuna, each of whom ignited. So did trumpeter Terence Blanchard and saxophonists Potter and Washington, as the spirited ensemble used these songs as exciting points of departure, not a final destination.
Hancock, the Los Angeles Philharmonic's Creative Chair for Jazz, sparkled and soared on each of his solos. But some of his most arresting playing came in the knotty chords and ingeniously cascading lines he contributed when accompanying the other musicians.
Not everything worked.
The opening selection featured bass and vocals by Spalding, who worked closely with Shorter on his 2021 opera, "Iphigenia," an update of the ancient Greek myth. Spalding's mostly wordless singing was pleasant but didn't build much momentum or dynamic tension.
Neither did a long-distance collaboration by Hancock, Spalding, Potter, Loueke and Blade with famed singer-songwriter Milton Nasciemento on "Miracle of the Fishes," a choice cut from "Native Dancer," Shorter's superb 1975 album with Hancock and Nascimento.
Nascimento had pre-recorded and filmed his vocals for Wednesday's concert in a studio in his native Brazil. This all but eliminated the opportunity for any real-time interaction between the five instrumentalists on stage and the Brazilian singer, who concluded his farewell tour last year and whose once-angelic voice, sadly, is now a shadow of what it once was.
Wednesday's "Celebrating Wayne" concert came two days before Friday's Amazon Prime Network broadcast debut of the Shorter documentary, "Zero Gravity," on what would have been his 90th birthday.
"I carry his spirit within my heart, always," Hancock said of Shorter, not long after the concert began. "He's still here."