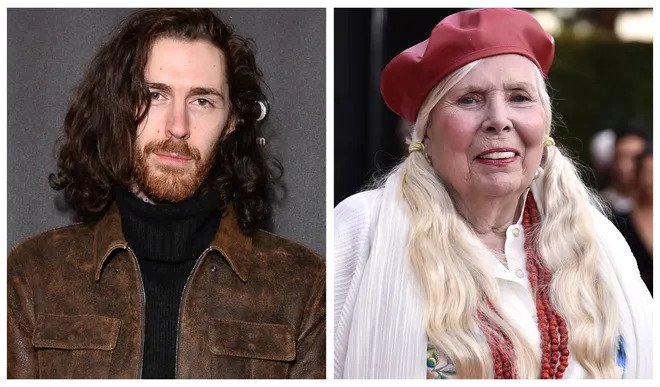 Hozier and Brandi Carlile are a match made in heaven.
The folk-rock singers have teamed up for new song "Damage Gets Done" from Hozier's tremendous third album "Unreal Unearth" (out now). The duo gloriously harmonize over rousing synths and guitar, trading verses about a simpler, more reckless time when young love seemed like enough.
"I had always sort of heard her voice on it," Hozier tells USA TODAY. "It was this song that needed this really strong, bold vocal, and Brandi just has one of those voices. She's somebody who I'm very lucky to call a friend over the last few years. I've sang with her a few times and we've gotten to know each other a little bit."
The "Take Me to Church" singer was first introduced to Carlile back in 2015 at Newport Folk Festival in Rhode Island. At the time, she was covering his hit "Work Song" in her sets.
"I was really honored, and through that, I got into her music a bit more. Eventually, we kept in touch," Hozier says. "I just have huge respect for her work, and she's such a strong community builder. She's somebody who operates from a place of inclusivity and love, and that's something I've always had huge admiration for."
It was early in their friendship that Carlile introduced Hozier to Joni Mitchell, who triumphantly returned to the stage last year after suffering a brain aneurysm in 2015.
"Brandi invited me one day to jam at Joni's house," Hozier recalls. "That was really special. I just felt blessed to be there. It was very early days. Brandi understood that Joni missed having musicians around quite a bit. Brandi was getting to know Joni and her close circle of people, and we had dinner. Joni had this beautiful music room, a few artists showed up, and we would just take turns playing a song, passing the guitar and hanging out. "It was super casual," Hozier continues. "There was something very relaxed and very intimate about that. If Joni felt like she wanted to join in on a song, she would. It was super special and super moving. I don't think I'll ever be able to describe how it felt to be there. We all worship Joni so much. And Brandi was doing this wonderful thing just from the spirit of wanting Joni to know how much we love and support her work, and how important it is to every musician."