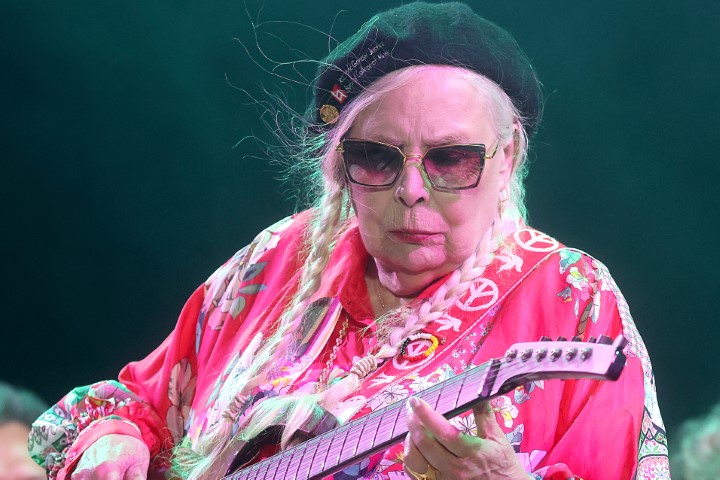 During Joni Mitchell's headlining performance last weekend at the picturesque Gorge Amphitheatre overlooking Washington State's Columbia River, the Canadian singer-songwriter found herself momentarily confused by thousands of shining screens beaming down on her by the 27,000-strong audience.
"Where did they get the light?" she asked the evening's host, musician and producer Brandi Carlile, who informed the 79-year-old that they were cellphones. Nodding her approval, Mitchell beamed, telling the crowd, "You are stardust and golden," to thundering applause.
Billed as her first ticketed concert in 20 years, the event was born out of the private jam sessions at Mitchell's Los Angeles home organized by Carlile after a brain aneurysm in 2015 left the Canadian icon unable to speak, walk or play guitar. Attendees included Elton John, Chaka Khan, Dolly Parton and Bonnie Raitt, and these informal gatherings would lead to the first public "Joni Jam" in July, 2022.
This against-the-odds comeback has coincided with a new wave of interest in Mitchell's work. It's not just the musicians who have shared a stage with her over the decades who have found inspiration in her poetry, songwriting, visual art and activism in recent years, but also younger artists in a wide range of genres. American R&B musician SZA, for example, shared a demo titled joni on social media in 2021, while the title of British pop star Harry Styles's 2022 album Harry's House references a deep cut off Mitchell's The Hissing of Summer Lawns.
"There isn't a singer-songwriter who hasn't drunk at the well of Joni Mitchell," says Ann Powers, a NPR Music critic and author of the forthcoming book Traveling: On the Path of Joni Mitchell. "Maybe their knowledge of Joni might be limited to Blue, which is the record that remains her most beloved and known work, but I think her influence is fairly universal. She's also emblematic of a period in North American culture when so much was changing, and so much was changing for women, so much was changing for young people, for artists."
And while her music is from a different era, the issues she explores are timeless.
"She talks honestly and openly about the things that have been going on in society, in life and in love, and things that haven't changed and don't really change fundamentally," says Holly Laessig of indie-pop group Lucius, who performed at both Joni Jams, as well as a Washington ceremony this past spring where Mitchell received the Library of Congress Gershwin Prize for Popular Song (the first Canadian and only third woman to do so). "When she sings these things now, it's still spot on, I think it comes down to that. She doesn't sugarcoat things."
The first public Joni Jam took place unannounced at last year's Newport Folk Festival in Rhode Island - where Mitchell famously first played in 1967 as a young, undiscovered singer-songwriter alongside Leonard Cohen and others - with a cast of all-star musicians including Carlile, Marcus Mumford, Allison Russell, Wynonna Judd, Blake Mills, Taylor Goldsmith, Celisse and more. The second edition was part of Carlile's "Echoes Through the Canyon" event, and featured a similar lineup, with special guests Annie Lennox and Sarah McLachlan (the latter performing Blue on the piano while Mitchell watched on).
"It was a really inspired idea of Brandi's to bring the living room to Newport so Joni would be comfortable," says the Juno Award-winning Russell, who credits Mitchell's 1970 song For Free as her introduction to the cello ("one of the loves of my life"). "She was gaining strength from the audience. It doesn't feel right to use the word audience - it was truly a magic circle with her at the centre. Joni's lived-in voice is so moving, I thought I was going to cry through the whole thing, you just couldn't help it."
Perhaps it's Mitchell's unwillingness throughout her career to put herself in any one box when it comes to genres that has made her so embraced by a new generation.
Other younger performers to cite her as an influence include noir pop star Lana Del Rey, who covered For Free with singers Weyes Blood and Zella Day on her 2021 album Chemtrails over the Country Club, and Sudanese-Canadian poet and singer Mustafa. Solange Knowles explained that she was "following" Mitchell by recording her 2019 album When I Get Home in Laurel Canyon and a Jamaican studio where the Canadian singer had painted a mural.
As Lucius' Jess Wolfe puts it: "The fact that she could bridge the gap of this really intricate, dynamic, challenging music with easy-to-singalong to folk-pop songs, it was very inspiring."
And while the music industry has changed in leaps and bounds since Mitchell's last album, 2007′s Shine, the singer has maintained a curiosity for the world around her.
"This is a woman who's always connected very deeply with other musicians and been committed to exploring new things through these relationships," says Powers, who points to Mitchell's working relationships throughout the decades: creating in California in the late sixties and seventies; travelling with producer Larry Klein to England to make her 1986 album Chalk Mark in a Rain Storm; working with jazz drummer Brian Blade in the nineties.
"I think what's really beautiful about her career is that it's truly a collaborative effort, even though she is at the heart of it such a strong personality and strong visionary."
The desire to find like-minded collaborators is something that Toronto artist Charlotte Day Wilson identifies with. One of her first introductions to Mitchell was as a kid watching The Last Waltz, Martin Scorsese's 1978 documentary about the Band's final concert of the same name, with her father.
"I remember watching her performance and thinking, 'Cool, she's so powerful because she's the only woman - not the only one, but definitely the most prominent - in this community of artists," Wilson recalls. "I'm so grateful to have the people around me that I have, and in moments when I maybe feel a little bit lonely being the girl, I can have comfort in knowing I'm not the only one."
While working on new music recently, the Juno-nominated singer-songwriter found herself in the same Laurel Canyon hills once frequented by Mitchell, leading her to research that era of the older musician's creative output.
"I think young artists sometimes feel the pressure to make an album that sounds more pop or more TikTok or more whatever," Wilson says. "What I've taken from her at least is just stay in your own musical world, and don't worry about whether it's commercially appealing or not, because the longevity comes from being able to look back at a catalogue of music that you still love present day."
While Mitchell's music is currently unavailable on Spotify - the singer joined Neil Young in removing her music from the streaming service last year, in protest of the platform's hosting of Joe Rogan's podcast - there doesn't appear to be a shortage of "new" Joni Mitchell music on other services and physical media happening any time soon. The 2022 Newport concert is set to be released as an 11-track live album later this summer, featuring liner notes by Oscar-winning director Cameron Crowe, who is rumoured to be working on a film about Mitchell with input from the singer herself.
There's also the Joni Mitchell Archives project, which has uncovered a trove of previously unreleased material, including demos and live recordings. The first volume (which earned the singer her ninth Grammy Award, for best historic album) focused on Mitchell's early years before the release of her 1968 debut Song to a Seagull, while the second is dedicated to material recorded between that album and 1971's Blue.
As for more public Joni Jams, this past weekend's three-hour set (including a rapturous encore featuring Mitchell playing solo guitar and a fitting cover of Frank Sinatra's Young At Heart) proved the singer (who turns 80 in November) has plenty more to give audiences - and her fellow Joni Jammers are more than ready to answer the call.
"Any time I feel like complaining about anything, I think about what Joni's come back from and I shut up," Russell says. "I think she's very much living in the present, but I will say there's not one of us who would ever say no to Joni. If she wants to do another show, we'll be there."