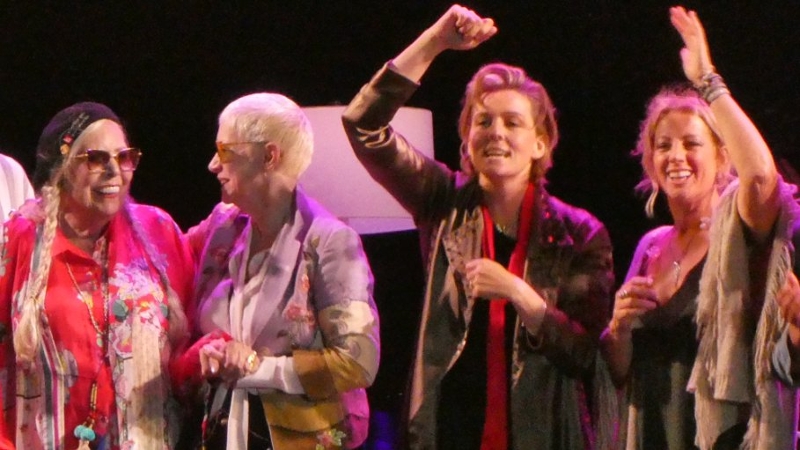 No one could deny that there were star-driven aspects to this past weekend of shows at one of America's most beloved outdoor venues, the Gorge, all of them headlined or organized by Brandi Carlile. That was apparent soon enough for anyone driving out of Seattle-Tacoma Airport to make the three-hour drive to the remote amphitheater in the middle of Washington state, as the freeways were dotted with cars with "Brandi or Bust!" (or messages about the "Bramily") emblazoned on their rear windshields.
And Carlile wasn't the biggest star appearing over the three nights. No one lords over a cult of personality right now, actively or passively, quite like Joni Mitchell. Not so very long ago, Mitchell was more or less seen as one boomer icon among many, yet she has somehow just in the past few years graduated - with no campaigning on her part, but with valuable microbursts of assistance from Carlile - to being arguably the most revered North American singer-songwriter of any generation. Bob Dylan can only be looking on a little jealously at how his old friend and rival has kind of quietly been pushed ahead of him in the line, even as she did not much more than stay out of sight and work to recover from a debilitating aneurysm.
So, yes, the "Joni Jam" that took place on the middle of the three nights at the Gorge could reasonably be called a worship service, with an on-stage choir singing Mitchell's hymns back to her as well as appreciating her own hard-fought resurrection as a performer. And Carlile comes in for some deifying herself. But by the end of three evenings, what most of the 27,000 nightly attendees were left with wasn't a feeling of of hero veneration ... although, in considering what in considering what feats went into pulling off the weekend's 15 hours of performances, most of them involving Carlile, you might have been struggling to think of a more female-forward term for "Herculean."
Carlile makes for an awfully benevolent celebrity, but there's an even better job title that applies to her: community organizer. She takes that to new levels with her boosterism of other artists, but she took inspiration for the live iteration of that from a one-time Gorge queen, Sarah McLachlan, who showed up to join her on stage at the Friday and Saturday night shows.
Carlile told the audience that her first show there as a girl had been to see Mary Chapin Carpenter, "and I saw all three Lilith Fairs, which changed everything about what I wanted my job to look like, what I wanted my life to look like. I wanted to be like Sarah and bring lots and lots of women together to make big, big, beautiful, powerful noises. Women and men," she clarified - "but I feel like we live in a time when the women need a little more platforming, especially as we age and we're no longer allowed to have that platforming. I think it's really, really important whenever we get one to just step up, give everybody a leg up and keep the door open as long and as hard as you can. And this stage has seen many powerful women walk across it and celebrate one another, with no competition and a spirit of kindness... Nothing could have prepared me for this day, though," she added, referring to the Joni Jam to follow.
It would be hard to understate just how much of a balm the weekend might have been for many of the 27,000 attendees per night, and not just on a gender-parity-in-music level. Carlile did not get "political" very often during the three nights of concerts that she organized or headlined this past weekend at the legendary Gorge amphitheatre in Washington state. It was just once, really, if you can count her standing up for a major part of the community that turns out to see her and her friends as taking a side.
"It's Pride month," she said midway through her band's nearly three-hour set Friday evening. "I'm not trying to bring you down; it's the opposite. But I'm hearing all kinds of sad shit coming from our politics, vilifying - demonizing - LGBTQIA+ people, my people. And I've got these little girls that I'm trying to raise, and I'm explaining things to them in present tense that I expected to explain to them in past tense. They're hard times, you know, but I'm a positive person. I grew up in the country, and my dad's a hunter. We used to track these critters and he'd say, 'Never corner an injured animal before it's about to die. That's when it's the loudest, the craziest, the most dangerous.' And these ideas that are hurting us, they're about to die. So don't corner 'em on this, but don't be lazy, either. It's time to let some of those old ways die."
It was natural to wonder what song this intro might be leading into, as she'd already pulled out a surprising number of early and/or obscure catalog picks for what she characterized as "our family show" Friday night. Or maybe, based on the way she closed out that short speech, she might even be heading into a cover of Jason Isbell's song that says, "maybe it's time to let the old ways die"? Wrong guesses, all. The next words the crowd heard out of Carlile's mouth were, "When you were young, and your heart was an open book..." Her performance of "Live and Let Die" was without the pyrotechnics that accompany it on Paul McCartney tours, but her band otherwise lent itself to what would be a dead ringer for his version, with SistaStrings doing a string-quartet approximation of George Martin's string arrangement and singer-shredders Celisse Henderson and Taylor Goldsmith of Dawes adding extra guitars to the Bond-theme wall of sound.
The juxtaposition between that earnest intro and the classically entertaining Wings song pick that followed was almost comical, but appropriate: Besides representing the best of what America can be in a dark or diminished age, Carlile is a classic entertainer of the first degree - every bit as much the populist as she is a poet or progressive. Paul McCartney and Paul Wellstone both could have been proud.
When it came to making any other kinds of statements, Carlile largely let the booking do the talking, sharing the stage mostly with members of what we've referred to before as the extended Carlile Cinematic Universe. Allison Russell, one of the great young artists Carlile has championed, opened Night 1 with a short set that made mindfulness feel like a party, climaxing with "Requiem," a song that Carlile appears on on Russell's forthcoming sophomore album, "The Returner." On Night 3, the opener was an artist that the host has devoted even more of her creative energy to pushing into the spotlight, Tanya Tucker, whose second Carlile-produced album, "Sweet Western Sound," came out just the week before. Brandi came out to duet on two of that album's numbers, including the funny but personally edgy "The List." (They held "Delta Dawn" back for a group-sing in the Highwomen's headlining set later that night.)
Between those two enthusiastically Carlile-endorsed artists, Russell and Tucker, the host managed to provide twin models of what paying it forward can look like: honoring the heroes of prior generations who are too good to be forgotten, and setting up the next generation's musical leaders. That never-displaced boosterism was also felt with some of the other singers and musicians who showed up over the weekend. Supporting cast members included Lucius, the phenomenal, all-purpose MVP duo whose latest album was also produced by Carlile (they had a spotlight number singing Mitchell's "Cactus Tree," by request of Joni superfan Cameron Crowe); and Celisse, who has clearly impressed Mitchell as both a singer and guitarist, something that's not easy to do (she took the lead on two sizzling Joni Jam numbers, "Help Me" and "Sex Kills").
Then there were cameos like the one by Brandy Clark Friday night, which had Carlile cracking, "Two gay Brandys walk into the Gorge..." Clark had flown out for just one night to sing just one song before heading back to the Tonys, where she was up for best score for "Shucked," and that number was worth the quick cross-country commuting, for the audience, at least. The two BCs teamed up for "Dear Insecurity," the duet they share on Clark's new Carlile-produced album, and although Clark was not to win the Tony upon her return to the city, this song should have both of them back in serious top-category Grammy consideration. (Dear Grammy voters: To quote the song itself, "Please don't fuck this up.")
At some point it became impossible not to fantasize: What if Carlile not only paid homage to the long-gone Lilith Fair franchise but was, like, given permission by McLachlan to take it over and run with it? (Or they undertook the all-female festival's resurrection as a joint project?) You might have been thinking about this right at the time Friday night that McLachlan herself showed up to join Carlile for a duet of the former's "Hold On," or that, on the same night, Annie Lennox came out for a joint performance of "Why." (Spoilers be damned: Both stars were tipping with their first-night appearances that they would beshowing up the second night to honor Mitchell, in McLachlan's case with a masterful "Blue" and in Lennox's with an authoritative "Ladies of the Canyon.")
Think of the possibilities for a Lilith Fair IV - or a similar concept with new branding - that had Carlile, Lennox and McLachlan as co-headliners, and all the newcomers that could catch a break riding in on those coattails.
But maybe the concept of an exclusively female-fronted festival is too reductive at this point? Carlile did say she likes to celebrate both women and men, and she was true to her word, as the three-day Gorge event did include one guy, Marcus Mumford, who opened Friday's show with a solo acoustic set. Carlile inevitably stepped in to reprise the song she co-wrote and sang with him on his excellent 2022 "[Self-Titled]" solo album, a stark, balladic highlight titled "How." (Mumford further proved that he gets along well with girls, so to speak, by covering one of Taylor Swift's most underrated songs, "Cowboy Like You," calling her "badass.") So imagine a Lilith Fair-type festival in which the criteria aren't quite so strict, and in which a couple of guys do fill out the bill... which would just about be in reverse proportion to how most other festivals operate.
Ultimately, though, until Carlile made her comments about the need to platform women, a la Lilith Fair, it was easy to forget about any imbalances that a lineup like this redresses and just consider what a curator of intergenerational brilliance she's been generally. Yes, when the Highwomen first turned up in 2019, there was a high-concept aspect to it: Here's the female equivalent of the Highwaymen supergroup. Four years later, the twist that led to their formation feels like an intellectual afterthought, if not completely forgotten. Here were four of the best singer-songwriters in the business - her, Maren Morris, Amanda Shires and Natalie Hemby - putting on the most satisfying country-rock show anyone will see this year or in the next, even before throwing in Tucker as a still-thrilling wild card. If "country day," as Carlile deemed it, was slightly less star-studded than the preceding two nights, it was exactly like them in being a historic show that would've been worth traveling cross-country for all by itself.
One remarkable thing was that this marked the first time the Highwomen had ever headlined a show; they'd only made a few appearances together of any sort, due to their self-titled album having come out just prior to the pandemic, on top of four busy solo schedules to manage. But, news flash: It turns out the group may not remain in the company of the Sex Pistols, the New Radicals, Derek and the Dominos and other bands that only ever released a single album.
It began with a conversation about them admiring their own work. Shires: "That's the album I'm gonna listen to on a Sunday."
Carlile: "Yeah. I listen an embarrassing amount to our album. It's embarrassing."
Morris: "I think we should make another one." [Extended losing-their-shit applause.]
Shires: "They have spoken."
Carlile: "You heard it here."
How the Highwomen would fill out a headlining set was an open question, just as it has been recently for, say, Boygenius, the fellow supergroup that only played band songs on festival gigs, but has been recently adding one solo number per member for encore segments in headlining appearances. The Highwomen announced early on how they'd handle things, with each of the quarter getting two additional picks for the set on top of the album material.
Each chose wisely. For Shires, it was first a cover of "Always on My Mind," via Willie Nelson, as heard on the soon-to-be-released collaborative album she made with Bobbie Nelson... then, more impressively, a fiery rendition of Bob Dylan's "Hurricane" in its rarely covered nine-minute entirety. Moreover, Shires covered Dylan's part and, inevitably, the Scarlet Rivera violin interjections between the epic verses (which she didn't even appear to be reciting off a prompter). Hemby got the group to harmonize on the first song she ever got a cut on in Nashville, the Lee Ann Womack non-hit "The Bees" - in this rendition, truly a bees-keeper - and her mind-thy-troubled-neighbor solo track "Radio Silence." With Morris, it was "Mona Lisa and Mad Hatters," which got Elton's personal seal of approval after she did it on a tribute album, and her own "My Church." Carlile gave the people what they wanted - a third version that weekend of "The Joke," now with four-part harmony - plus a cowgirls' interpretation of "Mamas, Don't Let Your Babies Grow Up to Be Cowboys."
Nothing was more rewarding all weekend, though, than hearing Carlile sing lead on the group's Shires-copenned comedic/lesbian country anthem, "If She Ever Leaves Me," just a superior piece of songwriting by any cis or non-cis standard. Carlile admitted she was waiting to take tequila shots until after she had successfully nailed the high notes - and when it's her referring to notes as a mountain to scale, you know they're up there. "Brandy, you sang the shit out of those falsettos just now. You deserve a drink," said Shires afterward. "Yeah, I had to really think about every one of them," Carlile noted, going in for the swig.
It was the first time all weekend that the organizer had alluded to anything being difficult, or challenging. A couple of days later, she went a little further in conceding that there was some work in all of this - something that might seem like it should be apparent, but isn't, always, not when one the main memories of the weekend for many will be the sight of Carlile during the Joni Jam blissed out on a couch, eyes closed, taking in the enduring magnificence of Mitchell as if there were no cares in the world. "Can't overstate how much being with Tanya Tucker and the Highwomen on Sunday felt like coming home," she wrote on Instagram on Tuesday. "This was a weekend where I asked the child version of myself to sit on the sidelines so that I would work as a fully composed adult. But on Sunday, I decided to again join forces with her and just celebrate all that had happened and that was happening still."
Carlile is like a lot of organizationally competent great artists, in that way: possessing a mind for organization that would make most mortals' brains short out, yet able to be utterly, single-mindedly present on stage, caught up unreservedly in the music the same way her unstressed audience is. It's a hell of an art - the level of multitasking that allows someone to be in charge of a weekend that incorporates 88 songs and be singing and playing on most of them. Speaking for myself, I thought I'd had one of the peak extended musical experiences of my life earlier this year when I saw the better part of Elvis Costello doing 250 distinct songs over 10 nights at an epic residency in New York. Just a few short months later, though, what Carlile pulled off in doing one master-class vocal after another on dozens of her own songs, and supporting Mitchell, Tucker, Russell, Mumford and the Highwomen on dozens more, felt like the equal to that, even without quite getting into triple-digit performances.
And yet there's a way in which Carlile makes you feel that anything close to veneration for any of these accomplishments is following the wrong track. She's too much about spreading the love among other performers, whether it's giving that leg up to an unknown or reminding a fickle world of a legend's entire legacy, while they can still get their flowers. It's an even cooler form of multitasking: owning that starpower right in the midst of dispersing it. As Joni reminded the crowd on Saturday night: "You are stardust, and golden" - it's some heady residue.