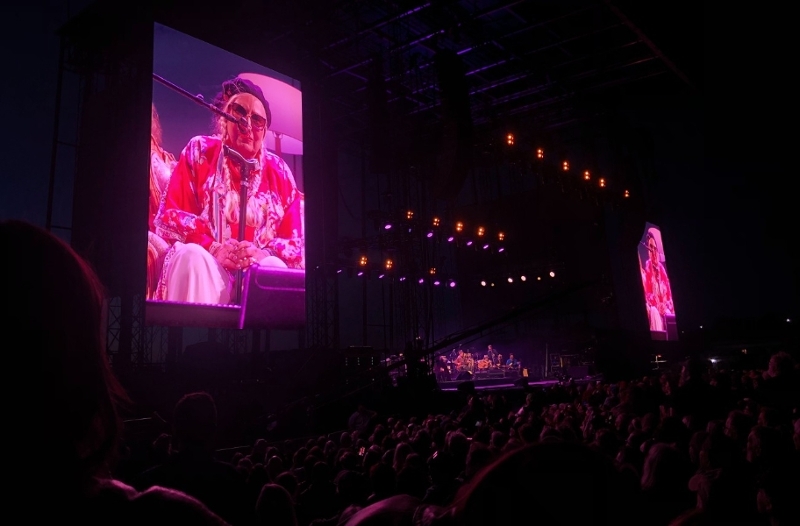 It was only six months ago that I proclaimed, "I am never going to the Gorge again." The heat, the crowds, the chaos of the parking lot, and the three-hour drive from Seattle. "There is really no one who could get you to trek out there?" my boyfriend asked. "No," I said. "The only person I'd brave that place for is Joni Mitchell, but we all know that's never going to happen." Days later, the Joni Jam was announced.
After suffering a brain aneurysm in 2015, Joni began hosting private jam sessions at her LA residence to assist her recovery, and notable musicians including Elton John, Paul McCartney, and Harry Styles turned up to lend a hand with musical therapy. One guest, beloved singer-songwriter Brandi Carlile, made it her mission to get these "Joni Jams" to the stage.
Joni has not toured in more than 20 years, and when she graced the Newport Folk Festival stage last year, I cried tears of joy and I seethed with raging jealousy. It's easy to be territorial about an artist that's lived with me for so many years in such a deep and emotional way. I first heard her music when I picked up a copy of Blue at my local Goodwill. I was 14, I had just received my first record player. It took only days for "Case of You" to become my favorite song. And, like the generations of depressed teenage girls that came before me, my lips hung on the lyrics "I am a lonely painter; I live in a box of paints."
To this day, Blue is my most-listened to, and most cherished album. It evokes every season, every feeling, and every version of myself. Every listen brings something entirely new. This weekend, while singing along to Blue with my friend beside me en route to the dreaded Gorge, the lyric "Love can be so sweet" (from "The Last Time I Saw Richard") followed me through the weekend. Joni's lyrics will never stop revealing themselves to me.
Despite arriving at the amphitheater an hour and a half before the gates opened, we entered our first hour-long line of the night just to park the car. This continued with an approximately mile-long line to get into the venue, then 45 minutes in the merch line, and another 30 to find our seats. Luckily, the crowd of fans made lovely company. We chatted about our favorite songs and our guest predictions. There were whispers of James Taylor, Bonnie Raitt, and even Neil Young echoing through the crowd (none of which were present, by the way). There were rows and flows of silver hair and wool berets everywhere.
Once we were finally seated, Brandi Carlile came onto the stage with her bandmates Phil and Tim Hanseroth. The trio performed a casual but captivating acoustic set of a few originals and several covers. Highlights included "The Story," a cover of Tracy Chapman's "The Promise" (with her wife Catherine Shepherd Carlile), and, finally, a lively folk cover of Queen's "Fat Bottomed Girls."
In the spirit of Joni's star-studded living room jam sessions, coined the Joni Jam, the stage was designed to look like her own living room. Velvet jewel-tone sofas formed a crescent around two gilded armchairs. Scattered around the stage were lamps, side tables, and framed photos of dogs and cats (presumably Joni's pets). Luckily, the weather was cooler than expected but clouds obscured much of the Gorge's scenic landscape. It seemed fitting that clouds got in our way.
Just as the sun was nearly set and the sky turned a deeper shade of blue, Brandi re-entered the stage in a long glittering jacket. One by one, she announced the members of the Joni Jam: Annie Lennox, Sarah McLachlan, Blake Mills, Lucius, Celisse, Taylor Goldsmith (of Dawes), and others.
Finally, Joni entered the stage to some incidental jazz music. The crowd erupted in pure joy. It was a sea of 27,000 smiles. She was escorted with one hand grasping a black and silver cane that was topped with what appeared to be a wolf's head. Her hair hung in long braids out of her signature black beret. Taking a seat beside Brandi, they counted off to "Big Yellow Taxi." She tapped her cane to the beat, singing the verses while Brandi took the bulk of the chorus. Joni's voice sits at a lower register than it once did, but she still sings with impeccable control. She even sang one verse in the style of Bob Dylan (he covers the song on his 1973 album, Dylan).
Joni remained seated throughout the night, dancing on her gold leafed throne with her knees shaking and her hands waving. I could tell that as the evening went on, she continued to loosen up with gutsier vocals. During her encore set, she came back to the stage with an electric guitar and dazzled the crowd with an instrumental version of "Just Like This Train" and "If."
During Brandi's opening set, she mentioned that the concert would not just include solos and collaborations, but tributes as well. I figured those tributes would make for a good escape to the bathroom, but I was sorely mistaken. Sarah McLachlan performed a flawless rendition of "Blue" and Annie Lennox belted "Ladies of the Canyon" with minimal synth and percussion accompaniments. Wendy Melvoin (of Prince's Revolution band and Wendy & Lisa) played "Strange Boy," one of my personal favorite songs. It was because of these angelic performances that I found myself cringing when Marcus Mumford performed my beloved "California." His rendition included a restrained, affected vocal, which my friend likened to Jason Mraz (she wasn't wrong).
Along with her classic catalog, the setlist also featured several covers including the Clovers' "Love Potion No. 9," George Gershwin's "Summertime," and Frankie Lymon & the Teenagers' "Why Do Fools Fall in Love." Brandi introduced several of the songs by asking Joni, "Why did you ask us to learn this song?" Brandi was the MC for the evening, but it was clear Joni was the boss.
Plenty of stories were shared: Joni scouring a random party for a cassette tape of wolf sounds, goofing around with Tim Hardin, and not knowing the words to Prince's "Purple Rain" when she joined him onstage in the '80s. My personal favorite was her last memory of performing at the Gorge. She and Van Morrisson joined Bob Dylan on stage, and she forgot her verse. When it came time to sing, she made something up. Bob looked back at her and grinned from ear to ear. Afterward, Van called the whole thing "disrespectful." "Disrespectful?" she questioned. "There's nothing he likes better than to see me fuck up."
Other precious Joni-isms included calling Bob Dylan "rude" and asking, "Where did they get those lights?" when the crowd held up their phone flashlights during "Shine." She also repeated statements like "Love is good" and "Love wins" in between songs.
With a varied setlist, the 3-hour hootenanny was sewn together with community and a love for Joni. I was pleasantly surprised by the crowd's reception. Fans sang along during classics like "Carey," "Both Sides Now," and "Circle Game" while never shouting over Joni. During "Case of You," I could feel the collective tears as she crooned, "Still I'd be on my feet, I would still be on my feet."
Of course, I would've loved to hear deeper cuts like "People's Parties," "Woman of Heart and Mind," and "Sisotowbell Lane," but I know it's unrealistic for everyone to hear their favorite songs (especially with an expansive catalog as she has). However, both "River" and "Woodstock" were noticeably absent. I wondered if she has grown tired of performing those songs.
In 1991, Joni said in an interview with the New York Times, "You wake up one day and suddenly realize that your youth is behind you, even though you're still young at heart." She closed with Frank Sinatra's version of Johnny Richards's song "Young at Heart." She sang the words like they were her own, clearly relating to its message of gratitude for life experience. By the end of the night, both the audience and Joni seemed more energized than ever.
I left the concert with the question: Was that her final performance, or was it the start of something new? I don't see the Joni Jam becoming a touring act, but there were times when she looked so overjoyed to be back on the stage that it felt more like a grand return than a farewell. It's possible that Joni doesn't even know the answer. But we do know that Joni has never been in the business for fame - she's famously quoted as saying "I hate show business."