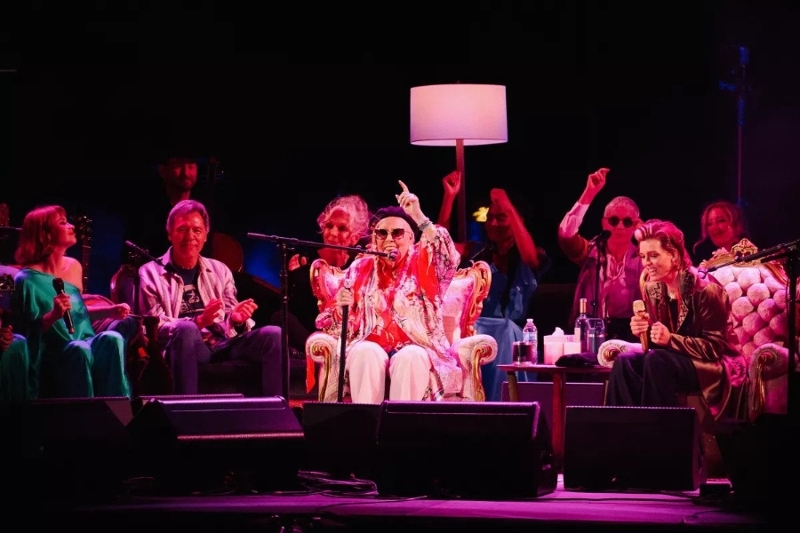 Joni Mitchell hadn't played a full concert for a live audience - an audience who knew she was coming, that is - for more than 20 years.
That changed Saturday night, when the 79-year-old singer and songwriter headlined the Gorge Amphitheatre on the banks of the Columbia River in Washington state. The show followed an unannounced appearance Mitchell made at 2022's Newport Folk Festival, seven years after she suffered a debilitating brain aneurysm that made it difficult for her to move and to use her voice.
Modeled by organizer Brandi Carlile after the so-called Joni Jams the singer has held in recent years at her Bel-Air home, the two-hour-and-45-minute, 24-song Gorge set resembled that teaser Newport gig, with Mitchell and Carlile seated in armchairs surrounded by an all-star band, as the 79-year-old icon sang, played guitar and looked on gratefully as a host of guest singers performed selections from her incomparable songbook.
Saturday's show was part of Carlile's annual Echoes Through the Canyon weekend event at the Gorge, and the all-star band and vocalists she and Mitchell assembled mixed some familiar faces from Newport with some famous newbies: the Joni Jammers, as Carlile called them, included Celisse, Taylor Goldsmith of Dawes, Blake Mills, Wendy and Lisa, Lucius, Allison Russell, Sarah McLachlan, Marcus Mumford and, as Carlile put it, "Annie fucking Lennox."
The Times' Mikael Wood and Amy Kaufman share their favorite moments from the historic set:
1. Carlile directed Mitchell's attention to a glass of Pinot Grigio - actually, the wine was in an insulated Yeti cup, which Carlile said is how you drink in Washington - before starting up "Raised on Robbery," from 1974's "Court and Spark." Mitchell seemed a bit more relaxed here than she did at Newport, as though she was remembering what it is to be a working musician before a crowd. Fun fact: After the song, she told Carlile that she wrote it about a hooker in Saskatoon, Canada. - Mikael Wood
2. Mitchell performed a slow and sultry take on 1991's "Come in From the Cold" that reminded you how much she did to vibe-ify singer-songwriter music - to create an atmosphere to flesh out the words and melodies of a song. We talk a lot about Mitchell as a lyricist, but man - what an arranger too. - M.W.
3. For "Hejira"'s "Amelia," Blake Mills takes up what Carlile identifies as Joni's guitar to bust out a dark and lustrous solo - "a sacred honor," as Carlile puts it. - M.W.
4. Before delivering a haunting version of Mitchell's "Ladies From the Canyon," the Eurythmics' Lennox moved from the supporting circle of backing musicians to Mitchell's side to share an emotional story about how influential the singer-songwriter was during Lennox's fledgling days as an artist. When she was 19, Lennox says, she shared a basement apartment with a guy who could afford the latest albums. When he brought back one of Mitchell's, it "blew my mind ... and started me on a path I never expected to happen.
"The thing is, back in the day, there were so few of us women doing this thing we're doing," Lennox continues. "We take it for granted, don't we?" - Amy Kaufman
5. Celisse, the L.A.-based singer-guitarist whom Mitchell says reminds her of Jimi Hendrix, delivered a star-making turn on "Help Me," the mid-'70s soft-rock hit she transformed into a ghostly, percussive soul-funk jam. After the song, Carlile noted that the thing about Joni Jams is that you're not just watching Joni perform - you're performing for Joni. - M.W.
6. Carlile asked Mitchell why they started covering the 1959 Leiber and Stoller romp "Love Potion No. 9" at their Joni Jams, to which Mitchell said - with a delicious well-duh tone - that the song is one from her "rock and roll dancing days."
"We have such a good time when we're doing it over at the house and we're drunk," Carlile told the crowd. Here, Mitchell nailed the bass vocal on the line, "I took a drink." - M.W.
7. What is there to say at this point about "Blue's" "A Case of You"? It might be the most moving love song in pop history; certainly, no song more vividly captures the experience of drinking in another person's charms (even when you know they're not right for you). Mitchell sang it like a woman who knows that every story about romance contains some kind of lie - a lie worth savoring, and repeating, and bringing into the light. - M.W.
8. "We're gonna ruin one of your songs now, Joni," Mumford said before he sang "California," Mitchell's early-'70s ode to her adopted homeland. His gritty folk-soul take on the tune - with dive-bombing guitar by Mills and pinprick backing harmonies by Lucius - was the night's second-best interpretation, behind Celisse's radical reworking of "Help Me." - M.W.
9. Mitchell fans know that her voice has changed - has lowered and gotten grainier - since the high-and-pure days of "Blue," but it's a gift to hear how much (more) emotional wisdom her singing has accrued as she nears 80. Her vocals sounded pure on a slow-and-low version of "Both Sides Now," which seemed to bleed wisdom when she wrote it more than half a century ago but now feels like some kind of ancient rune. - M.W.
10. Before leaving the stage for good after midnight, Mitchell told the crowd she had one more she wanted to do: a Frank Sinatra song, she said, which turned out to be "Young at Heart," the wistful pop standard from the early '50s by Johnny Richards and Carolyn Leigh about surviving until you're 105. "Thank you for coming, everybody - it was a beautiful experience," Mitchell said before doling out hugs to her many collaborators and shuffling offstage. - M.W.