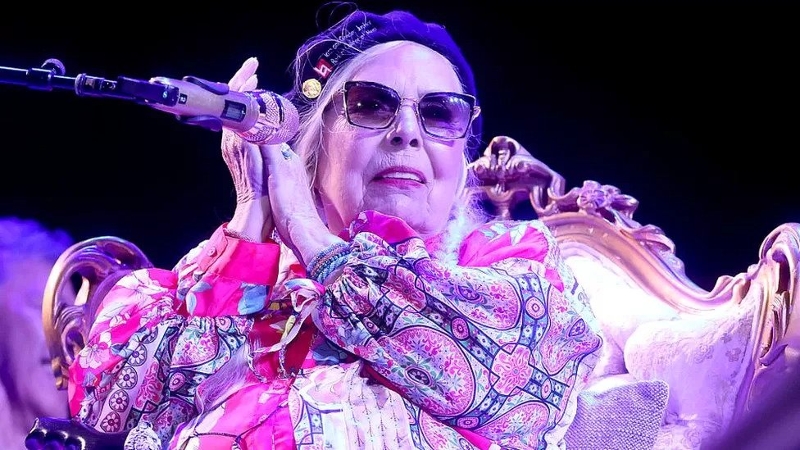 Joni Mitchell was showered with love on Saturday night, as she played her first headline show in more than 20 years.
Until recently, the chance of seeing the 79-year-old in concert had seemed like a fading possibility.
She suffered a near-fatal brain aneurysm in 2015 and had to re-learn how to walk, talk and play guitar.
But on Saturday, she played for nearly three hours, accompanied by famous admirers like Annie Lennox, Marcus Mumford and Brandi Carlile.
The show, in Washington state, was billed as a "Joni Jam", recreating the loose, wine-fuelled sessions Mitchell hosted for other musicians in her California house during her rehabilitation.
"It's not gonna be someone coming up here singing their songs one after the other," explained Carlile, who helped put the show together.
Instead, she likened the concert to peering into the tiny cabin inside a snow globe, and seeing what life had been like for Mitchell over the last decade.
"[I've] watched one of the most miraculous things I've seen in my life," Carlile continued, "and now you get to see it."
Singalong
The show was essentially an expanded version of the surprise set Mitchell played at last year's Newport Folk Festival (also organised by Carlile) and marked the star's first ticketed concert since the 2000 Both Sides Now tour.The venue was the Gorge Amphitheatre, a stunning outdoor arena with soaring views of the cliffs leading down to the Columbia River - but the stage was decorated to look like Mitchell's living room, complete with couches, lamps, side tables, and photographs of her pet cat and dog.
Mitchell sat in the centre, wearing a pink floral silk shirt, with her hair in pigtail braids under a purple beret, and carrying a cane adorned with a small bear's head.
She sipped white wine between songs, growing more loquacious as the night continued, sharing show business gossip and trading banter with Carlile.
The show opened with Big Yellow Taxi, prompting an immediate singalong from the audience, before taking a casual stroll through Mitchell's back catalogue - from standards like Both Sides Now and A Case Of You to deeper cuts like A Strange Boy.
Sarah McLachlan joined Mitchell to duet on an aching version of Blue; Marcus Mumford took on California; while Annie Lennox delivered a mesmerising, synth-driven take on Ladies of the Canyon.
The Scottish star also recalled how a roommate had introduced her to Mitchell's music when she was just 19.
"It blew my mind... and started me on a path I never expected to happen," Lennox said. "The thing is, back in the day, there were so few of us women doing this thing we're doing. We take it for granted, don't we?"
Critics uniformly described the concert as a joyful celebration of Mitchell's life and work. Many marvelled at how her voice had recovered and matured since her aneurysm.
"There was a renewed ease in her movement across melodies, and a pearly purity in her tone," wrote Lindsay Zoladz in the New York Times.
"To hear Mitchell hit certain notes again in that inimitable voice was like glimpsing, in the wild, a magnificent bird long feared to have gone extinct."
"Mitchell fans know that her voice has changed - has lowered and gotten grainier - since the high-and-pure days of Blue, but it's a gift to hear how much (more) emotional wisdom her singing has accrued as she nears 80," agreed Mikael Wood in the LA Times.
"Her vocals sounded pure on a slow-and-low version of Both Sides Now, which seemed to bleed wisdom when she wrote it more than half a century ago but now feels like some kind of ancient rune."
"Mitchell's performance feels ego-free," added The Guardian's Matthew Cantor. "She laughs and cracks jokes between songs and further extols the virtues of her fellow performers, never seeming to take the evening too seriously.
"That sets the tone for a joyful show, though the momentousness of the occasion leaves more than a few audience members - and even some on stage - tearful."
Disrespecting Dylan
Some of those tears, however, were tears of laughter.
Mitchell recalled the last time she had played the Gorge, on tour with Van Morrison and Bob Dylan in the late 1990s.
She said Morrison had been upset that he'd never been invited to spend time with Dylan, even though she had. "Bob's rude," she placated him, "He loves to be an enigma."
The musicians then decided to run on stage during Dylan's set and force themselves into one of his songs. But when Mitchell stepped up to the microphone, she forgot the words.
"I said to the guitar player, 'You got it,' and he sang the fourth verse," she told the crowd, to peals of laughter. "I tried frantically to remember what the fifth verse was. I couldn't remember that one either, so I made one up."
"Bob turned around and did a double take and gave me a look. He was grinning from ear to ear."
Afterwards. Morrison scolded her for being "disrespectful", but she argued that he'd misunderstood.
"Bob loves to see me [mess] up," she said, using an unprintable expletive.
The only sign of Mitchell's extended absence from the stage came during Shine, when the audience held up their phones with the torches turned on.
"Where'd they get those lights?" Mitchell asked Carlile.
"Cellphones," she responded.
"Cellphones? Really?" Mitchell said, seemingly inspired. "That was a real spectacle... You look like a fallen constellation... Thank you for that."
As the set drew to a close Mitchell picked up a guitar to play Just Like This Train and If - a remarkable moment, given that she had to teach herself to play again by watching old YouTube videos.
But she ended the night with a cover of Frank Sinatra's Young At Heart - whose closing lyrics couldn't have been more appropriate.
"And if you survive to 105 / Look at all you'll derive / Out of being alive / And here is the best part / You have a head start/ If you are among the very / Young at heart."
As Mitchell had said earlier in the concert: "Vive La Old Age."